How does online dating sound to you? Here are the advantages and disadvantages of this way of getting to know each other and how to embark on this adventure at all.
Although we could most often see online dating in American movies, this fashion is increasingly present in our country as well. Western working hours, work that sometimes lasts until late at night, and when the weekend comes, we would rather stay at home and watch a movie than spend an hour preparing for a late night out, wherein 99% of cases, nothing it won't happen.
Sounds familiar?
So why not try to meet the right partner in the warmth of your home?
Challenge accepted!
Like everything related to dating, experience shows that we should not make a strategy when dating online. Maybe the best way is to try to approach this as a party, so whatever!
Experience shows that meeting over the Internet is much easier than meeting someone on a Saturday night in a crowded and stuffy cafe. Enter your details, the online dating site will give you a recommendation of some potential partners that could match the description you entered and you are ready for action!
How does this type of dating differ from the traditional one, which was used even by our grandmothers?
Here, you choose! You might be ashamed to approach someone you like in the city on your own in the evening, but when you do it online, it sounds interesting and challenging. Experience to date shows that online dating offers a great choice, and this is one of the great advantages of this type of dating. This is especially important when you have some specific interests regarding the choice of a potential partner. Online dating offers you to choose a potential partner on different bases. If it's the number of years, or the lifestyle you lead, or a specific profession - dating sites will find just the right partners to suit you.
Experience shows that communication is much easier
Have you noticed that you are much more open in conversation when you do not look the person you are talking to in the eye? Online dating offers many ways to communicate, but it usually starts with correspondence. According to the experiences of those who met their partner in this way, it is much easier to openly say some things that you would not have in a one-on-one conversation and without hesitation ask what interests you. Also, experience shows that you do not depend on the moment - you can contact a person when you have time. If you are a busy businesswoman and you do not have too much time to lose, this is a great way to examine everything that interests you before you get to know a potential partner.
If you are skeptical and you are not sure who the person behind the screen is, you have as much time as you want to examine and check everything related to the potential partner when you meet over the Internet.
Availability
Meeting a potential partner over the Internet usually means doing it when it suits you, from the warmth of your home. Things that would prevent you from getting ready and going out with a friend for coffee or in the evening in the city and thus meeting someone, do not bother you here. So, regardless of whether your hair is dirty, you are tired, it is raining or you have nothing to wear, it will not hurt to meet a potential partner on the Internet.
It is usually considered that it is not difficult for communicative girls to find a partner, while those who are shyer are less fortunate, so they may use the Internet more to meet their partners. In a large number of cases that I know of, this was not true.
Also, it is considered that the Internet is not a very safe way to find a partner. Everything can be set up - both a photo and a story that is difficult to verify. After all, who guarantees that someone you meet will tell the truth when you meet at night? The experiences of girls who, after a year or more of dating, found out that their partners have parallel relationships, are a small part of what really happens in reality.
Very similar to this thinking is that there are only men who could not find a girlfriend in any other way, so the Internet is their last chance.
To really find out what is true, we need to try. I did and I really didn't have any bad experiences. I even had fun with the guy I met over the Internet for almost 3 years.
The ultimate party
It all started out of curiosity when one day I had the task of researching whether love over the Internet is really possible. Experience has told me that the best way to conduct that relevant research was to try it myself to meet someone like that. I registered on one of the sites, posted a picture, and started researching.
That night I stayed awake until dawn! Researching, corresponding, and chatting with different people was so interesting to me, that time flew by! The same thing happened the following evenings. After the first day spent on the online dating site, you slowly become aware of who is who. Is someone mentally present and interested, or is he chatting with 5 other girls at the same time, and he answers you with a simple sentence or usually with one word. Or let's say he's only interested in sex.
Each of us has our own ways of attracting a man with whom we will start chatting. Also, some characteristics that it should have in order to like it are very important. For some it is height or age, for someone else, it is what he does, and for me - literacy. I know it sounds weird, but the way I wrote was a very important parameter for me when choosing potential partners. As soon as I see that he is illiterate - I delete him immediately!
Simply, on online sites, in my experience, there are so many potential candidates, that with those who do not suit you, you should not waste time.
Correspondence based on my experience was a way to find out as much as possible about someone through direct and indirect questions. A lot of things can help you recognize that someone is married, just wants sex (they usually say that right away and without hiding), wants a fun, not a serious relationship. If, for example, he avoids chatting in the evening or suggests correspondence in the late hours, it probably means that he has a partner or that he is married. If he is not there for a few days, and then he remembers you, he suspects that he has several potential partners, so he cannot reach everything.
So, belittle detectives and pay attention to such things, little things that will reveal a lot about someone you potentially want to meet.
Realistically, no one will be able to tell you exactly. It depends on you, the circumstances, the potential partner you are corresponding with. Men usually insist that it happens as soon as possible and from the railroad, the exchanged message will start asking you: "When can we see each other"? Some girls will, out of curiosity, think that they should meet someone who lives as soon as possible and agree to the first meeting. My experience is that we still have to wait a bit. And because of the reasons that Desanka Maksimović states in her song "Anxiety", but also because of the above-mentioned questions and answers that will reveal some important things about the person you want to meet.
My experience says - of course not. Although after chatting with a few potential candidates I thought they were all made for me, when I met them in person it wasn't quite like that. Some of them were too shy to live, which I couldn't guess from chatting with them. I didn't like others physically. One is the picture, and the reality is something else. In the third, after the conversation, I noticed that some things did not match and that we did not meet somewhere. This fourth one passed all the tests, he was literate, charming and witty, a gentleman, which just means that it is not impossible to find a partner over the Internet.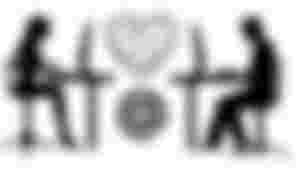 The Internet has become a very interesting place to find a potential partner, and research says that by 2031, as many as 50% of couples will meet online. That is why online sites are the two best ways, and social networks are increasingly appearing as a good choice.
Dating sites
Remember those American movies mentioned at the beginning? They did not come into being for no reason. One in 10 Americans uses online dating sites to find a partner, and 79% of them consider the Internet and online sites as a good way to meet a partner.
More and more sites in Serbia also offer ways to meet a potential partner. Membership on online dating sites is generally free, and everything else is up to you. Ways to meet the person you want are different. From the possibility to contact her yourself to group chats where you can only exchange messages. Some sites, in addition to dating, offer other content, such as solving tests based on which you will better determine the person who suits you or rating pictures.
According to some research, this type of site is most often used by people from larger cities, but the visits of our people living abroad are not negligible either.
You guessed it, Facebook is a social network that is most often used for dating on the Internet. They say that it is used for this purpose mainly by younger people, who often find a person they like among the friends of their friends.
Why are social networks interesting to meet? Interaction on social networks is much more relaxed, so as with dating sites, people get to know each other much easier. Also, what a person has posted before can help a person to guess what that person likes, what places he likes to visit, and what kind of music he listens to. However, the photos published here certainly play one of the more important roles, because you can publish them indefinitely, and that is what always attracts men's attention first.
If someone is bothering you, harassing you or you just don't want to talk to them, you can simply block them. Which, you will admit, greatly contributes to making you feel safe when using social networks for dating.