Food Journal-Christmas Edition: Hallacas.
Baby Jesus birth is upon us and everyone is busy preparing the feast. I'm so exhausted cause I've been cooking since Monday morning. How I have been able to write something here is beyond me, I'm happy to do it though.
Tuesday I finished making my beloved Hallacas. Do you know what they are?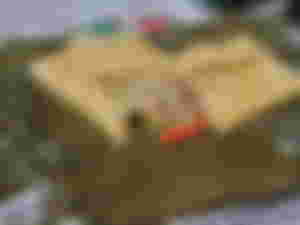 I posted this on Hive yesterday:
Hallacas are a traditional Christmas dish native to my country Venezuela. They are basically corn dough filled with meat stew and wrapped in smoked banana leaves.
I just love them, and what's not to love? I mean, they are like a delicious gift waiting for you to open it, and the stories surrounding Hallacas in every venezuelan home I bet they are too many to count.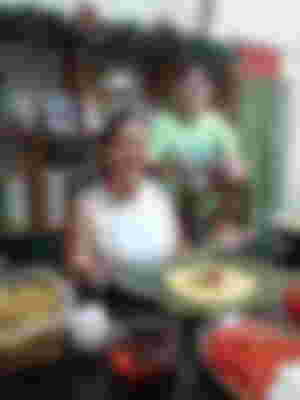 Every home has their own way of making Hallacas, there's even a very popular saying around here that goes:
The best Hallaca is made by my Mom ❤️
I believe there's even a song!
Anyways, the story of the Hallaca as far as I know is, well, unknown, but it dates from Colonial times, where slaves used the leftovers of their masters to cook stuff. Now, the makings depend on where in Venezuela you are from, like @Frankmart who puts hard-boiled egg slices in it. We don't do that, ours is pretty basic but pretty delicious.
When I was little I was in charge of washing the leaves, a pretty hard and tedious job indeed. The only time I did something else as a kid was in my grandma's house and my uncle asked me to cut onion slices. It was meant to be a joke because he knew I cut myself trying to chop an onion; he didn't intend for me to get hurt and didn't count on me saying yes avidly, so, after discussion, he gave me the knife and sat with me. He thought what everyone thought, that I wasn't going to do a good job. 5 onions later he congratulated me for such perfect onion rings, the joke was on him.
Later on, I always lingered in the kitchen with mom and dad while cooking the stew, and I was quickly upgraded to chop and hand things over, then it progressed to build the hallacas until I was able to do it on my own.
That first time was awful!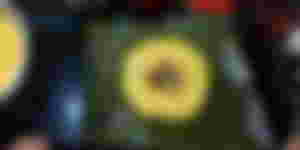 I lived in Caracas for about eight years, and I thought I would never leave, so one December 2008 to be exact, I decided to make Hallacas on my own. It made sense, I was living alone, and despite I had plans to come home for Christmas I wanted to try it anyway, as a rite of passage.
My brother and I got hands down the task and started buying all that we needed, but I got it all wrong. First, at the butcher's, I got the beef already chopped by the butcher's suggestion, so I could add it directly into the stew, but he didn't tell me that and instead I did it like mom and dad did it, a whole piece to be cooked whole and then chopped for the stew.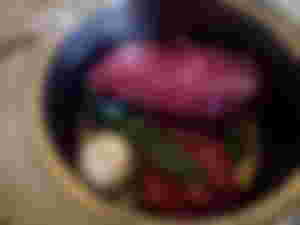 It was a disaster and my dad was the one who explained to me over the phone that in Caracas that's how they make it. Fail one.
The other thing was that I added too much cumin to the stew, I love cumin, but it was too much indeed, so I had to add more water and some other stuff to balance the flavors. And the third thing was that I put too much Onoto Oil (achiote) into the dough and the color was a deep orange, hilarious!
The were a hit though, despite all the trouble I had making them, my brother invited everyone to taste them and out of 60 I only brought back with me 10.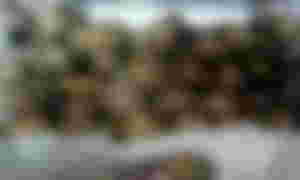 ---
Disclaimer: This recipe was uploaded by me in Hive.Blog.
Here's the link--->Making Venezuelan Hallacas
---
For the Stew
1 and a half kilo of Beef
2 Chicken Breast
1 kilo of Pork Loin
200grm Pork Fat
3 medium Onions.
2 medium Leeks.
8 springs of Green Onions.
15 small Sweet Chilies
1 and a half head of Garlic
Chopped Coriander to taste
1 liter of Vegetable Oil
100grm of Onoto/Achiote seeds 
4/6 liters of meat/pork/chicken stock.
3/4 of a cup of Red Cooking Wine
Cumin to Taste
Salt and Pepper to Taste
1 cup of cornmeal mixed in 2 cups of water.
For the Assembly
300grm Olives
300grm Cappers
300grm Raisins
300grm Pickled Veggies
2 medium Onions
2 medium Red Bell Peppers
For the Dough
2 kilos of Cornmeal
4/6 liters of meat/pork/chicken stock.
Salt to taste
For Wrapping
5 kilos of Smoked Banana Leaves
2 rolls of candlewick (pabilo)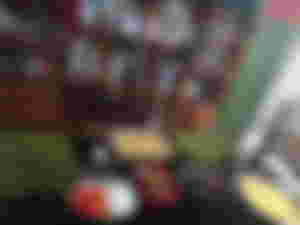 First cook the Beef, Pork, and Chicken separately with some aromatics, I used garlic, sweet chili, onion, leek leaves, coriander leaves, and black peppercorns. No salt. 
When cold, cut up all in small squares, reserve. Mix all 3 broths and reserve for later, half for the stew, half for the dough.
In a pot, pour 3/4 of a liter of Vegetable oil and the Onoto Seeds, heat that up until the oil turns orange. Do not let that burn!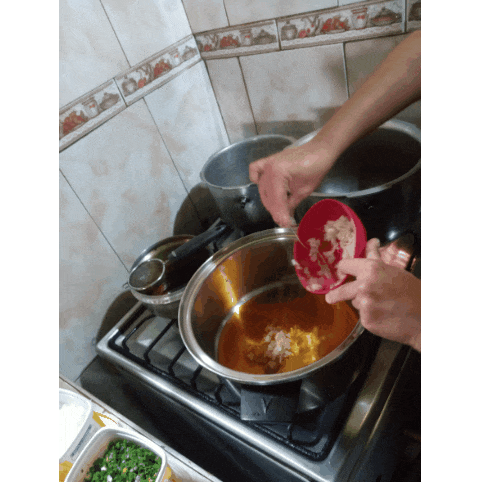 Take a big pot and pour 100mls of Onoto Oil and heat that up, then add the minced garlic, then the finely minced onion, later the leeks and green onions also very minced and finally the sweet chilies. All that has to be chopped finely. Let that cook halfway then, add the meats, all together and give that a stir. Season that just with the cumin, I used 1 not-so full tablespoon, and black pepper, the salt is at the very end. Add the Red Cooking Wine and stir, to finally pour the broth/stock.
Prepare on the side the cornmeal thickener, just the cornmeal, and water; it has to be consistent but a little loose. After the stew boils the first time, add, without stopping stirring, the cornmeal thickener, remember, don't stop stirring otherwise you'll get lumps in your stew. Add salt to taste and let that cook for about 30 to 45 minutes. In the end, add finely chopped coriander. Let that cool completely.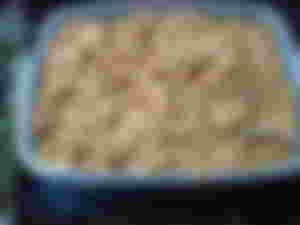 Heat up the remaining broth/stock until is warm, and some water just in case. In a big big bowl, add the stock, salt, 4 teaspoons, and 100mls of Onoto Oil. The quantity of the oil will depend on how deep you want the color of your dough. It doesn't have to be orange but try for a deep yellow at least. 
Add slowly and in batches, the cornmeal, don't do it all at once otherwise it will be lumpy, keep doing that, keep adding cornmeal until the dough is consistent enough but not dry, it should not hold a particular shape at first. Let that rest for 15 minutes, if after that time still doesn't hold shape add a little more cornmeal, if it does hold it you're good to go. 
Sadly, no pictures of this...
Wash the bell peppers and onions and cut them like so: The peppers julienne, the onions in thin rings. 
Place the capers, olives, raisins, peppers, onions, and pickles, along with the stew, the dough, the rest of onoto oil, and the leaves all on a big table. All have to be close together for it is a speedy process.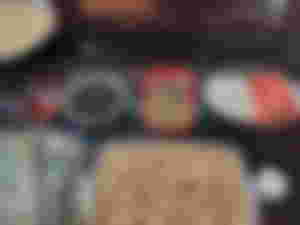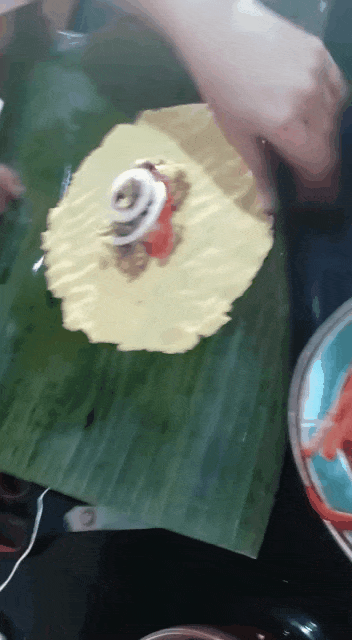 Take a big leaf and place it before you with the strings laid horizontally. First, brush it with onoto oil (use your hand). Then take a bit of the dough and spread it in a round shape on the surface of the leaf. 
Put in the center a big tablespoon of the stew and garnish it with an olive, 2 capers, raisins to taste as well as the pickled veggies, a piece of bell pepper, and a ring of onion. 
Now, take the leaf by the top and bottom end and place them together, then, start to roll that down to the center as if you are wrapping a gift. Take the right and left ends and fold them downwards and centers. Take a small girdle leaf and secure fold it again, then tie that up with the candlewick.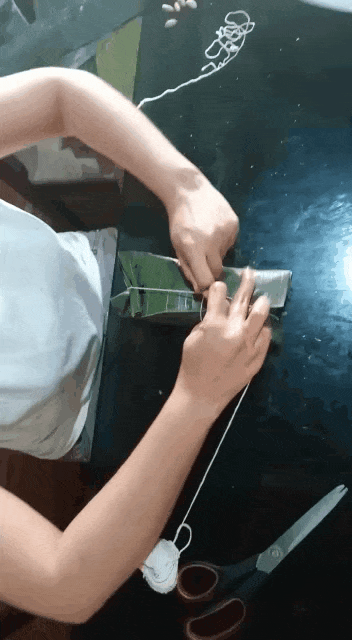 In a big pot with enough boiling water and salt, cook them for 30 minutes then turn them over and cook them for 30 minutes more. It is best if they are cooked on an open fire, but on a stove, they are just fine. Serve hot but do let them rest at least 5 minutes before serving.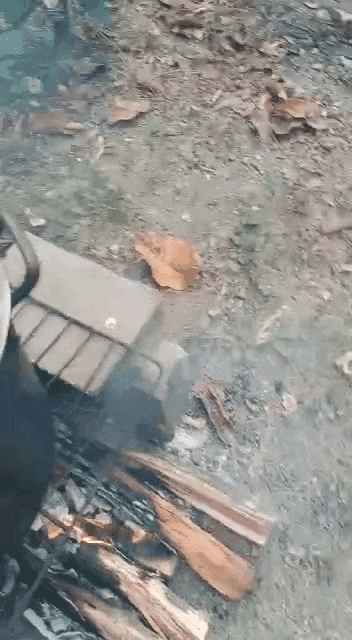 Kidding a side, I always say this and always will, this is a labor of love, a hard one for sure, but it's totally 100% worth it.
When you unwrap the first one after all that work, when you smell it, when you see it, the perfect colour, the perfect shape, and then it comes, the first bite, the one that defines it all, and it just clicks, perfection, a great Christmas guaranteed with the perfect Hallaca. Glorious!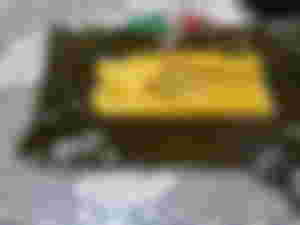 There are other things to it, like Bollitos, which is all the leftover ingredients mixed in the cornmeal dough and wraped the same way, look!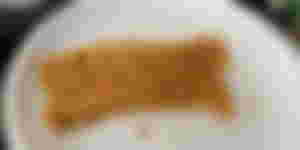 Making Hallacas is not just about making a meal, is about family time, is about love and unity and strong bonds between one and other, that's whats special about it.
It is sad that now most families are separated because of the situation, but we will be together once again, hopefuly soon, and we'll be whole again enjoying life itself, and if it's with an Hallaca, much better!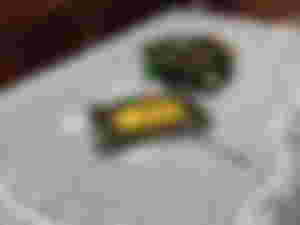 Look at this light coals, aren't they beautiful? It's almos sexy watching them, I crave a Beef Steak and a Cold Beer, uff, just awesome.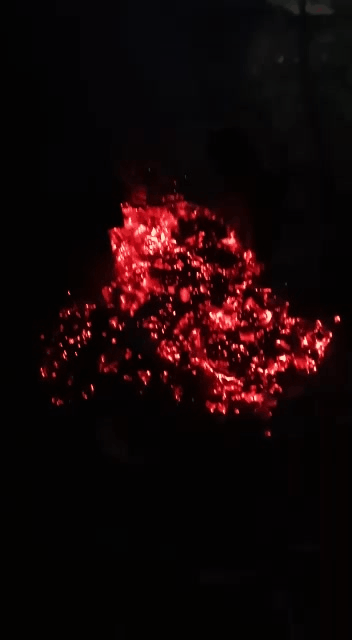 ---
---
Check out my wonderful sponsors and their awesome content!
---
---
---
---
See you next time.
✨✨Blessings✨✨
December 23rth, 2021.