The word that I hated the most
What is the word you hated the most? The word that you don't want to hear,.hard to say and makes you sad and cry. For me GOODBYE is the word that I hated the most. People say goodbye when he wants to leave either for a long time or for a short period of time. Goodbye usually means "until next time" and its a polite way to take one's leave but the fact that they will leave is hurting for me. Whether its intentionally or call of opportunity.
When I was a kid everytime my father said goodbye to me I always cried like a river.How can you not cry if he was out of your sight for 2 years. My father was an OFW (Overseas Filipino Workers) that time. And from a toddler to teenager he was always leaving. The scene that I hated the most when he hug and kiss me and said goodbye and after that he will walk to enter in the airport. I hate seeing him pushing his luggage while carrying his back pack and walking on his way to the airport. And after that waving on the airplane while its taking off. That scene always broke my heart. Until now if I saw some scene like that, it reminds me something.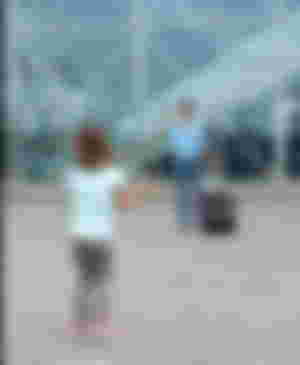 I already move on in that part because my father staying here for good now. But one thing that make me sad right now when I am thinking that your friends that makes you happy give you a hint that he will leave. I don't know if it is for good or just for while.
I am a kind of person that easily attach to someone. I am a clingy friend also, sometimes they misinterpret that I am falling in love to my friend because of that but no I am just valuing my friends. Others called me Ms. Friendship in online maybe because I don't have friends in real life. How can I have if I am an introvert person. I have childhood friends but sadly they are far from me.
Eventhough they are only my friends online and thinking they will leave and you have no communication at all makes me sad. I have 3 boy friends in online and I called them my 3 boyfriends. We always talk a lot before, its either nonsense or serious topic and because of that they said jokingly that we will exchange faces if we will not stop. I used to it that they are always there and thinking that they will deactivate their social media account makes me sad. And lately there is one friend that I met and giving a hint that he will leave. And I hate it when people are leaving in my life.
I know that people in our life are come and go and there is no forever. We have different path and different life to explore. And I also know that not only in social media our lives revolve. We have life outside on it. I understand that but I'm not denying that I am hurting because of that. But you know what, we all know parting ways are hard but just indulge it. The most important is the good memories you shared together. Maybe we will parting ways but the memory will stay forever.
I don't want to let you down
I don't want to lead you on
I don't want to hold you back
From where you might belong
You would never ask me why
My heart is so disguised
I just can't live a lie anymore
I would rather hurt myself
Than to ever make you cry
There's nothing left to say but good-bye
My Gosh.... nakakaiyak. I rather choose to hear "see you" than "goodbye".

THE WORD THAT I HATED THE MOST
76th article of mhy09
April 2, 2022
Once again thank you guys for reading this article of mine. Thank you again and again and again to all my sponsors. Also to my new sponsors @alicecalope and @Talecharm You all guys are a big blessings to me. Why? Because you are pushing me to do what I can.... That's all. See you on my next one.. ♥️mhy09
Images are from google...
Thank you...