"Tuesday is the day I actually start the week, Monday I just deal with the depression of the weekend ending." – Anonymous
If not for my Barista Class yesterday, I could say that my week usually starts every Tuesday. I remember when I was still working in a corporate office, I will always choose to have Sunday and Monday as my day offs instead of the usual Saturday-Sunday. Just like almost all of us, the word Monday is dreadful, chaotic and yes a hangover of the weekend that was. That is my ultimate reason for taking a day off on a Monday. Aside from avoiding the start of the week morning rush hours, having a day off on a Monday always felt like an extended weekend. Same thing if I plan for a travel get away, I make it a point to include Monday, it is provent to have lesser people in many tourist destinations I want to go to, and in my case: always, the beach.
Before going through with tonight's ramblings let me share to you this video I created of Tinker and Mia, two of my nine furbabies. I originally made this video at Tiktok and had to upload it to Vimeo in order that I can share it here.
🎶I'm just a little bit caught in the middle
Life is a maze, and love is a riddle
I don't know where to go
Can't do it alone
I've tried, and I don't know why🎶


excerpts from the song The Show by Lenka

So Tuesday Madness it is! After attending a two hour zoom meeting and listening to the game plan of one of my client, I am excited knowing I will be more involved with her future plans. Yay!

So what else did I do today? For the first time in years, I did some manual laundry ( it sucks when our washing machine is not working and I had to wait weeks before it gets repaired since it is under warranty). I was also able to bath 6 of our dogs, 4 dogs pending but will surely bath them tomorrow. I originally planned to bath all 10 of them though, that includes Matty the rescued dog I am fostering but I guess I am no superwoman. Sigh, I miss having a helper around. We used to have one that I truly cared and trusted for almost three years til she started betraying us. Anyway, that's another story.
Right now, I feel so tired and worn out that I would like to turn in early but I felt like Tuesday is not yet over until I submitted my daily entry here. This fun platform is becoming a journal to me and I love it!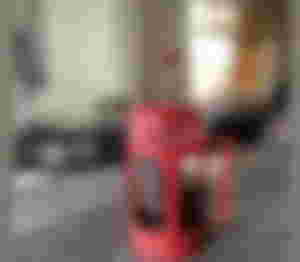 This morning, I made some practice with brewing and I tried to apply what I have learned during our Barista class and i thought of having brewed coffee using a French Press for breakfast. I bought this red french press a few months ago but i felt like it was only through our class yesterday that i am finally brewing my coffee the right way. At first I used the pre grinded Sagada Coffee my husband bought at our local market last month, I did the required water temperature and the three minute brewing and when I get to taste the coffee, it tasted like sour water. I added more coffee to make up for the taste but the end result ended up in the sink. LOL! It made me realize that those ground coffee they are selling are not pure coffee beans and it is best to buy the single origin whole beans if you want to get your money's worth. It is a little pricey but you will be using lesser coffee beans so it is actually more affordable in the long run.
I am a latte drinker, I am not yet in the black coffee no sugar stage like some of my friends prefer but yesterday at our class, It was the first time I am able to appreciate drinking coffee at its purest and simplest state: just black. Hopefully I get to learn coffee profiling very soon so I can distinguish what kind of coffee is being served to me basing on the different taste.
Good thing I still have the dark roast coffee beans that I bought months ago and with the help of our electric coffee grinder, I set it to medium coarse and redid my brewing using the 1 gram coffee to 10ml water ratio and voila! Caffeinated Tuesday achieved!
😋🥰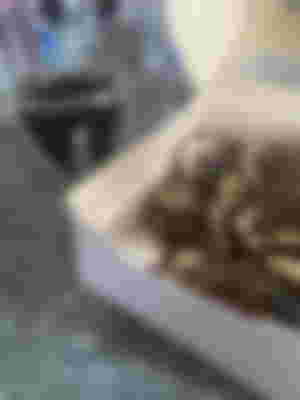 As I end this note, I am thankful for a productive Tuesday and it got even better when I got this message from my other client:

I am so excited! Will tell you more about what's in this message very soon.

Praising Jesus for His overflowing goodness. Good night everyone! 💕
Please do check out the articles 
of these awesome writers here below 🥰