Update on my 2021 $1 challenge
Last year $1 challenge per day has become a trend to some users here on read.cash. Of course I also joined in that challenge because I wanted to save. The idea of the $1 challenge was from @bbghitte. She wanted to save $1 per day for her daughter. She already had a goal when she thought of that challenge. I do not know if she still comtinued with it because there are a few users who decided to stopped with the $1 challenge halfway of the year. As for me, I just wanted to join because I wanted to save and I was also curious as to how much my BCH would cost by the end of the year.

When I found out about the $1 challenge, it was probably around mid or late January. Some of you may have already notice that I am a little OC with how I read some of your articles. I want to start from when I finished reading because I do not want to miss any details about you. So when I did the $1 challenge, I did not start on the day that I found out about it rather I started on the first day of the year, January 1.

Different users, different styles of saving $1 per day but for me I would put in $10 or $20 whenever I have extra. For January it was still easy to remember because we have 31 days in it. But when I already had  saved $50, it was already difficult for me to monitor plus the fact that the price of the BCH is volatile that it changes every so often. Good thing that I saw a planner when we had general cleaning that time. It was a 2010 planner but the days were the same as it is in 2021. I used it to record how much I put into my wallets. For someone who does not have a laptop and an Microsoft Excel where I can monitor my earnings, the planner was my knight in shining armor.

Everything was going smoothly when 2021 started. I was up to date with my $1 challenge per day. I was even advance by 10 days until my phone died. That hurts. In my record I was able to save $100 already so that means 100 days. However, cryptocurrency prices change from time to time so it is either higher or lower but I know it was higher than $100 because it was around April when BCH was flying to the moon.

I got to move on that when I got myself a new phone, I started saving up again for what I have lost. Little by little, I was able to accumulate the money that I have lost so I was back again to $100. My only mistake was that I put in little amount of BCH during the time when it was flying to the moon that when BCH dropped, so as my $1 per day.

I guess you are now wondering how much I have saved for my $1 challenge. Sadly, I was only able to save up to August 8 and that is around $220. Though the current price of BCH as of typing this at 11:58AM is $384.15, the $220 that I have accumulated is only $122.56 now. I really cannot help but to think of the first $100 that I have saved up during the first quarter of 2021. If only my phone did not die on me or if only I have written my seed phrases, I am positive that I would have been able to save the whole 365 days.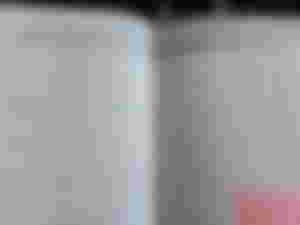 $122 is not bad right? At least I can say I was able to save something from my earnings here on read.cash. Though I just need to wait for it to increase because my capital was $220. LOL.

When I started the $1 challenge, I have no idea on what will I do with it. But I was already thinking before that $365 is a big amount so I decided that I can divide it to my parents, helper, church and myself. I was thinking before that I would give $100 each to my mom and dad, $50 each for our helper and church and the remaining would be mine. That was my assumption back then because I was already assuming that I would be able to save $365 and that the price of the BCH will be high so it would have been a lot more. I guess I should just try to do it again this year.

What I like about this $1 challenge is that you would only know its value by the end of the year because of the volatility of cryptocurrencies. Just like in piggy banks, we would not notice how much we have put in it until we open it. With the $1 per day in cryptocurrency, we would know how much we have put in it because we are monitoring it just like how it is when we put money in the bank but because of the changes in BCH prices that can either increase or decrease, that would be the fun part for me.

It is now 7th of January and I still have not started with the $1 challenge per day. This is actually the perfect time to start saving because the BCH price is low. Have you also done the $1 challenge per day last year? How much did you got? If you haven't, would you want to do the $1 challenge? Why or why not? Where would you want to spend your savings?
I apologize if you feel like I am bragging. This is the only BCH that I can proudly show that is on my bitcoin.com wallet. You all know that my earnings were spent for my debts. I only get to save a little amount of BCH if I have extra. I know what it feels like to have nothing that is why saving this amount is already a big achievement for me.
January 07, 2022
P.S. lead image is a screenshot of my $1 challenge wallet.
Sponsors of bbyblacksheep