Last year's wishlist
A few days ago I have listed down some of the things that I want to buy during this time of pandemic. And because I have already talked about my wants, I remembered that I wrote down a lot of things last year that I was suppose to buy. Let us see what I bought out of all the items that I listed:

[✔] Sewing machine

I have posted this on one of my noisy posts last year after we have received the item. Honestly, it waa my dad who paid for this because during that time I know that my wallets were already back to zero. It didn't cost much but since my dad paid for it, he immediately brought out a lot of his brief, shirts and shorts for me to sew. LOL. On the other hand, my mom also look for her things that needs some sewing. So that day, my mom and I were taking turns sewing their things. After that, we haven't sewn again but my dad already has some piles of shorts that I must sew but I am still lazy to do it. LOL.

[✔] Underwear

Glad that I was able to buy affordable underwears. I got myself 2 dozens and that is what I use for everyday use. It is a cotton spandex and it is really comfortable to wear for a plus size girl like me. I could not find any cotton underwear that fits me online but this will do for now since I am just at home.

[✔] Bra

I bought 2 or 3 bras through online last year however, it won't fit me. LOL. I got my usual size but when it arrived, it was too small. Good thing that it fits our helper though a little loose but manageable. After that experience, I never bought any bras online.

But when we were able to go to the mall last month, I got myself 2 pairs. Good thing that there was a size on the mall that we went to. It is always out of stock on their flagship stores online. Just glad that I already got some for this whole pandemic.

[❌] Washing machine

I haven't prioritized much on this one because instead of buying a washing machine, I bought 2 electric fans. Didn't know that electric fans are already expensive these days. I have mentioned on my article before that we have a lot of non-working electric fans. All 4 of them got broken last year. Because my dad cannot bring it to a repair shop yet, I just bought 2. The broken fans are still displayed here inside our house like an Iron Man collection. LOL.

[❌] Vacuum cleaner

I also did not prioritize on this because we still have one that we can use. Though towards the last quarter of 2021, it got broken. Now we haven't started our general cleaning because we do not have a vacuum. Our housr collects a lot of dust especially on some hard to reach places that is why a vacuum is needed. You can just imagine how many dusts we have collected last year because after 5 years, we got to move some of our funitures.

[✔] Pots

I didn't buy any pots because my classmate who lives a few blocks from us gave us around 30 pots. Those pots were from their garden. She had transferred some of their plants to a bigger pot so she gave us her old pots. But I would still buy some pots from @bbghitte as it would be a great design in our bathroom and by our entrance door.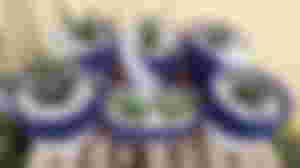 [✔] Soil

Because of the pots given to us by my classmate, we needed some soils. I do not know how many soils I bought last year but we were able to fill the almost all of the pots.

[❌] Plastic storage

When we had another general cleaning of our stock room last year, we were able to free up some plastic containers so now we got a few containers to use. Though I do not know if those containers are enough because there are still a lot of boxes in the master's bedroom that I want to transfer to a plastic containers so that it will be easy to clean and would look a lot more pleasing.

[✔] Push brush

The first one that I bought, our helper broke it after using it for the first time. LOL. So I bought one again and thankfully we got to brush our floors and no more mosses.

[❌] Face steamer

Just one of the wants and not that a necessity. I just wanted it back then because I was so conscious about my pimples. But in order for my pinples to be gone, I need to look into the root cause of it and that is my monthly period. I am still on pills but my OB-GYNE just gave me for this month's cycle. Anyway, this is something that I will still include in the things that I want along with some face massagers. If we cannot go to a facial salon then let us bring it to us right?

[✔] USB OTG

My brother gifted me one for my 2020 birthday with the same brand but I was used to the same version of USB OTG that I was using with my older phone. Well, I only got to use it for a little while because my phone got broken. I can use it again if I would get myself an iPhone 13 Pro Max 256GB. LOL. I am still eyeing for that baby of mine.

The USB OTG was a priority because I needed to transfer a lot of of photos and videos so I can free up my phone. Unluckily, even with all those transferring, I was not able to copy the screenshots of my seeds.

I may not bought all of the items that was on my wishlist but I am happy that I was able to prioritize my needs over wants. I still haven't created a wishlist for this year but the top on my list would be an iPhone. LOL. Just kidding. The top on my wishlist would be a health card. I have been doing my research on it since last year but I still do not know what to buy. I am also not familiar how a health card works.

Another top priority is some party items for my dad's birthday next month. I do not know yet what to buy but I want to throw him a kiddie party. LOL. It started because he said that spaghetti is for kids. And when he said that he is really not into kiddie foods or Jollibee, I joked that I would prepare a kiddie party for him. LOL. Not sure if I can pull it off but it would be really fun and cute.

Did you have any wishlists last year? What were the things that you were able to ticked off from it? What were the things that you bought that was not in your list? Whatever it is that we intend to buy, I hope that we would prioritize our needs versus wants especially now that we are still under a pandemic crisis.
January 14, 2022
P.S. lead image is a photo of my wishlist last year.
Sponsors of bbyblacksheep