October 18, 2021
Greetings read citizens all over the globe. First day of the week today. I hope everyone is recharged and full of battery so that you can have more energy in doing your works or daily routines.
They say unplanned getaway is better than being planned. Why? Because if their is a plan, it will fall only in a drawing. ( I guess you know what I mean.hihi ). Just like before, my friends love to planned an outing. But, until now, the plan is still a plan. It is like a drawing without color.
Yesterday, I was not active here in this platform for the reason that we had an unplanned outing. My partner and I were not informed that we will have an outing scheduled yesterday. We were only told early in the morning. My partner's mother woke up us at 6 in the morning. We were confused because we are not used in getting up early. Usually, my daughter and I woke up 7:30 in the morning. Yes, that's how sleepyhead we are. Everyone was already busy preparing while us were also busy getting our morning glory. The departure time is 8 and it's already 6:30 but we're not ready. I fed my daughter with her milk. I'm happy that she was not in the bad mood because I woke her up early. I hurriedly prepared our things that I forgot to washed my face. I also hurriedly register an online S-pass because it the requirement needed for us to enter to the place that we are going.
We departed as what the scheduled time. We brought three vehicles since we have a big family. My partner and I hopped in the cab because it is open at the back. We gave our daughter to his mother since she will ride in the car. I don't like riding a car for the reason that I don't like the smell of it especially a car with air-conditioning. I like traveling with an open vehicle so I can feel the fresh air and freely look the outside view.
When we passed at the Agas-Agas Bridge, we were stopped by a military personnel. We were asked where we're going and if we have the requirement needed to pass. Good thing, we already prepared it before we travel. After answering some questions, they let us passed. There was a rider next to us who was not allowed to pass because he didn't have an S-pass.
At 9:00, we arrived at the Sogod Market and had a stopped. The uncles and aunties bought the needed ingredients for our food. While us, since I was already hungry because I haven't eat my breakfast, we roam around and find something to eat. I also need to eat since I have a medicine to take everyday for my tooth. After buying all the necessary ingredients, we continued our travel.
Quarter to ten, we arrived at our destination. We immediately got off and brought our things to the cottage that we rented. The weather was so nice and so the water. The young ones dove at the water straight away. While the grown-ups prepared our food. They prepared ceviche dish which is my favorite when swimming. Also, they prepared grilled meat and fish. One of my partner's aunt cooked pancit. We also have sweet potatoes and fruits served in the table. My partner's mother bought the drinks ( apple beers for the young ones and San Miguel beer for the grown-ups )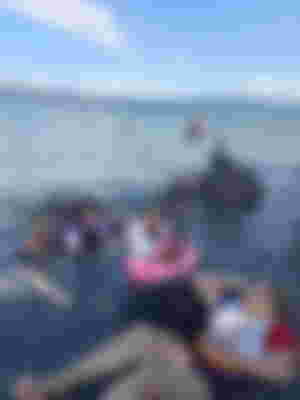 We enjoyed catching little fish at this moment when the photographer said picture. We immediately posed for a moment for a photo. But the one sleeping didn't care at all. She enjoyed her nap while being swayed by the small waves. I don't know if she was just too tired or is it the spirit of the alcohol hit her.hihi Anyways, we just let her be and didn't bother her beauty rest at the sea.
Few meters away from our location, we saw a diver holding his fish cage. We saw that there were fishes jumping inside the cage so we hurriedly went to watched his catch. The fishes has beautiful colors. I don't know the name of the fishes but I saw a small red lionfish in the corner of the cage. After watching, we went back to our cottage and enjoyed the food the second time.hihi We went home 3:30 in the afternoon and we were all exhausted.
---
This is it for today guys. I need to perform my duty as a mother. I will put my daughter to sleep first then I'll be back here. ( If I can't sleep hihi ) Thank you everyone for your continuous support. I appreciate you all. God bless and be safe always.
Check out the works of my generous sponsors.
Lead image is yours truly.