My Monday Feels
April 04, 2022 (Monday)
Hello, hello readcash citizens. How are you all today? I hope everyone is having a great day.
Yesterday, my partner's side's family invited us to come with them to the beach. We politely rejected the invitation for we were not ready and my partner was not in the mood to go out. The time they informed us about the getaway was a bit late and our daughter also was still sleeping and I didn't want to disturb her for she slept late last night. Nonetheless, my partner's siblings went with them so we were left in the house and the whole compound. So, our Sunday went like a normal day for us. When afternoon came, my partner and daughter went outside to take a stroll but they went back after a few minutes for our daughter felt bored. She has no one to play with since the Mormon's Church was closed. Thus, we took her for a ride which is her favorite part of the day. It is already our routine to ride our motorcycle and roam around the town every afternoon. It is one of our ways for our daughter to enjoy her day.
Today, I feel stultify for I felt like I am being stuck and unproductive just like yesterday for I failed to write and publish here. I only read few articles and leave some comments and after that I can't find the drive to write one. I wanted to force myself to think of a topic yet still none. Until I had a minor headache for I was pushing myself to produce something. I went to my Facebook account hoping to find a possible topic but all I read is all about politics. That platform is indeed virulent already. Sometimes I only visit my account there to check if there will be memories to watch. Next, I went to TikTok and browsed and browsed and still I can't fine something interesting. I just find myself hungry from those foods that I saw on those videos. Good thing my partner ordered an ube lumpia with cheese from his former high school classmate last night. It filled my hungry tummy for it was delicious and I am very satisfied with it. I forgot to take a picture of it for I immediately dig in when it arrived.hihi
When my daughter woke up from her noontime nap, I paused what I was doing and tend her for she always wants to be cuddled everything she woke up. She is just a sweet child. She loves being always kissed all over her face. I played with her for a couple of minutes and since there's no rain and the Mormon's Church was open, I let her play in the plaza together with other kids. When she was tired from running and playing, she led me home. I already know what she wants. She was hungry so I gave her milk to quench her thirst. When she was done, we had our afternoon routine which is joy ride just around the town. I took a few shots of the view of our favorite spot.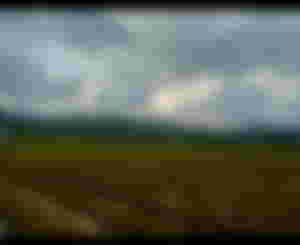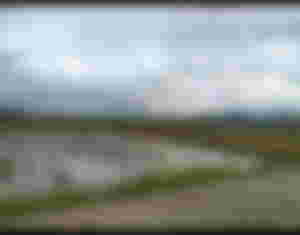 The weather was kinda gloomy. Well, here in our place, we always have a gloomy weather. After 30 minutes of roaming around, we headed home for the rain was about to pour. And like a cue, right after we enter our house, the sky started to leak. And now, we are watching one of my daughter's favorite cartoon movie entitled "Littlefoot". My partner wanted to watch the news but our daughter is the boss in the house, so what she wants will be followed. Poor papa.😅
---
That it for today guys. I have to end here for I need to prepare our food for dinner. Thank you for reading. Till next time.
P.S. (parang letter lang eh)
I want to say thank you to sis @BCH_LOVER and mem @Marinov for renewing their sponsorship to me. Thank ng marami ninyo.😊 I declare more blessings to you and to your family. Also, more BCH to come us. God bless.
Flexing my generous and amazing sponsors.
All photos above are mine and captured by me.
Lead image is edited using Canva app.