Let's Try This Deep Questions To Ask
April 30, 2022 (Saturday)
What's up madlang readcashers! Today is a great day. It's weekend, payday to those who are working and last day of the month of April. Tomorrow is a new month and new opportunity to achieve the goals in our lists. I tried to track back my performance here in this platform for this fourth month of the year and I can say that I did a good job for I pass what I expected. So, good job self (*tap on my shoulder).
I wanted to write my monthly report today but maybe I'll just pass. Instead I opted to browse and look for another topic. I searched some questions on Google and I stumbled to this one. If you want yo answer, you can find the questions here: 371 Deep Questions to Ask Someone [Updated for 2022]
---
*How important is trust in a relationship?
- I personally believe that trust is one of the most important ingredients in a relationship. It is the ingredient that can build the stability of the couple that can make the relationship lasts. As they say relationship without trust is like a car without gas. You can stay in it won't go anywhere. Trust is essential especially those who are in a long distance relationship.
*What was the most important lesson you've learned from your past relationship?
- I think the most important lesson that I have learned from my past relationship is that you should learned to leave something for yourself. There's nothing wrong with loving your partner with all your might but you should not forget to love yourself also. With my past relationship, I was completely shattered when my ex-boyfriend cheated on me for I gave everything that I am and I have to him. I made him my world and I even surrendered my body and soul. Yet, that was not enough for him so he cheated. When that happened, I got broke into pieces that I almost took my life. Glad that God still save me from that darkness.
*Which would you prefer: having a baby without a partner or a partner without a baby?
-Before I met my partner, I had this thought that I want a baby even without a partner. I witnessed some of my old maid relatives who feel lonely for they don't have a child of their own. Though they have nephews and nieces but I think that it is still different if you take care of your own children. But of course, having a baby with a partner is still best.
*When you were a kid, what did you say you wanted to be when you grew up?
-When I was young, everytime I am asked what I wanted when I grow up, my answers were all the same, I wanted to become a teacher someday. With my young mind, I thought that being a teacher is a chill job. Have a nice uniform and just make a grade for the students. But now, I realized that being a teacher is one of the hardest job in all occupation. It is not just about giving lessons to the students but it is about molding and shaping their future.
*What is your favorite part of a house, and why?
-Bedroom. Why? It is the place in the house where I can show all my emotions. I am not open to my parents about my feelings for I was always afraid that they can't understand and won't validate my emotions. When I am sad or broken, my pillow is the only witness for they are the ones that gets wet everytime I cried.
*What musical instrument do you know how to play?
- I know how to play guitar but not that good. When I was in fourth year high school, we had a practicum in playing guitar. I was only able to learned the basic chords for my brother brought my guitar to his OJT days at Cebu and didn't bring it back. That guitar was given to me by our father and when he learned that my brother took it, he got mad.
*Which member of your family do you feel closest to, and why?
-My sister, our youngest. Among our siblings, she is the one that I grew up with. We are six siblings and we grew up apart from each other. Me and my youngest sister grew up at the same roof. Maybe that is the reason that we are so close to each other. We are each other's shoulder everytime we encounter different problems in life.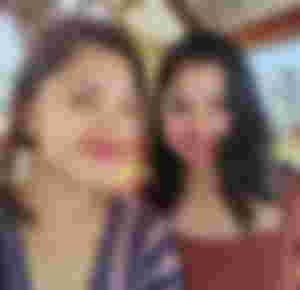 ---
This is for today fellas. Thank you for reading. Till next time. God bless everyone and have a great weekend.
Flaunting my amazing and generous sponsors.
Lead imag: Edited using Canva app.