Biggest mistake I've ever make
"There was a time in my life that I feel like I'm so stupid, because I've make a mistake".
All of us has weaknesses, and there are also some spots in our life that is hard to eliminate. What am I referring to is bad character or an attitude, which we still fighting for until the present time.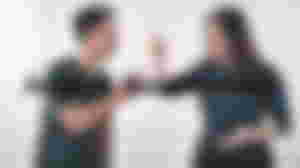 I blown up
As in to the point of anger, yelling but cry in the end.
"Easy to react, I can't hold my emotions, I explode like tire, when I hear some humors or fake statement about me. That is my weakness and one of my mistake that I have felt too much sadness and regrets after I committed it.
I don't want it to happen as much as possible, I desire for something which I am living peacefully and having a good relationship between other people. But, there's just one time that there's a man who have confronted me of something, which cause me to react easily and explode.
It's really bad thing that my emotion is like a monster inside me that seems like it's just sleeping inside me and waiting for the time that it will rise up. But my mistake is already left in the past, there's nothing for me to worry about it. My father had already forgave me and I forgive myself too. I don't like it to happen, not even in my dreams, but it's just that, it comes out unintentionally.
When was the last time that your emotions have blown up, like anger, you shout or yell to anyone?
This kind of attitude can create.great disturbance towards others. They might mocked you with what you did, and how did you react, and it doesn't end there, it will be connected with your past and future mistake.
The consequences of my actions
I can't face anybody, I just want to hide my face, maybe for a day or two, but I'm grateful that my family understands me, and they didn't blame me with what I've done.
I cried for the whole, that I can't stop my feelings, the situation was keep on repeating in my mind over and over again. Full of regrets and blaming myself for what I've done, for I know that I should not shout to anybody's face, because I am angry.
What I've learned from this experienced?
Pause
Learn to pause for a while and process the situation for a moment, so that you can think of the best answers before you open your mouth,and that is called "wisdom", not to answer quickly". This can be applied to situation like confrontation of answering question.
There's a tendency for us to quickly respond in a certain situation especially when we became emotional or having a grudges with people. As much as possible, try to make a pause.
Apologize
Part of our human nature is that, we make mistake, because we are not perfect, or can't be. We feel angry, and we fight back for some reasons, but not to our parents, because it's not good,for the family and even in the society, it was against to any proper code of conduct.
But, if we have committed mistake and blown up, it's inevitable that we will apologize, say "sorry", sincerely. That's always the key to settle a relationship, to humble down and ask for forgiveness. There's nothing wrong with it, or against to any moral standards.
Forgive yourself
The last subject that we sometimes hardly extend forgiveness is ourselves, we have the tendency to keep thinking over and over again. It takes a long time before we released oneself, so that we can start over again.
Forgive yourself, it's your best buddy more than ever, give it a chance to take a new step towards your goal and let it experience to be forgiven.
End notes
We all have flaws as it is part of the human flesh that has the instinct of being weak, but it doesn't mean that we are miserable or to feel pity about it. It's just that we are sometimes like the ocean, there's a low and high tide, a weather that it rain and shine again.
You have all the chances in this world to become a better person, as long as we wake up in the morning, smile, walk, talk and do our daily routine, we can be a better version of ourself,either 2.0,2.1, but don't bring yourself down because of your failure, your a precious one.
All the images attached is from unsplash.
Until here, thanks for everything guys, sponsors, and to the Almighty.