I got kicked Out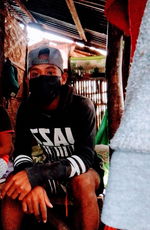 Blog #2 May 4, 2022
Hello everyone this is my second day here and a second article from me as well. Yesterday I was here to introduce myself, and I wanted to make friends here like my sister. She is really friendly and even here I can see that she has a lot of friends.
Yesterday I read a lot of articles from my sister and I can say that she is a strong woman indeed to face all her hardships in life alone. I was 4 years old when my brother came and picked me up at my cousin's house. I was just a kid to say no back then, but what I can remember clearly was I hated our mother for abandoning us.
My brother left me to our mother, so I had no choice since I was just a kid. I was 14 years old when she was remarried to a man of course haha. At first everything was okay, but time went by very fast and everything has changed.
At first my stepfather was okay like he was kind, he treated me like his own son, because he has no son in his past wife, I was totally okay with it because the face of my real father faded in my memory because he died when I was just 3 years old. The thought of having a second father made me happy.
We became a happy family,
until recently…..
I went home from work when I noticed my things scattered outside the house. I saw my mother sitting on the bench inside while staring at me, I asked her What happened but she was just silent…
Even though I was tired because I came from very hard work, I was still able to focus on getting my things on the ground, and that ground was a bit muddy and slippery because of the rain, my clothes were on dirt and some of it got wet..
"didto sa ka sa emong ate peb, nag away me sa emong angkol kay labanan taka, ang gusto nya nga didto sa ka puyo sa emong ate kay ako radaw ang kaya niya nga buhion karon"
I was stunned at the words she said like what??? without saying any words, I turned my back on her and left.
I chatted with my sister @Dawn_Dii and I told her what happened while crying only to myself, and she said that I am always welcome to their house, her husband is also kind for letting me stay for the meantime.
I didn't bring any clothes when I left, I didn't even bid my goodbyes to them because I was so hurt by those people whom I thought could protect me.
But my sister said " ayaw pagdumot peb kay diha nako gikan, bisan paman sa tanang nahitabo, kahiubos nimo nilang nanay mas gaan gyod emong dughan kung mupasaylo ka"
Now? I don't have any plans to come back home because I think I finally found my real home beside her, my sister.
Thank you so much for reading, see you until time.