Sunday Relaxation
Today, I have shared one of my ReadCash articles on LinkedIn with a referral link to the original post. I regularly do it for a few selected articles which have universal appeal. A LinkedIn friend has kindly re-shared the article with her network.
Sunday is not very special for most full-time employees. As I am a self-employed professional, I can choose a gap day on the weekdays. It depends on my clients' work demands.
Generally, I try to synchronize with the work days of the general mass. So, I often have a gap day on weekends, i.e., Saturdays and Sundays. In those days, I never miss going to the open fish market. We like to buy smaller fishes which are available alive.
---
The LinkedIn connection is called Mary O'Donnell Meldrum, who shared my post. Mary is a freelance blogger and is from Canada. But, she has been blogging for many years. I don't know whether she will be interested in crypto-blogging platforms.
I think I should ask her and inform her about ReadCash, NoiseCash, Publish0x, and other crypto-blogging platforms. I will also let her know about Odysee where one can publish content in multiple formats.
It may so happen that Mary is not aware of these crypto-content publishing platforms. I shall send her a direct message and give all the links about the dot-cash and other content publishing platforms.
---
Sponsor of the article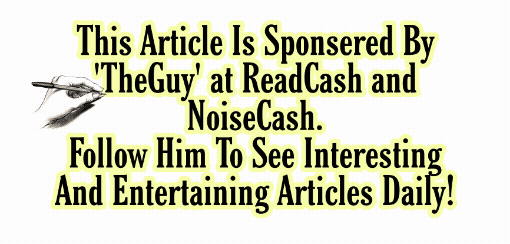 Image source TheGuy – Follow him on Noise and Hive for more insights.
---
I found interesting shares in Mary's LinkedIn profile. The shares include text blogs, audio, videos, and images. I am grateful for her curating content from LinkedIn and re-sharing all those content.
I salute her interest and passion for curating and re-sharing others' interesting content. The topics are from a vast area. I have enjoyed looking at the beautiful shares of Mary.
I wish to re-share a few videos here as animated GIFs. As ReadCash has not enabled its writing platform to embed videos from LinkedIn, I have converted the videos into GIFs and have shared them for your views. Don't worry. I won't share too many GIFs. I will share only three below, which are very interesting to watch.
---
You might have seen rollercoasters in amusement parks. I am not that courageous to go on a rollercoaster ride. Once, we got up on a simpler rollercoaster ride in a science park in Kolkata (Calcutta), India. Then, our son was only three years old. I remember how terrible we felt during the vertical turning of the rollercoaster at high speed!
The following GIF shows such a rollercoaster. The angle of the rollercoaster rack is almost 90 degrees to the horizontal line. It requires great courage to go on such a daring rollercoaster ride.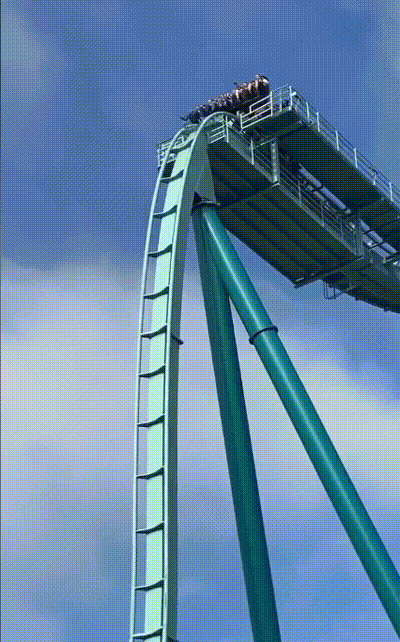 GIF captured by me from LinkedIn.
---
A dog is a common choice as a pet. Dogs are fascinating animals. People are fond of dogs. When I was in Tokyo for my postdoctoral studies, I saw people used to come with their pet dogs to designated spots in a local park to give them breakfast. Yes, there used to be mobile restaurants for the dogs' breakfast!
The following GIF shows how a dog is opening the door of his cage. The dog learned to utilize its tongue to open two latches of the door, which were on the outer side, i.e., the dog could somehow find it by feeling and quickly opening the latches.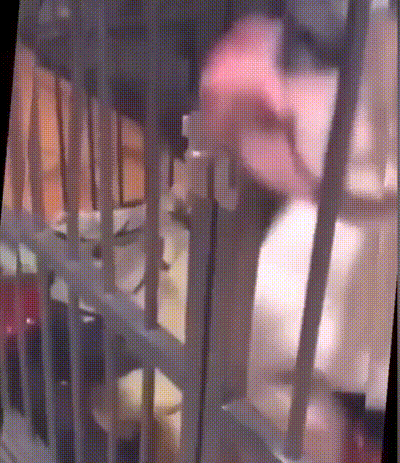 GIF captured by me from LinkedIn.
---
My encounter with fish set back to my childhood. In those days, my little friends and I used to go to a nearby pond and used small pieces of cloth to catch smaller fish from the side of the pond. The older people used to warn us because the pond was quite big.
The following GIF shows how a fish jumps out of the water to eat juicy fruits from a hanging branch of a tree. Have you ever heard that fishes eat fruits and vegetables? I have never known that fishes like to eat fruits.
The captured video is impressive. I like the agility of the fish. Just imagine the excellent vision the fish had that it could identify the fruit and aim flawlessly to engulf some fruits hanging from the tree branch.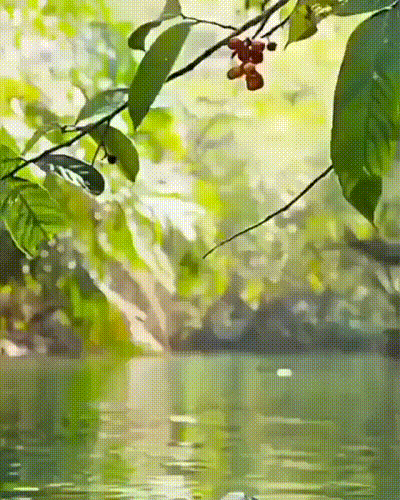 GIF captured by me from LinkedIn.
---
I hope you like the GIFs. I am sorry that the audio is missing. We can expect our platform may create features to upload native videos.
I will also try to upload the videos to appropriate video content platforms and re-share them for you here.
Don't always work.

Keep some time to relax.
Life is enjoyable only if you wish to enjoy it.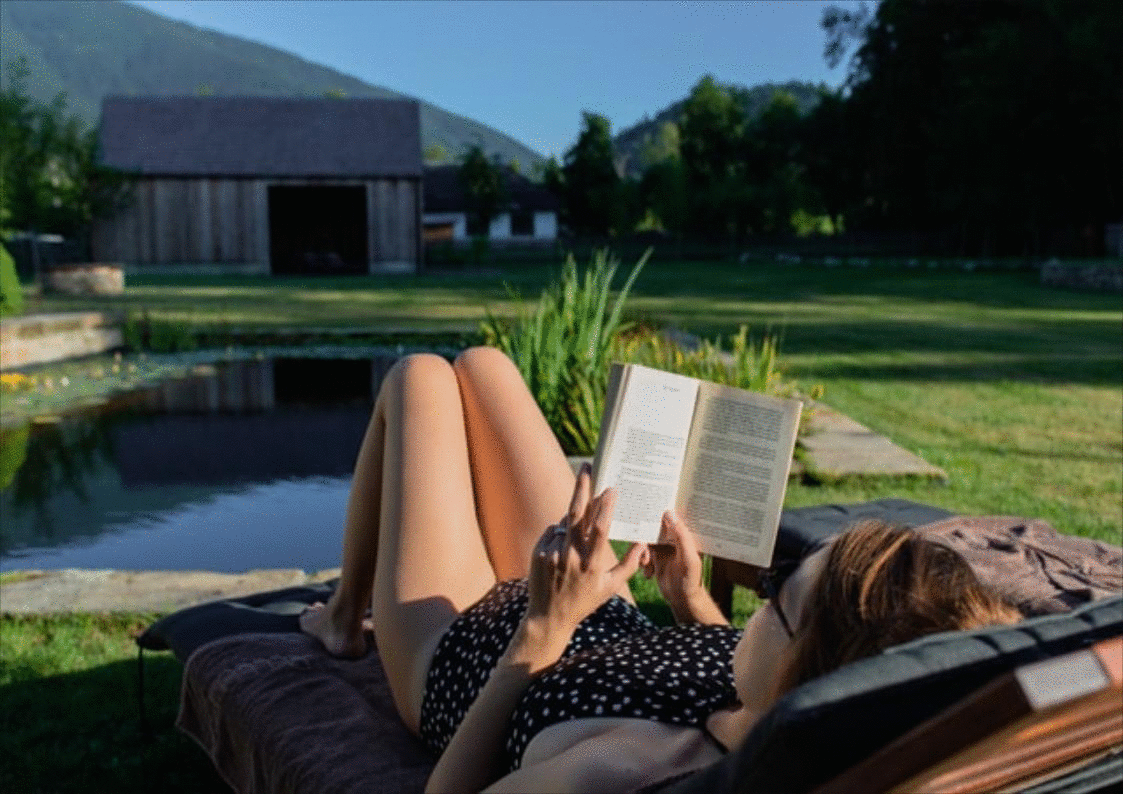 GIF created by me using Photos by Filip Urban and Rojan Maharjan on Unsplash.
---
I am Unity here, but I don't hide my real identity
If you really have some time, try to explore "Learning Times" and other channels on Odysee-dot-Com and earn crypto coin LBRY Credit or LBC for consuming and creating content.
---
Cheers!
Unity (Debesh Choudhury)
Text Copyright © 2022 Debesh Choudhury — All Rights Reserved
Join me at  
Odysee, LinkedIn, Twitter, noise.cash, read.cash, publish0x, and Facebook
Lead Image: I have created a GIF animation using my title texts and Photos by Filip Urban and Rojan Maharjan on Unsplash.
All other images are either drawn/created by myself or credited to the respective artists/sources.
Disclaimer: All texts are mine and original. Any similarity and resemblance to any other content are purely accidental. The article is not advice for life, career, business, or investment. Do your research before adopting any options.
Unite and Empower Humanity.
June 26, 2022