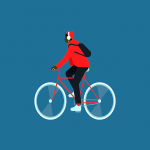 In a world where it seems like how other people run their lives is like watching a movie about Juan Tamad (Lazy), who is just wasting time waiting for the guava to fell off in his mouth, when in fact they can save their time by making an action to get it right away. No more waiting because the opportunity is already in front of them. Not unless they are blind for them not to notice and take it immediately.
Like any other opportunities that come our way, we are given two choices. It is whether to grab it or disregard it. Obviously, I take that opportunity, and this opportunity did not fail to make me happy. I grow up in a poor family, and who am I to reject an opportunity already in my hand? I hope you get my point.
Anyone may say that it could be a reason for all people out there who want to get rich, and then I realize that it could be and has a possibility, isn't it? Who knows, what you invest today will become so much larger in the long term?
We need to learn from it and gain knowledge that is necessary for trading because we are believers who believe that BCH can change lives and that its future is shining.
Before, I am just a simple student who wanted to find opportunities that can somehow help me in my studies, most especially when the pandemic arises. Honestly, I just joined because of the monetary incentives I get since I actually really need it to buy books, prepaid loads, and the like. But as days pass by, I realize that I already love the platform itself because aside from the motivations and inspirations, I am also acquiring knowledge about cryptocurrencies, which really interest me. I know that as I continue to grow here, I would be able to acquire more knowledge about trading, and this is something that I am thankful for.
When I finally achieved .1 BCH, I was already pleased. And seeing each progress with the number of engagement our community gets makes my heart glow. In my article entitled, .1BCH Journey Finally Achieved!, I have proven that we can achieve what we wanted with hard work and patience. Our combined efforts could make a difference, and it will take us to the goal we all wanted. 

Yes, it is one of the ways we get our tips from the bot, and that the more users came in, the more challenging for us to get a share from the daily spending. But do not think of it as a competition. Instead, think of it as a hobby where you offer your time and passion with love and as an inspiration where we will know more about ourselves and the possibilities of what the future may bring to us.
For anyone out there who is planning to set a goal for themselves, do not hesitate to implement it. It may be full of obstacles along the way, but once you get there, you will begin to reap the sweet fruit of your success. Do not give up!
I believe I found this home for a reason, and as a member of this home, I will do my best to spread awareness about this, and most especially the BCH, to my friends and everybody willing to open up their eyes and mind that there is a future with BCH. It is not just anyone's money, it is ours and ours to cherish.
Again, when the opportunity is already in front of us, consider grabbing it not unless you are blind for you not to notice and take it immediately. Truly, BCH is a blessing, and it is so far one of the most significant opportunities I have taken. With Bitcoin Cash, together we stand divided we fall.
And by the way, this day is Valentine's Day. I am single, yet I am so happy today. And the reason for that is the increase in the value of BCH. The rocket has not yet flown, but soon enough, we will see it flying to the moon.