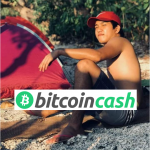 It is an obvious fact that one of the reason why a the userbase of both read.cash and noise.cash is constantly growing is because both platforms are free and paying it's users with Bitcoin Cash (BCH) that can be then exchange to their local currency.
However, it's unavoidable that there's lot, if not some, users that were just complaining on why they are not getting enough "tip" from the platform without knowing how and what they should do. They are just so focused by getting paid and ignoring what the platforms can really offer - knowledge!
You can call me a hypocrite if you think I am only here for the sake of money and it's ok if I won't get paid, but I am not! For many months of being in this platform, I've experienced being reported for spamming (which I didn't do), my articles are not getting tipped and I even experienced an account overtaken by someone else (because I had a weak password for my account) but still, I stayed!
For my everyday routine, reading articles in this platform has already taken a lot of my time per day, and it was worth it. It has been a normal hobby of mine to take a look in the homepage or in my notification to find and read some articles, and that helped me a lot especially in the cryptocurrency space.
Read.cash is a blogging platform, or it can even be your online diary where you write your personal lives/experiences and publish it as an article then wait for it to get a tip from other users and from the robot rewarder. But if one day, for some unknown reasons, you are not getting any tips and that disappoints you because you are not earning anymore.
Read.cash is free. Reading articles in the site is free. And you should take advantage of it.
Push yourself to learn new things and discover more. Read.cash is still here to guide us and it will still be here in the coming years.
What I really mean is that don't just focus in read.cash and noise.cash if you want to be practical.
Authors in this platform offers different kinds of knowledge and more like spoon-feeding it for everyone. The platform itself said in their roadmap that, for now, publishing articles still can't replace our day job. And it is not really recommendable to put all your time watching and waiting for a tip to come in your article.
If you are really new in these platforms, and new being in the Bitcoin Cash community, you will find it really hard to make a good start. But this blogging platform has thousands of great articles and all you need to have is to be able to read and understand it then you are good to go.
Read that article that looks interesting and new to you and that will open a new knowledge for yourself. If you are able to earn a lot here, keep earning and keep learning. There's still a lot of knowledge out there waiting for you/us to discover.
Here's some articles from some great authors in this platform:
https://read.cash/@RowanSkie/bch-is-not-free-money-a9275e23
https://read.cash/@Telesfor/how-does-bitcoin-cash-wallet-work-7c14aab0
https://read.cash/@Telesfor/how-to-integrate-readcash-wallet-into-bitcoincom-wallet-80747c24
https://read.cash/@MobTwo/bitcoin-cash-is-the-peoples-money-and-i-am-one-of-those-people-3820e915
https://read.cash/@Eybyoung/escape-volatility-while-holding-your-bch-with-stablecoins-swap-features-b8146d35
You can follow them as they published great and a good to read articles.