Fund spending
We are changing how the fund spends its money. Previously we were spending 0.5% per day, because we had no idea how much is there going to be in the fund, but there is a problem with that. Let's assume the fund has $40,000 and the active monthly number of users that the fund pays grows at 500 users per month.
Here's how much the fund will have in 12 months:

It doesn't look that bad, we start with $40,000 and end up with about $7000. However, the problem lies with the user base growth. In the first month there will be 1,000 users getting paid from the fund (just starting with a random number), but by the years end, there will be 6,500 users being paid from the fund. So an average user might get: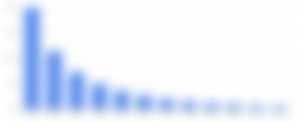 $40/month in the beginning and... $1.10/month by the years end.
The problem here is that 0.5% per day rule means that we spend the most money in the first months (where we have much less users) and we don't leave too much for the future.
With that said, we're changing the spending to fixed amount per month, increased as necessary. That way we're not spending too much money in the beginning, but if the fund grows we're still able to raise the spending bar.
The banner at the top will inform you of the current fund spending:

Remember that the fund has only donors pledging Bitcoin Cash, showing USD amount at the current exchange rate, so if Bitcoin Cash rate drops - the fund amount also gets lower.