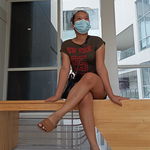 Hello everyone.It's another day and another blessing from God.
For me Life is the most beautiful gift that we receive from God,but it is not always beautiful,because in life were gonna encountered too many challenges and problems, but it doesn't mean that we need to stop,instead we should learn how to face it,and fight for it.
So I am here again to share something I learned about Life.
-To forgive
Each and everyone of us know that forgivenss is the hardest thing to do,especially for those people who hurt us the most and leave scars in our heart. I experience this before, I was being betrayed by my bestfriend in college, and my boyfriend cheated on me. They both see each other without me knowing because that time I was working, and my boyfriend have his vacation in our province, so I was left here in cebu, as much as I would love to come with him, but there is nothing I can do because my employer didn't allow me to leave my job since I was a newbie that time. Until one day my other friend chatted me saying that my boyfriend flirting with other girl which is my bestfriend. I was really shocked that time, I can't imagine that they can do that to me since I trust them so much. So I decided to break-up with him and end our relationship, but he wont let me go, he ask for another chance and so sorry for what he did. It is truly hurt because I also pregnant that time for two months. But then I try to give him another chance,(marupok ka girl) it because I dont want to see my child growing without a father. And yes I choose to forgive them after all the heartaches they've caused to me. Besides I dont want to hold any bitterness in my life. Ofcourse I will never ever forget everything they have done. And I also believe in this quote made by Lewis B. Smedes "To forgive is to set a prisoner free, and discover ,that the prisoner was you."
-To be contented
Before I have this attitude, that I keep on comparing myself to others achievement and insecure on what others have, something that I cannot. In short I am not satisfy on what I already have, I keep on seeking for something and I keep looking for more. And because of those wrong doing,I found myself unhappy. And it comes to my realization that instead of thinking too much and get stress about it, why not just accept all my imperfection and start believing in myself. So I learned to be proud of myself and know my worth.
According to Paula Rollo "Contentment does not mean that I desire nothing. But rather its the simple decision to be happy with what I have."
Lastly I learned how to be strong.
I have experience a lot of struggles and hardship in life. I've been hurt, but choose to love again, I've fell off but choose to bounce back. I've been cheated and betrayed,but choose to trust back and forgive. It doesn't end there,I still have a lot. I wasn't able to finish my studies in college because my parents dont have enough money to send me to school,so I choose stop and look for a job so that my siblings can continue to their study and help them to chase their dream, it really hurt me so much knowing that I can no more proceed to finish my study, but then I need to understand our situation. Sometimes thoughts comming to my mind that I should just give up,but I choose to fight with the thought of giving up, and I tried to look at the brighter side of the way and choose to continue. I chose to stand firm and fight back because I know I can make it, and because I also have God,I believe that he gave me this kind of challenges because he know that I can survive with this. I just need to be strong.
"Be strong bacause things will get better. It may be stormy now, but it never rains forever" -Evan Charmichael.
I think that is for today,I hope that you learn something about this article of mine. Im sorry for my grammar and the construction of word, Im not a good writer,I still learning on how to write an article but atleast I did my best.hehe
Thank you for your time. And if you have something to say or suggest,feel free to write it on a comment section.
Have a a great day guys. Godbless us all.
Lead image from Unspalsh