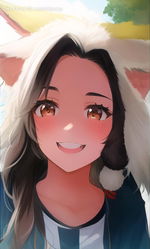 Scrolling through any apps is my thing as long as it kills my boredom. Trust me, doing nothing is worse than having something to work on. Well, I guess I have but my laziness starts to consume me again. I was planning to answer my assignments yet I am here doing random things that make me laugh for once. I don't want to be too serious ehehehe co'z if I do trust me I do always overthink and just choose to stay alone. Luckily, I came across the @Pichi28 article and just chose any question that I liked with the link she gave https://www.quizbreaker.com/ice-breaker-questions#if-you-could-icebreaker-questions.
What is the first lie you ever told?
"I don't feel well", when I was a kid I thought that when I told my parents about that one then they would excuse me for going to school but I got it all wrong lol! I was lying to them that I have a headache and I don't really feel well but again they still force me to go to school as they don't want me to miss any school activities. Starting from that, I don't skip school though I don't really feel well haah haah.
What is your worst personality characteristic?
Does being an overthinker can be considered worse? I mean I always do this because I am scared of any consequences that might come after deciding some things. What if I made the wrong decision? What if I do that, instead of this? What if they'll get disappointed? The more I overthink the more questions I ask.
What is the worst food you have ever eaten?
I don't know its specific name but I first tasted it when I was still working. My employee made it and it doesn't suit my taste yet they are enjoying the food. I mean maybe they like it since they are used to it, and I'm just a newbie that's why it tastes so bad.
What is the worst advice you've ever given?
"Try and try until you die", c'mon isn't a bad joke? I mean I'm just trying to give advice that if she wants to reach something then she should try and try until the end. It's about trying things to the fullest.
Describe your worst day ever
A worse day is when I have to travel for a long time, come home tired and hungry yet I have to do all the things adding the moment when my partner and I are fighting over things.
What is the worst trouble you go into as a kid?
When my teacher asked me to be the representative of our classroom. I am a shy girl yet she wanted me to face all the audience and needed to memorize the 2 yellow pad back to back papers. C'mon I did it co'z I don't have any choice. But guess? From that to another contest.
Describe the worst movie you've ever watched?
It's not that worse but there are instances that I get angry for what I have watched especially when the protagonist is too stupid, instead of running they are just looking intently at the killer or worse they didn't see that it was behind them lol!
What is the worst pickup line you've ever heard?
"Do you have a Band-Aid? 'Cause I scraped my knee falling for you" is it worse or something that can make someone's heart flutter? lol!
What is the worst holiday you've ever been on?
Just staying at home instead of going out and enjoying myself. This might sound relaxing but the weather wasn't cooperating. It was too hot.
What is the worst grade you ever got?
To be honest I have 80 in my card hehehe and I don't like the feeling of having it but of course I'm thankful that I didn't get 7+.
Lead image is taken from jmlalonde.com
Check out their article too it's worth to read ❤️