...And 1!
Did i just miss one day of putting up an article? But it seems that I have always been missing a day or two. And here I thought I was posting articles every day! Hah!
I cannot keep up with following days these days. It was just like few days ago I was musing how my August ended and what are the images and videos worth making a reel about to match with Taylor Swift's August. I decided against it after a gallery review and seeing that most of the things in my gallery for August has been food.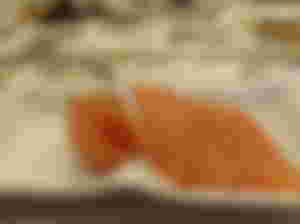 I do not think September went and ended differently. Though I did start and end with sushi. I think. Yum and happy tummy for two months now.
You'd think I'd write about a basketball game where one player gets an amazing, stadium-standing-ovation worthy of an "and 1" but no. I am just referring to "and 1 day again of missing an article post".
I have always told myself to post at least an article a day everytime I think about read. Or whenever I take time to check on everyone else's article. But I guess I end up thinking about it, reading through articles, interacting and then forgetting I have not posted mine!
I had two kiddie parties last month. For which I pushed flu vac skeds for. I do not usually get fever after a flu shot. But I do not want to get paranoid just in case some sniffles manifest. So my paranoia on being paranoid had me moving the jab to yesterday. The safest sked since I projected the following days to be mostly uneventful.
I had a September-ender birthday celeb of one dear friend. We just used her birthday as an excuse to pig out. So yes more food sesh for me and an amazing life-shared moments with my dear friends.
I learned to order "one hot caramel macchiato sub breve". Sub breve meaning substituting the usual milk to a half and half. I enjoyed that cup of macchiato which is more creamy. And we got our drinks in time for when starbucks is offering thrice a star I think.
So August was a travel month though my gallery is still full of its feast. September is no different. And I wonder if October will be the same.
They say Octoberfest will be a blast this time since we are a lot less stringent with the protocols but I do not go to October fest gigs or celebrations.
As for read and noise and noise app and hive adventure. I, again, am setting no goal except for "write and post some more". Does not matter if I write everyday. Because I already missed one day haha. I live for no pressure while earning. I am not doing my accounting and I have never done the monthly report like everyone else.
Besides I am really having trouble keeping track of the days like for real. And every day it seems time is not enough. Busy is real.
I am very grateful and thankful to God and for everyone anyway. So far read is still enjoyable.

Meanwhile, I am getting back to the non-cyber world busy-ness. Catcha later....
---
What's your musings?
© Pichi28 | #ClubBrokeBCH
All Original Content
Unless specified otherwise...