648 Words To Explain My Absence
I don't know where or how to start. Actually, I have no particular topic to write about. That is the reason behind the " I don't know where or how to start" part. My last article was written two days ago, and I have been so lazy the past few days. As much as I would like to go back to the old Pachuchay, who was very eager to write an article on a daily basis, I just could not. The old Pachuchay, who was thinking of a certain topic the moment she opened her eyes in the morning, should have been more eager than before, but this laziness takes control of my body, lol!
So for today, I have to beat the laziness in me to be able to cope with the days that I am not able to publish an article. I have noticed that read.cash has been a little quiet the past few weeks. And we all know the reason. Do I have to say it?😅 I also learned that most of you here have joined HIVE, and I was left behind. I was planning to create a HIVE account, but I don't know when to execute that plan. Last year, Elyz told me to join HIVE and said she would support me all the way, but I hesitated for the reason that I might not meet the expectations of HIVE. I have this notion that you should have a higher level of knowledge in English if you want to join HIVE. But, since most of you were already there, I figured I'd try my luck there. I would never know if I could if I did not try, right? But still, it would still be a plan, lol! Once I am back to my old self again, I think that would be the best time to jump aboard. As for now, I think the best thing for me to do is to learn how HIVE works.
I have read Jane's article about how HIVE works and how to earn. It was a bit much to take in, but who cares? I know I could if I put my mind to it.
Anyway, let's change the topic and go with how my day went. We had rainy weather here at our place. We were supposed to go to Baybay (beach) early in the morning but canceled it due to the weather. I felt sad because I was looking forward to it since last night but it can't be helped.
My husband took care of the cleaning while I went to the market. And by the way, I also went to the drug store for my 1 week supply of medication. I had availed myself of the Suki Card at Mercury Drug Store and for months of purchasing my meds from them, I had accumulated 110 points. Two hundred pesos' worth of product or medicine is equivalent to one point. And when I calculated it, I had already spent twenty two thousand pesos on medicines! That's a lot of cash for me. If only I am not sick, I could have saved that money or spent it on other necessary things.
As for the 110 points, I redeemed the 95 for this umbrella. It looks sturdy though. Well, it should be because that 95 points is equivalent to 19,000 pesos. So technically, this umbrella is worth 19,000, lol! This is the most expensive umbrella that I have bought. 😂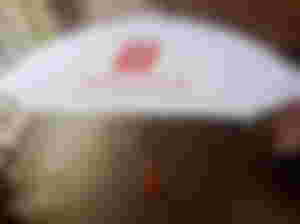 Oh well, enough with this and this is where this article ends. My fingers are a bit sore already. It was hard for me to write when my fingers are not cooperating. This is also one of the reasons why I was not able to write, my hands/fingers were numb. I can't even use force because it is painful.
Anyway, thanks for reading all the way here. Until next reading! ❤
--
Date Published: July 16, 2022