How can you love him?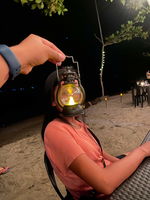 March 21, 2022
Happy Monday friends! How did your week start? Were you happy to finally work at the office today? Or are you still enjoying the perks of working from home? Whatever the case, I hope you will be able to capture and appreciate the good in every situation.
Cesar's day is not so good. From the moment, he turned on his mobile data and open the messenger app, he instantly shared to his friend how he had a bad day. Cesar works in a construction site. He works eight hours a day to complete a construction project. For the present project, he has three other friends who work with him for the project to be completed instantly. The project is a pig pen. It is owned by his aunt and they have been working for that project since last month.
Due to the unpredictable weather, their work is not continuous. Apart from the weather, Cesar also complains about how tiring their work is. He hated being born poor and having to work hard every single day just to have something to get by. Today, Cesar unexpectedly complained about his boss extending their work hours. They were supposed to call it a day and pack their things when their boss asked them to carry hollowblocks from a certain place to their home.
Cesar was annoyed because they were about to walk home and yet the boss asked them to do something. What makes him more annoyed is the fact that his boss is his grandma. Apparently, the pig pen is owned by his aunt but his grandma is the one managing it. Cesar still went on working but with a heavy heart.
Until now, he still can't stop talking about how unfair his grandma was. For a long time, he has hate nurtured towards his grandma because he thinks that she has his favorites. From when he was still young, his grandma is not fond of him. Now that he is older, his grandma still doesn't have compassion for him. Sometimes, he thinks that he is an adopted child but mostly, he concludes that his grandma's treatment is caused by their status in life. Both of his parents have no value to her as they can't share monetary obligations to her. Cesar, himself too, haven't finish college and though he works, his salary is just enough for him and his family. He thinks that that may be the reason why his grandma is not fond of him.
Maybe if they are rich. Maybe if he has a high-paying job. Maybe if she sees that he is big-time. Maybe if she can benefit from him.
Maybe she can learn to love her grandson more. Maybe. Just maybe.
*Lead Image is from unsplash.com
Thanks for reading friends! Until the next read.