Touch Down Singapore!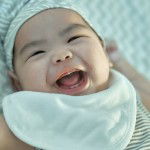 I am sipping on my BonTea Jasmine green tea in between typing this article. I have to write a post about our Singapore trip because I don't want to forget what happened.
Supposedly, I should be in bed, sleeping, and resting because we came from a loooooong day of walking the places around Marina Bay. But I can't sleep unless I get to publish this (obviously, I slept and published this on the third day).
Our first full day ended with tired feet and two points on our itinerary unchecked because we were all exhausted already, we just wanted to relax in our comfortable bed.
So what happened during our flight from Mactan to Singapore?
I'll tell you.
Morning of Friday the 14th, my parents were all ready to go to Mactan International Airport, our trip was at 3:30 PM but we planned on coming to the airport early. We used our car to go to the airport and we will just park there until we return. Overnight parking is priced at Php 250 per night.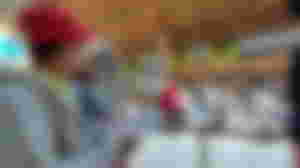 After getting out of the car, a porter came to help us with our luggage. It was unnecessary because my husband was strong enough for the pieces of luggage. Upon getting into the airport, we spotted some of my husband's colleagues, we were already a little late from our planned time, our luggage has to be weighed, and we had to hand carry one out of the two pieces of luggage due to exceeding the 25 kilograms.
We paid the travel tax, it took a long while to check in with seniors too. In short, we were really slow! We reached the boarding area at one in the afternoon, we looked for a restaurant to eat and there was only one near the boarding gate. I wonder what happened to Bonchun.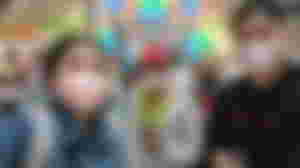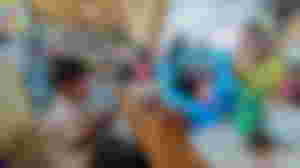 Eating was also a struggle because of the toddler. We need to be very patient with feeding him and so it was only a quarter to two when we have to stand in line for immigration. We asked for a priority lane for toddlers and seniors but they didn't grant us so we waited patiently in line.
Thankfully, the officer was accommodating, she processed all four passports. Immediately after getting out of the immigration line, we went to the boarding gates because everyone was already on the plane. We have to be patient in the boarding process too.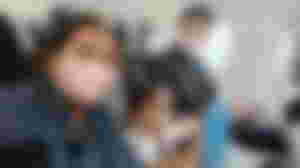 On the plane, Matti was very talkative, he kept on talking about random things, he was also asking us to take off our seatbelts too and we have to tell him a lot of times some reminders.
He was all okay until he asked for dede. It was not very comfortable breastfeeding a toddler in the airplane seats but we have to do it. He slept while latching and woke up when the food was served! He enjoyed the chocolate dessert that was served. It was funny because our meal costs Php 600+ per plate and I am regretting the decision of getting a meal onboard.
Anyway, when we were about to descend, Matti felt his ears popping and he kept on touching his ears. He also cried for awhile and I comforted him by letting him drink water, and eat biscuits, but breastfeeding him at that time was the real comfort. He was fine after that and so we went out of the plane and headed to the immigration.
At the immigration, it didn't take a long wait for our turn. An Indian national welcomed Matti and he was really pleasant to talk with. He asked me if he was my son and where's the father. It was like a friendly chat, he even made jokes at Matti.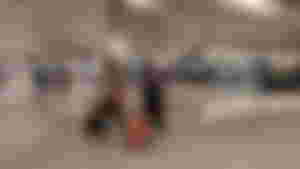 After this, we headed to the baggage and got out of the arrival area. Jewel was just right across terminal 1 and it was amazing! We watched the light show and then took some photos.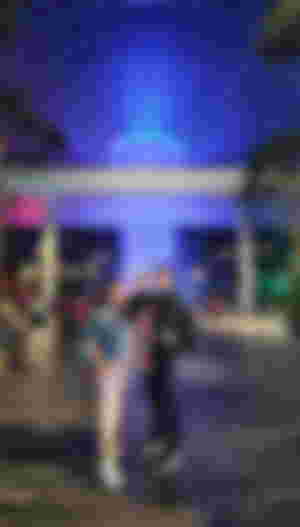 We then went to our waiting area for the bus pickup. Matti can't help but be active again with the huge space waiting for his feet to be stomping around. True indeed, Matti let us run after him for a whole hour or more. He just wants to get out of our embrace and run around together with the other kids.
By the time the bus came in, those with babies and seniors were advised to get to the bus first, Matti loved the scenery, he kept describing the things he saw and was talkative once more.
We finally reached our hotel but we can't sleep yet, we were only able to sleep at midnight. It was a long day indeed!
Thanks for reading! Check out my previous articles:
xoxo,
momentswithmatti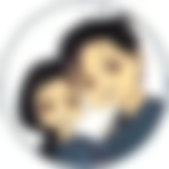 Mother | Boholana | Cebu | Philippines | Travel | Photography Enthusiast | Calligraphy | Art | Crypto Noob
Sponsors of Momentswithmatti