The Buzz Cafe Jagna Branch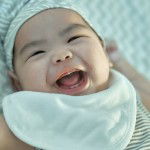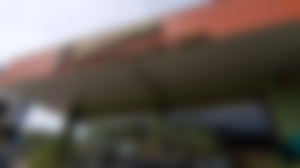 Bohol Bee Farm owns a restaurant called The Buzzz Cafe and this restaurant had been growing and expanding. From their main restaurant inside the Farm, it spread to Tagbilaran City then Cebu opened its doors and embraced the said restaurant, opening two branches there and finally, a few months ago, I was happy to learn that a neighboring town, Jagna has a branch too!
Check out this related article: Healthy Food with Good Ambiance at The Buzzz Cafe
Of course, my husband and I have to check it out and see how this branch look like because one of our favorite things about The Buzzz Cafe is their interior designs. They always have a rustic vibe, making use of antiques, wood and other designs that depicts the Filipino culture and materials are all from the province.
As we reached the branch, we were welcomed by their employees. All employees of the restaurants are from Bohol which I applaud the owner for giving the Boholanos source of income.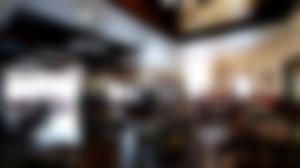 I have to take a photo of their chandelier because its so pretty. Just like the rest of their branches too, they have reused bottles, colored them and made them into chandeliers. This one is different but it looked antique!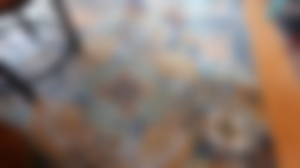 And who would not love their floor tiles? I adore them!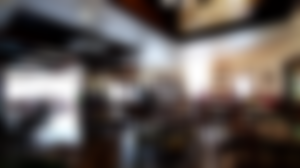 This is a wider shot of the inside of the restaurant. There are many tables and chairs, there are even lounges and a section which displays their other products such as honey, soaps, shampoos, oils, tea, coffee and a lot more. These are products of the farm.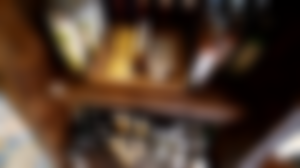 Some of their products.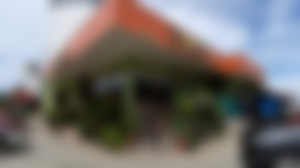 This is how the cafe looks like from the outside. As you can see, they also have flowering plants and those which they use to decorate the cafe. They also offer an alfresco dining option. You can see a staircase on the right, that leads to the tables for those who want to eat outside.
One of which made The Buzzz Cafe famous is their ice cream. It is very delicious, the ingredients they source from Bohol Carabao Farm and the rest from their own farm. Also, they make halo halo with it and add their organic honey. I super love their honey.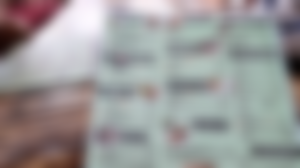 I took a photo of their menu just in case you are interested. Their food options are a little bit on the pricey side but they are tasty and worth it.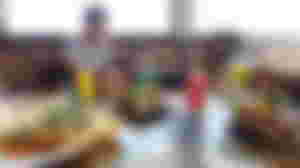 We decided to take the table with an interesting design. I like the rustic vibe of this section right here. The long lounge that James and Matti are sitting in reminds me of my grandparents. They also have a wooden high chair for toddlers! Matti sat there when we started eating.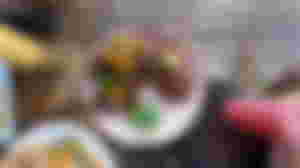 I believe this was James' order, spare ribs. There were mango slices on top!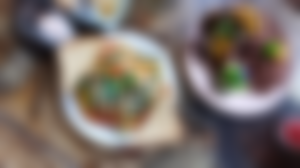 Here's my order, vegetarian pasta! It comes with squash bread too which they also baked themselves.
We ordered fruit shakes too. For the mango shake, I requested it to have no added sugar so I can let Matti have it as well.
Here are our orders, anyone who dines in receives a complimentary meal too which includes some bread, kabkab chip with salsas and mango, and pesto spread.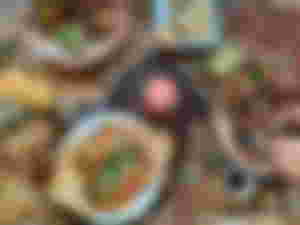 Just look at the table, we think it was an old door which they had up-cycled. It's very pretty with their accents inside. I guess its better to visit the restaurant to really appreciate its beauty.
Thanks for reading!
---
xoxo,
momentswithmatti Mother | Boholana | Cebu | Philippines | Travel | Photography Enthusiast | Calligraphy | Art | Crypto Noob
Sponsors of Momentswithmatti