Matti's First Playtime with Strangers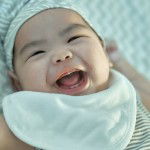 Continuation with Matti's Supposed Haircut...
Matti was supposed to get a haircut but then he cried his balls out and we can't contain seeing his huge tears rolling down his chubby cheeks and the horror that it brought to the other people around the salon, there were number of customers waiting too so we decided to just not pursue it and his father ended up getting the needed cut instead.
From there, I told the husband we won't be waiting for him. Instead, we walked towards Daiso, my favorite thrift shop and then headed to ToysRUs, these two are just sitting next to each other.
Then after Matti's Obedience Training Test at ToysRUs, I brought him to a play area. I missed the name of this play area though and I tried searching online but I couldn't figure it out.
Anyway, they got different rates for weekdays and weekends since we came on a Sunday, the rate was Php 175 for an hour. Upon looking at the kids playing inside, I found they are all aged three and above so I thought I must accompany him inside.
It would cost an additional Php 50 for an accompanying adult and since I forgot to bring socks for Matti, I also have to pay Php 30 for a pair of socks.
The staff let Matti sit down while I was filling up the form and this charming lady approached Matti and put on the socks. However, this baby got scared and started crying again!
Oh no! I filled up the form as fast as I can, at the back of my mind, we might not go inside since he is already upset and I already paid for this but he calmed down when he saw mama.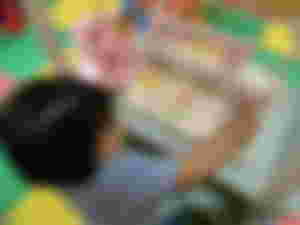 His crying face turned into a happy face immediately when he saw this ice cream stall. These are magnetic so the cone and some ice cream scoops on top, they will stick together. But Matti is not fond of ice cream but he thought these were balls and he was actually contented with arranging the ice cream scoops into the box!
I was coaching him that the ice cream must go on top but he won't listen to mama! He just decided to arrange everything!
And then he noticed this one which was like a burger stall, it's a fast food section. He got interested with the wooden cash registry because it has these red stuff which he can push down randomly. It also has an abacus which was colorful enough. He spent a good amount of time here just pushing the buttons and I kept on telling him to check out other areas but he won't listen.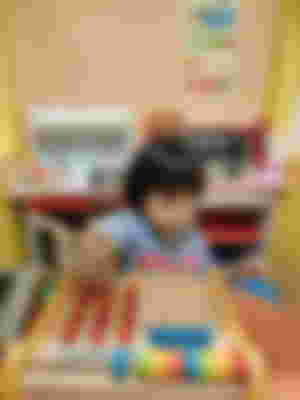 I can't anymore count the times he went from the ice cream stall to the burger one. I got tired pointing out the slides and the rest so he could explore them. I guess he thought these were the only ones interesting enough that day.
Another kid joined him in the ice cream stall too. This kid has been here before us and I guess she was waiting for Matti to finish playing the ice cream.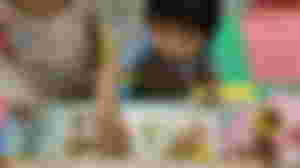 Finally! Matti figured this one on the table is interesting and it is very interesting because it's a wood puzzle for trains! I was in fact playing with it too. I found the trucks and placed it on the rail tracks but Matti was more interested in opening and closing that red stop sign. He won't even go out and check the other parts of the rail track!
On his opposite side, there were other interesting stuff. I believe he was overwhelmed with so many things and colors that he could see that time.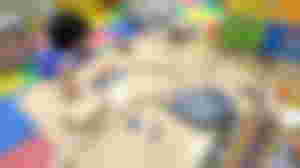 Then he finally saw the Pet Clinic! He only stayed here for awhile. There were blocks inside, magnetic wooden blocks which are really interesting because it will hold the blocks together well and sturdy!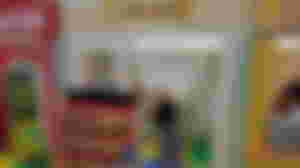 I actually thought of getting a set of that but I realized they are quite pricey. A set is worth around Php 6,000+ so I decided to get a different one instead, I found this Vocoal Magnetic Stick 3D Building Blocks in Lazada and its very affordable for their 64 piece set! I added it to cart already!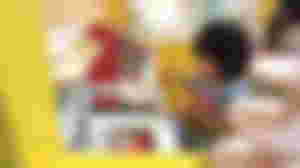 And then again, Matti went back to his favorite fast food area! He had company there so I just let him do whatever he pleases. He tried turning knobs, getting the plates, grilling the spoons and other utensils.
I was just happy seeing him so busy with these toys. I wonder, maybe he'd be busy if he has a lot of these things at home so I can continue with my hustles. I just laugh and then checked my phone on the prices of these wooden toys. I changed my mind, they are so expensive!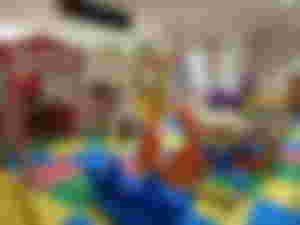 Here's a wide shot of the play area. It's not that huge actually, it's just enough for kids to play.
I tried hard to convince the little one to go crawl under that purple caterpillar but he won't. He just ended up laughing at me whenever I stoop down and call him out while he was at the other end of the tunnel.
Anyway, he tried the slides too but he only went two or three times. His father arrived and asked that he take another slide so he could film him but Matti was not willing anymore.
But he did enjoy this rocking one, he was even baby talking while rocking himself. Then when he saw more kids going inside, he went down and checked out this area where there's a young lady.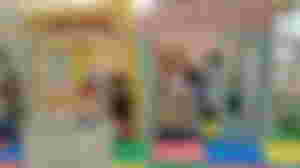 They were playing together and actually, not talking but Matti was just looking at what the little girl was doing here. There were times when he would attempt to also pickup the things that the little girl had picked up and copy what she was doing.
I was delighted to see that Matti was not even minding where was I all these time that he was at that area.
Unfortunately, all good things come to an end and I thought I would have a hard time getting Matti out of the play area. But he was actually able to follow my instruction in just a few commands. I didn't have to grab him and take him out crying. In fact, when we took his slippers and put it on, he even waived goodbye to the staff.
I am just one proud mama here. Now I guess this guy's ready to go to Kidzoona soon!
---
Thanks for reading! Check out my other articles:
---
xoxo,
momentswithmatti Mother | Boholana | Cebu | Philippines | Travel | Photography Enthusiast | Calligraphy | Art | Crypto Noob