He Pulled the Plug and Ran to Miniso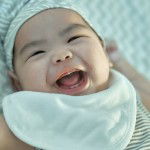 All things mentioned in this article happened on the 25th of April, this was our first attempt in getting Matti vaccinated at Mactan Doctors Hospital. If you are asking why we opted to go there, well, there's a breastfeeding advocate doctor who had created this breastfeeding support group in Cebu City and I thought it would be good to pay her a visit and let her give Matti his Conj. Pneumonia vaccine booster.
Things went really bad that day, first was that our appointment was from 8 am until 12nn, anytime within that time frame, we can visit the clinic as I had contacted the doctor's clinic beforehand. But we went out of the house at nine and we got stuck in traffic. From our house down to Mactan, it takes a lot of time and I somehow regretted why I choose this doctor, well, I am just glad that my husband was not complaining at all, he was just driving.
On our way, he asked me to look for a cafe or any place where he could also work as we don't always get to Mactan often, we must take advantage of the time that we are on the island. And so I looked up on the internet and found Africa Cafe, the interiors and food on their social media account looks good, and it's just near to the hospital.
The only problem though was that when we arrived at the hospital and as we reached the clinic, I found out that I forgot to bring the baby book. Oh no!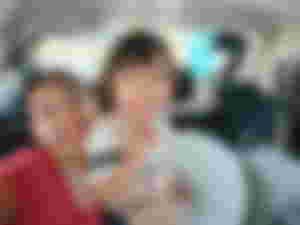 I was definitely devastated as I looked into my bag, the baby book was on the table and some stuff covered it so I missed seeing it when I was just preparing for our trip to the clinic.
I got so shy telling my husband about it and although he was not complaining at all, I can see from how he reacted that he was disappointed. He laughed at me and told me, wow, you forgot it but only remembered when we were at the clinic. It could have been better if I remembered it while we were still in Cebu City. Anyway, we both laughed about it and decided to go back to Cebu instead. Our plan of eating at Africa Cafe didn't push through.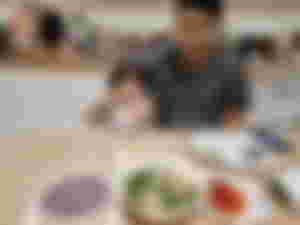 And since it was already noontime when we reached Cebu City, again because of traffic, we decided to go to the food court of SM Cebu so we could just buy those which are ready to be served. I ordered chicken tinola, lumpia which is Matti's favorite, and I also ordered binignit. That's all we ate for lunch. I was full though after eating.
Now, my husband told me he's going to buy a hard drive so he could save his data from his laptop to the new one because, at that time, he also received a notification from his company that the Macbook had been fixed and he can already pick it from the office. Horray! We were not asked to pay for the service fee as it was all covered by the warranty! Thank God!
He brought Matti with him to Thinking Tools and I followed them after eating lunch, I was left at the food court because Matti didn't want to sit and stay still.
I took Matti from his father and now he began to move like he owned the store, he kept on holding items, and my husband told me to keep an eye on Matti while he plays for the hard drive. I just checked my phone and the next thing I saw, the cashier made an Oh no expression! I saw Matti pull the plug! Oh no! I was so embarrassed and my husband burst, I told you to keep an eye on him!
Immediately, I picked up the young man and asked sorry to the cashier, and walked away from the store. I was just so sorry that I wasn't able to keep an eye on the little one.
As I was walking without thinking, I saw Miniso and so we entered there and I got tired carrying Matti, I regret not bringing the stroller. I just feasted on the many cute items and let Matti also do his window shopping.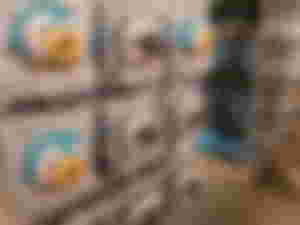 These are bubble machines that looked like cameras, I really want to get the penguin design!
Why are these so cute? Awww! Look at these stuffed toys: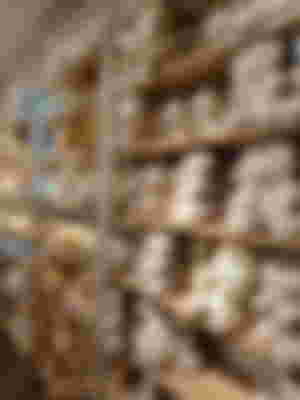 There were only a few people inside so Matti and I were having the best time of our lives just checking out items and then putting them back on the shelves but not for this one: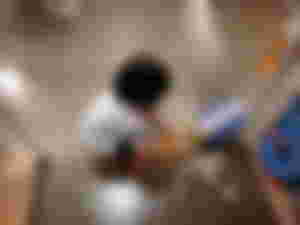 A cooking items toy which is inside luggage! Matti was so busy playing with it. He picked up one and brought it near to the cashier but we were not yet done checking out other items, I had no plan on buying anything though, I was just making myself busy to forget what happened earlier.
I know my husband was really disappointed. He knew that Matti has his own will now at age one. It's quite amazing how a one-year-old could decide on his own now. He can already say no if he doesn't want to do such and has the willpower to do whatever he wanted to do just like playing with these items.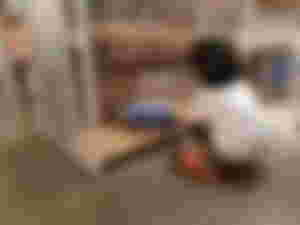 Now, I knew for sure that our responsibility as parents is not that easy, we have to instill in him that he can't have everything he wants and that he can't do everything he wanted to do as well.
I let him play with the toy but told him we are not buying it but as I was observing him, I was already so close to buying it. I shifted my attention to other stuff, oh, these items are just so cute to ignore: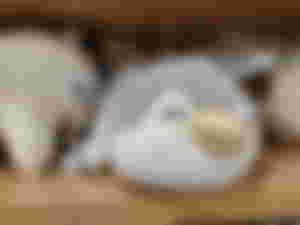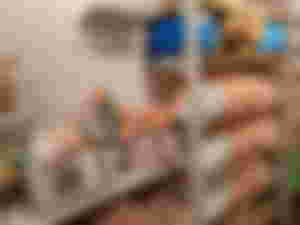 Then as we move to different isles, he found this tiger toy and he suddenly left the luggage. Oh, thank goodness! I immediately returned the luggage and told him we are going to the other sections away from the toys. But he was so happy with this rubber tiger as it makes a whistle when he presses it.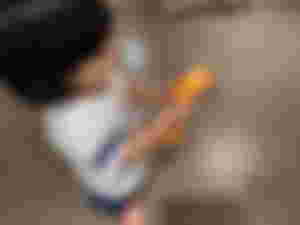 We reached the end of Miniso where there were kitchen items and I decided to get a dishcloth, there were three sets of a dishcloth and it was worth Php 90+ or so. I also went back to the art section and got myself a set of brush pens!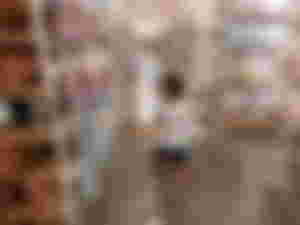 I know, I know, I was supposed to just go on window shopping and I don't have any cash on hand because the bag was with my husband. But I have my phone but I am not sure if they'll accept GCash payments and at that time, the husband had called me a lot of times already with a message that he still has to work so I better answer the call. I asked sorry as I was busy window shopping I didn't notice his calls.
I told him we are at Miniso and in just a few minutes, he was at the store. I was already at the cashier at that time. Matti, on the other hand, had dropped the rubber tiger as soon as he saw a set of balls next to the cashier. He picked it up and gave it to me, it was a pack of one basketball, one soccer ball, and one softball.
In the end, I spent 600+ for this supposed window shopping, and again, my baby got another set of toys.
---
That's it guys, our tale of a doctor's visit turned into a shopping experience instead. I wasn't spared from spending that day. Don't forget to check out my previous articles as well:
---
xoxo,
momentswithmatti Mother | Boholana | Cebu | Philippines | Travel | Photography Enthusiast | Calligraphy | Art | Crypto Noob
Sponsors of Momentswithmatti