Respect Is Reciprocal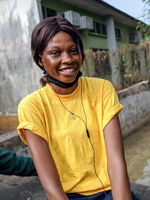 Holla friends. Hope you've had a good, productive and stress-free day? In my case, I can take good on probation, take productive fully and as for stress-free, make that zero, absolute zero.
Today was just another day of my industrial training that's beginning to seem like a training on patience, suffering and perseverance instead of my course of study. I mean, how else do you explain having to stand and receive lectures for three hours or more while standing the whole time? For goodness sake, there's the lab that has enough seats to accommodate everybody.
The research institute is located at a place called Bar Beach in Lagos, Nigeria. It has a jetty built directly into the Atlantic Ocean. Whenever we come to the department responsible for studying the water parameters of the ocean, they always take us to the jetty to receive classes instead of a conducive place like the laboratories. There's no where to sit in and around the jetty, unless you want to risk falling into the Atlantic Ocean from the Iron bars enclosing the jetty, something they won't even allow you do. Receiving lectures there always means having to stand for the whole duration and my legs are really suffering from this. I really want to protest this treatment, but I can't, for reasons which I will use as the central theme of this article.
Growing up as a child in a home where my Mom was a hardcore disciplinarian and a God-fearing woman, I naturally was imbibed with the attitudes of humility and respect ( or so I thought ). Since I got here, I've had to reassess of I even know the meaning of any of the highlighted words. Even before we got here, we were made to know that people in this part of Nigeria are extremely respectful, and I really thought it wasn't going to be an issue for me,cos I'm a respectful person naturally, but I couldn't be more wrong.
What these people term respect is a little less than modern day slavery. To these guys, respect is equivalent to you doing their Beck and calls without any questions even when it's harmful to you or your loved ones. They expect you to cower before them and have no say on any matters, even those that pertain to you and your future even. They literally desire to be worshipped and that's their definition of respect.
I've been having a lot of internal issue with this as I have to constantly fight the urge to just explode and give someone a dressing down. Take for example, the pain and swelling in my leg which is a result of standing for so long. If i were to make a complaint to that effect, they will find a way to make it look like nothing more than ungratefulness and disrespect. Literally, whatsoever you do or say that they didn't give express approval will amount to disrespect in their eyes.
I couldn't help but wonder why they're so hinge on respect, forgetting that respect is not an entitlement and it ought to be reciprocal. I'm really tired of pretending that I can tolerate this any further but I don't think I can keep suffering and punishing myself just because someone wants to feel good about themselves or feed their ego.
I'm not against respecting people or showing respect or even expecting it from others, but I don't think it's right on any level to feel entitled to it.
If you really ask me, someone that deserves to be respected will be shown respect without having to ask for it. So, people who tend to keep banking on the fact that someone is this or that, are those leaders who people don't really respect or fear. Respect they say is reciprocal. I'm totally not going to suffer this pain for another day. If I'm asked to stand for any lecture tomorrow, I'll gladly just go away!!
Mhizutty the voice of truth 🎵🎶🎵