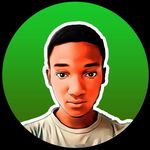 Today is surely the first Monday in the month of December. Countdown to a few more Mondays in the year 2021. We continue to pray to the almighty Allah to spare us to witness many more on the earth's surface.
I have been a little lazier these few days. But by the way, I am also trying to drop some articles. I would want this December to be a December to remember. It's not easy to gather up oneself to a new location and a new environment. The weather is totally different and the changes are actually unbearable. I just have to keep calm till my body system adapts to the weather and the environment.
Today is another boring Monday. Hahaha. Waking up today I didn't do anything. But I remembered I had to fast so I woke up to take my meals as usual for who knows how the Muslims fasting goes. I was weak and felt like not waking up to cook. I forced myself to make something. Yeah, I did it. I prepared some noodles and eggs. And it was just so yummy. Sorry, I forgot to take a picture of it.
After that, I went to pray and get back to my bed to sleep. Actually before sleeping my intention was to stay online, check some articles and also make sure to post something. But I don't know why my body system felt so weak to do all these things. While holding my phone I actually slept off and woke up again after 4hours. Was that too much? 😂 😂 😂
Then I still felt like coming back online but my body system aches. I think it's due to too much sleep. I actually went to the mirror to check my face and I realized my eye 👁 already swollen and reddish. I thought that could be the reason I couldn't do much on the screen. Then I decided to get some laundry done. I have had some unwashed clothes for the past five days, so I packed them out and washed them for about two hours and then fetched some water too.
At this point I already felt so much better but when I still got to my room and held my phone again to come online. Something happened again 😂. You wanna guess? 😂. I slept off again for about 40 minutes. I still can't phantom the reason why my body always feels reluctant when it comes to staying active online.
But after prayer this afternoon. I made up my mind to post something, but nothing came to mind. It was like I finally discovered the reason why I can't make myself available online. Laziness! Laziness was the reason… I smiled and then out of the reason why I couldn't write anything I decided to write about how my lazy day went. 😂.
I hope with time my body system will adapt to the changes of this environment. Because I lived in the western part of the country, schooled in the north-central part of the country and I already got adapted to these places. But now I have to live in the eastern part of the country. Though just some months left. But I pray my stay here will be among the best experiences I will have.
Have a nice day.
Don't mind my pattern of writing ✍️ 😂. Just trying to check out crazy 😝 new stuffs on my side..