After two days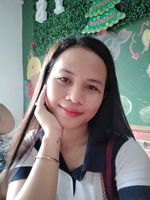 It's raining here since last night and I don't know if we can travel again to have a stable Internet connection. I'm now sick, I mean I feel like I am sick. I have cough and cold and I think it's because of the days we've been traveling. There's a day when it's sunny and suddenly it will rain. My grandma said I shouldn't get soak with the rain especially that I am breastfeeding Clea for she might get sick too or she might not like to latch on me. Is it true? I forgot to ask Clea's pedia about this. I can't leave Clea for long too since she has cough and cold since yesterday. Although it's common for babies to have these, I can't avoid to panic again because Clea is just four months old and I can't afford to see my little girl coughing that sometimes she will cry because of it. We also can't go to health center today since it's Sunday so I just chatted her pedia if we can still use the medicines she prescribed before when Clea also got cough and cold. Glad that she's online and she replied that we can still use them so I give them to Clea immediately.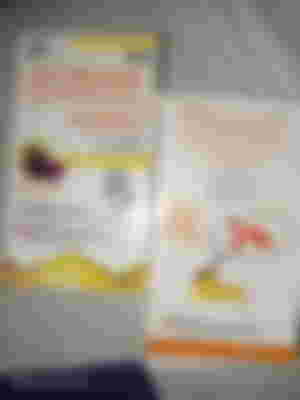 My uncle also slaughtered one of our pigs the reason why I woke up at 4 AM. I heard some noises from our pigs and I pity them for having a life like that. You know they live just to die, in a brutal way. Oh my. If reincarnation is real, please I don't want to be a pig. I'd rather be a bird or a mermaid. Lol.
After the pig is slaughtered, it is ready to sell and they sold it as early as 5 AM. There were a lot of people who bought even though the pork's meat costs almost $8 for one kilo. Of course, whiskey is there to make the selling alive. My uncle, his helpers and my grandpa had their shots of whiskey early in the morning.
I and my boyfriend rose from bed at 8 AM. My grandpa called my boyfriend for breakfast and then they offered him whiskey too which he then drank. They also called some teenagers who happened to pass. Their shots went on until lunch time so they decided to buy fish and made kinilaw as their viand.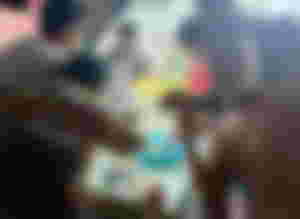 These are the my sister's friends eating with bare hands. They look so enjoy doing that and it seems like their food tastes good.
They also called me to join them but I just had my lunch inside our home for it's raining outside.
Edit: I wrote this last Sunday and I wasn't able to post since we weren't able to travel due to heavy rains for two days.
It's also three days when Clea had a cough and cold and now she has it still. I am again worried because her cough made her feel uneasy. I don't want to see her coughing but what can I do? Babies undergo through it and I believe it will be over with proper medication but if it won't get better for five days, then we will go back to her pedia's clinic. I think the cause of her cough was because of non-stop rain and sudden appearance of the sun and then it will rain again. Even I and my sisters have coughs too. I have a mild headache and my cough annoys me terribly so how much for Clea?
Due to my constant coughing, I decided to make calamnsi juice with snowbear candies. I saw this on Facebook and I tried this once and it's effective. I hope it can also cure me now. As for Clea, we added antibiotic to her medicine because this was also her pedia's advice when she had a fever. I just hope she gets well today, tomorrow, or as soon as possible for I cannot function well when my baby is sick.
Glad that Mr. Sun had finally shown and we will be able to go to the next town where there's an internet connection. I am also happy because some barangays next to ours had their electricity restored already. At last, after almost 3 months we will experience again what it feels like to have an electricity.
Happy 1st day of March!
---
Thank you fam for supporting me. I may not be able to respond immediately but I promise I'll make it up when I have the time. Thanks to my sponsors and to those people who upvote my posts. You guys are big help.
Ciao! ❤️