All artists have their own ability to create their art. Just like in painting, each painter has his or her own techniques for painting the objects, expressions, or people they want to paint. It may be inspired by other artists who admire or they see excellence and through that, we can develop it and mixed all the techniques we learned to form a technique that we can call our own.
What exactly is the meaning of the word Masterpiece?
According to Meriam Webster:

1: a work done with extraordinary skill especially: a supreme intellectual or artistic achievement.

2: a piece of work presented to a medieval guild as evidence of qualification for the rank of master.
Actually, I have my own definition for the word "masterpiece"; For me, a masterpiece in every artwork you made. Whatever its type, appearance, taste, sound, and texture we can call it a "Masterpiece". I had my own perspective on looking at an artwork because I knew that every artwork made by an artist is endowed with fatigue and sweat.
And for the main topic of this article, the unusual things I use in making an artwork. Actually, this is no longer unusual with some artists because it was only with them that I also learned to use such things.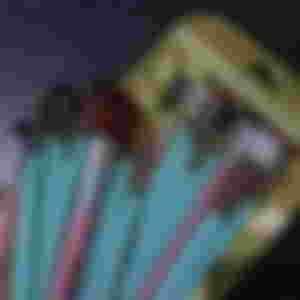 Not all artists use this object to build a portrait but I use it in making my portraits. You heard it right, I use it in making portraits. I learned this technique from a friend of mine who is trained in making portraits. She is definitely my idol in making portraits because of her polished skin tone making on every subject she will do. I have 22 make-up brushes in use today. They all come in different sizes. Actually, I don't know what they really use on the face since each size of make-up brush also has a particular part of the face. I prefer to use make-up brushes than the normal artist brush in creating portraits because it is more solid with rubbing charcoal powder on paper. Similar to the human face, it is also nice to shade on paper because the bristles of a make-up brush are smoother than an artist's brush.
I use sandpaper to accumulate charcoal and graphite powders. I scrape the tip of the charcoal pencils into the sandpaper so that it becomes sharp and the accumulated powder from the sandpaper will serve as my skin tone in a portrait. Actually, no one taught me this technique because before I learned this technique, I only used to accumulate charcoal powders on scratch papers. I only accidentally found out about it while I was washing the dishes and I was seeing sandpaper. But to be honest, almost every artist knows this already since they are doing this style.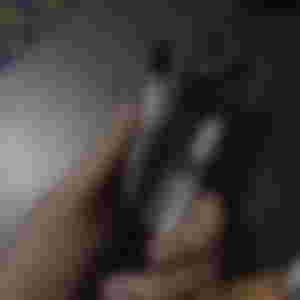 I use used pens or non-ink pens on the hair strands of my subjects. My frequent use of it is on my references with light shots because we can notice the hair strands of the subject there. I learned this technique from a group of artists on Facebook. I would recommend this technique to those who don't already know it because it will be a big help in making more detailed hair strands.
I'm not very good at portrait-making yet and I know I can learn a lot more but I know it will help everyone who wants to be an artist. I took a lot of relief in making portraits as I started trying unusual things in making a masterpiece. Developing self technique is not bad. It's also not bad to start with another artist's technique. The bad is that you use an artist's idea and work, especially if it is without permission.
Just like when I was practicing to write a 'quality article', I was also practicing to know the deeper message and meaning of portrait-making. Since I studied for 4 years under an Art Curriculum, I can now share the basics and other experiences of mine with those who want to become an artist. Actually, we are all artists. Maybe not just in painting or drawing but maybe in singing, dancing, writing, taking pictures and more talents we can think of. However, we should not look at ourselves as the best because we are still learning as long as we live. Nevertheless, making art is making oneself. You're not just making art, you're making memories with art and you're the greatest art.
Thank you so much for reading this article and for always supporting me.
You can read my previous articles here:
My Goals And Wishes For The Month Of July.
I Failed On My First Try But I Succeeded On My Second Try.
Remembering Him is Remembering the Memories We Made Together.
I Can Feel the Hardships, But I Can't Give Up.