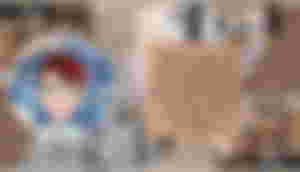 "The name of the month will pass and change but not my dream."
This will be my motto for this month. I think the month of June is the most stressful for me because of what happened that I did not expect. I was only able to publish 6 articles during the month of June. After all, I also took almost 2 weeks off from social media because something happened to me. Nevertheless, the month of June has been full of lessons for me.
Anyway, on the first day of June, I became busy again because I focused more on making articles and blogs since I was already a grad-waiting. Unfortunately, I just had to take care of something these past few days so I just finished this article now. Well, my wish last month was for happiness but now this month is for abundance. I learned not to expect anything else, you should just focus on what you want and just go with the wave of life with caution.
As I mentioned above, all I want for this month is the prosperity, safety, and abundance of my family. I am concerned about the new diseases and disasters that have been happening in recent days. As my stay in this world lasts, the trials we face also come out more often. So my wish this month is dedicated to my family because they are the most important to me.
Hopefully, more opportunities come to me now so that I can accumulate money that I can buy a keyboard instrument. Our seniors said in the course that I passed, it's good that now we have the knowledge to read notes and play instruments especially the keyboard because it is one of the things we will study in our next years in our course. Nevertheless, may my family members and friends be safe from the diseases and calamities that are rampant in the present time.
My long-term goal will not change. I will still prioritize my studies over anything else. I had to prioritize it because I was the eldest. I need to help my family first before I can take care of something else like love. Well, I've dedicated it to myself since my dad passed away and now, I know I have to play a bigger role.
As for my goal this month, my goal is to save at least a little bit for my keyboard instrument. Like I said above, I will need it when I become 2nd-year college. I also aim to answer our internet bill for this month. My mom paid for it last month because I told her I would be busy that month, and I wasn't wrong. But now, I will grind again so that I can save up to pay our internet bill. This will be the third time that I will answer our internet bill.
I can also save for my wants but I also need to save for the E-loading Business that I run now which also serves as a way for me to convert my money from coins.ph to real money. In this way, I don't have to go to remittance stalls or shops near us just to exchange it for real money.
Even though I wasn't very active last month, I will do my best this month to grind, yet I still don't know what tests I will face this month. I will also pay attention to my gaming life right now since I stopped playing after the Christmas break because I needed to focus on my studies again. Since I don't have that much to do this month, I think I can enter the tournaments again so that I can find another room for improvement of my own. Nevertheless, may all my wishes and goals will come true.
Thank you for the lessons, June. Welcome, July!
Thank you so much for reading my article and for always supporting me.
You can read my previous articles here:
I Failed On My First Try But I Succeeded On My Second Try.
Remembering Him is Remembering the Memories We Made Together.
I Can Feel the Hardships, But I Can't Give Up.
I'm On My Way To College Life.