Hello family, friends close friends, avid readers how are tou guys? Its 12:22 am now and I am just about to start for my new article. I hope you guys had a great Sunday, right? Bonding with family of course first on the list, friends and so on. So anyways about my Sunday haha I am very tired just like the other day. So tiring. A lot on my articles, I shared that I am a college student and I am struggling from my online class. Its so hard you know. I'd rather choose face to face over web based class. If only this pandemic will end by tomorrow, haha I would love to go in our university. So I am now a second year college student and to tell you the truth haha I came all the way here but my first year projects is not yet all done haha. As I said tiring!
So I am a Bachelor of Science and Business Administration student. Actually I don't like this course tbh, I was just no choice because I don't have somebody to support me if ever I will choose the course I love which is to enroll HRM. So having no choice I proceed with this BSBA Major in MM Marketing Management.. Here I can say that a college life is never so easy, no not at all. I can still recall myself way back Elementary days, I always think about the feeling of being a high school student. As the years go by, I am in my secondary and I am now thinking about the life of being a college. And now that I am one of those, I can say that why did I wish that haha joke. I can say that it's never so easy. Double time and double check!!!
Okay guys before I proceed please help me introduce to you one pf our family here who needs our help. If you guys want to help please visit her account @MommySwag the last time rusty visited her was last two weeks, well she said she is active, reading, commenting, upvoting but sadly rusty didn't detect her these past few weeks. Her nephew is in the hospital now, struggling from pain. I feel sorry for him, so sad to see that someone is in deep pain. For you boy keep fighting okay. God is with you and never lose hope that one day you will be okay. Just check her latest article guys, there you can understand the real situation. A small amount is a big help.
So here we goo... I am now in a hurry because submission of all the paperworks , projects, and so on is until the month of December. So I am now panicking which subject I will do first. One subject I problem the most is my Physical Education P.E. In this subject most of the activity is to make a video with the topic or lesson and make a reflection. So i am behind with making videos since I don't have someone to call when I needed help. These past few months I was just chill drinking, road trips, hang out with friends and let my modules wait for me haha. Now that December is coming haha it's time to move.
So in my module here, we are tasked to choose to pick our choice in two kinds of dance, Modern Dance and Hip-hop Dance. Haha of course I'll go with the easy one. It was today I plan to create my video project and so I did search on YouTube for example of modern Dance. So there's this cute music got my attention. The music is entitled GIRL IN A MIRROR. I watch the video and practice the steps. I found this steps easy but still I meed to practice so that while taking video, I can enjoy while performing.
So I spend 3 hours for practice HAHA of course 2 hours for rest haha. After I guess I already master the steps, I did ask one of my friend to help me. I asked her to take me a video while I will perform my modern Dance. I decided to perform here in front of our house which is also a way for the rest of the neighbors. So while performing a lot of them is watching me and haha so shy dude! Knowing that there's a lot of people watching HAHA LOL! SUBMISSION IS ON ITS WAY SO I NEEDED TO DANCE FOR THE GRADES. I continue dancing and manage myself to finish one video. Haha my body is covered with sweat I just released, it's so good to dance huh but I am not a dancer HAHA. So here's a photo of mine while performing.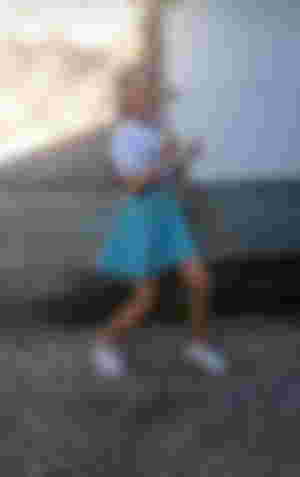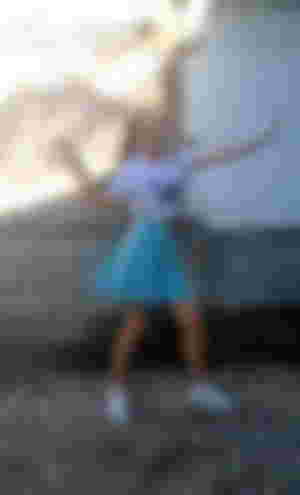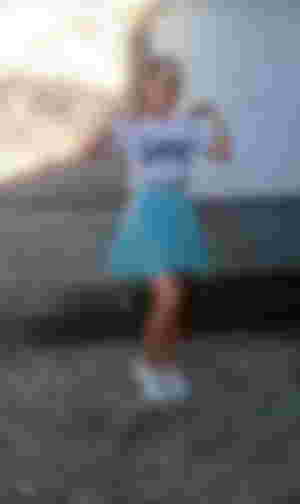 Okay enough with those ugly photos. Actually I was planning to add more but my cgnal doesn't allow me hahah i spend more than 20 minutes but only three photos were added. Haha
I just want to flex me Lee t-shirt. If you guys can still recall this was the t-shirt I wear last Saturday for the whole day photoshoot, and whole evening for the taize prayer activity, and now I am still wearing this HAHHAHA one for all guys lol! Anyways this activity is quite good huh, because of it I lose some water from my body hahah. As you can see I am like haha don't know how to dance. But still in the end of the day, I did a great job for myself. FOR MY GRADES I WILL DANCE lol 🤣
How about you guys? Do you have the same activity? Haha
That will be all guys I just want to share to you how my Sunday went, and !y Sunday is a busy day.
Hello beautiful and handsome sponsors, how are you? I hope you guys are safe, keep safe okay? Thank you so much for the support and trust. Of course thanks to all of my readers, subscribers, commentators, upvoters thanks a lot. Hope to get along with you for more more years.
Haha this end at 1:23 am I have conflict in adding photo since I am now here in my room and the signal here is not so good haha its bad but its okay.
So thank you so much for reading!
SALAMAT ❤️