Hello there fellas! How is everybody? I missed you guys and I'm sorry for my absence these past 2 days. As you can see I haven't uploaded an article because I am very occupied, further explanation I did online here, read articles and leave a comment, but I don't have the time to write since I'm in a hurry and I also don't have the topic. So sorry for that guys. I hope you will understand me on behalf, being an online class student is very hard, and I can explain that because I am mow struggling. I believe web based students from this platform can understand. On the other hand, I also don't have the topics to write with, these past few days I was just reading, upvoting, and commenting. Congratulations to myself also, I am now at 23 on the top tippers. And that made me happy I guess yeah! I'm happy that my name is listed and I now carry this silver diamond. Yeah and I will maintain it so that everyday I have mission and that is to be active here and to discover a very Informational, Inspirational articles.
Okay, last day one of my friend open a conversation with me. She has a business, it is to sale ukay-ukay pants, t-shirts, shorts, dresses, and so on. I believe the she is a very responsible mom, she has two kids but still she can manage her online business. From that she asked me if I could spend time today, and made me the model of her ordered and washed pants. Her problem is that the pants are too much long that she cannot get the height needed. I am glad that her choice was me. My height is between 5'5 or 5'6 so I never rejected her offer. It was a great opportunity to me too. Yeah! I wanted to experience those, and gladly I did. I was just happy to think that my body will be shown to a lot of buyers and I hope they will like it. The business owner also accept orders from her Shopee account. If you would mind, I also ask her to join here in our platform, and I can say that she is excited with the fact that she said she will post here her online business and she was amazed on how this platform works.
So I went there around 10 am, actually we set the time at 9 am but I'm sorry I didn't make it. I woke up 10 and chatted her. So she said that it's okay take your time and take a bath, you can be here at 10 am. So as she said that I manage myself to the bathroom and took a bath. After that, I brush my teeth, I don't have enough time to have my breakfast so I just don't mind it, she also added that she will provide me a food, anyways I am also used to have a two meal a day, sometimes one haha. I did a retouch for myself so that I can face her with my presentable look. I just did some eyebrows, blushes and a little bit of lipstick. After my preparation, I sent her a message as an information that I am on my way. Her house is not so far from ours, I just need to take a couple of steps and her house is there. Hmmmm 50 steps I guess, so I don't need to take a ride because a walk can lead me on my destination.
So we did our photoshoot and gladly we finished it. More than 70+ of pants I wear and the owner took the photo and edit it. So as a result, we end the photoshoot around 5pm. So let me show to you here some of my photos. For your information this photo is cropped and my face is not included, but I will also post here a photo of mine while taking a selfie.
She also had her Facebook page, if you mind you can just search it online and click the photo she provide. Her business is doing great along with her hard works. As someone says, to become a successful start with hard work. And I conclude her as that person. I like her also, she is pretty inside and out. She discipline her two children in a good way and no questions her children has a very good attitude.
So give me the chance to insert here some of the photos we took.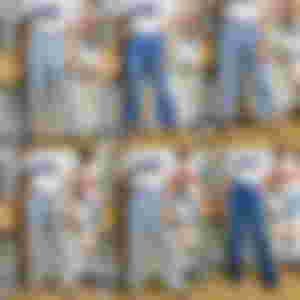 So yeah that is my body. How was it? Can you say the she is a great editor and photographer? Yes she is, just take a look with those shots! I even myself is surprised with the results. This photo was taken from her Facebook page. So that I can provide you a photo where you can see that I tell truths. So let's continue, stay tuned for more photos.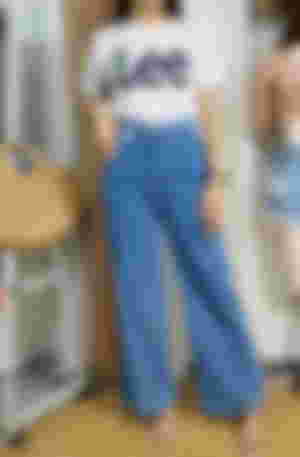 I really love this one! From the style and the color. It is very comfortable to wear and I found it fit to myself.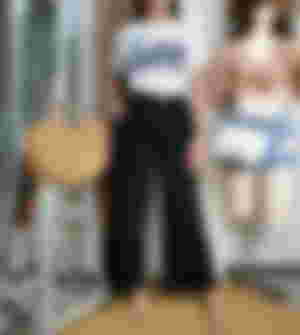 Look at this very beautiful black jeans. A perfect combination with my Lee t-shirt. I believe that a combination of black and white is perfect and good to wear. This Jeans is a wide leg jeans and I found it nice and unique. If ever I could have the money to afford this there's no way I will let this one goo. I will buy two or more of them, but haha don't have the money and I can't afford it. It suits me well and it would be great if I can have it.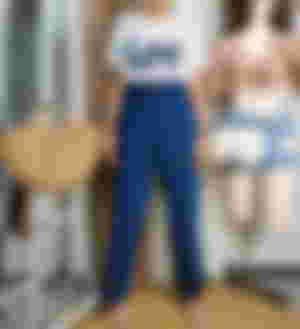 Now look at this dark blue pants. It's very presentable. I now realize that a white t-shirt can suit to amy colors of pants. It's so perfect!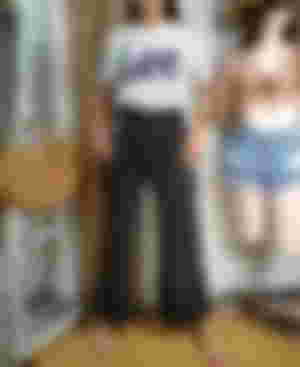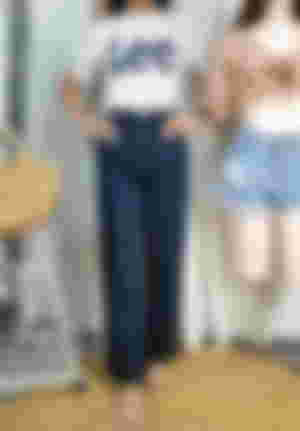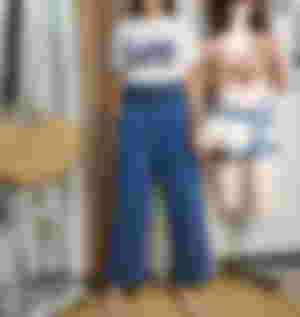 Now those are just some of the photos we had today. There are still a lot of beautiful choice of pants you can pick. Those pants are branded and I can say that they are used for only 3- 4 times, because the quality is good and color didn't fade. Some of them also has their tags so no questions that those are still new but never been used. So as I promised, I will provide here a photo of mine also.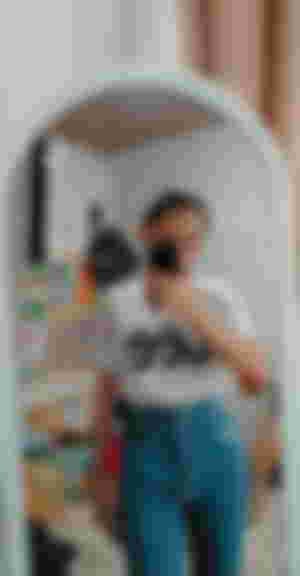 So this is me and yeah glad I made this photoshoot a successful one. I am happy that I did help this beautiful lady to sale her pants. Anyways after the photoshoot, around five I am planning to take my exit from her house and she then handed me a money. 150 pesos it will be $3 here. So I am thankful so much because I did earn enough money with the effort I spent. So by the way next Monday, she said that we will be having another photoshoot but this time we will introduce you short's or high waist shorts. So I guess I'm excited, we know that we found Shorts sexy and I did say yes for the opportunity since I also love doing this thing.
So around five as I got home I turned on my mobile data and I received a chat from our Youth president and vice president. It is said that we will be having a Taize Prayer this evening and that they are sorry to inform us late. So I am not a kind of person who rejects for an important matter so I did reply and said yes. Of course It was Gd calling for my participation so there's no need to think I am tired all I need is to be there with the said Taize Prayer activity. At exactly 7:30 pm, I manage myself to walk from distance not so far but I guess it will consume 5 minutes of walk. So it is okay with me, what is the purpose of feet if we take e ride even if our Destination is not so far right?
I arrived at the church at 7:50 pm. At exactly 8pm the so called activity started.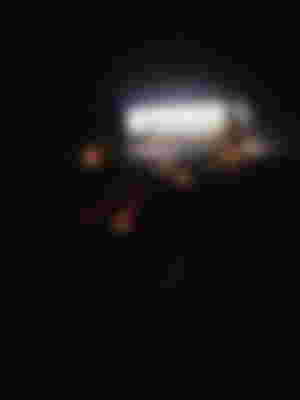 Taizé Prayer is evening prayer for all Christian faiths. It is a simple, meditative form of worship, calling us to dwell deeply on Christ's presence around and within us. Mantra songs (like "Jesus, Remember Me"), prayerful silence, and short readings guide the focus of the prayer in a candle-lit environment. Services at Creighton last about 30-40 minutes and typically include a volume of the St. John's Bible.
Taizé Prayer is named for the ecumenical Christian community formed in Taizé, France during World War II. Today the Taizé community includes brothers from all Christian denominations, including Protestant, Catholic, and Orthodox traditions.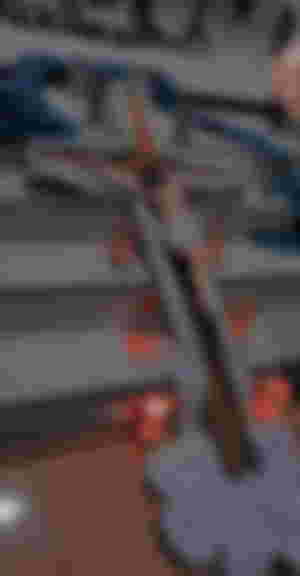 Source
https://www.creighton.edu/ministry/campusministry/ws/taizeprayer/#:~:text=Taiz%C3%A9%20Prayer%20is%20evening%20prayer,presence%20around%20and%20within%20us.&text=Taiz%C3%A9%20Prayer%20is%20named%20for,France%20during%20World%20War%20II.
So after reading the gospel we are given the questions to answer. In !y group I think we are a member of 8 person. So we took a couple of minutes with the sharing of problems and answering questions. The questions are so perfect for my mood. After I share I found myself that I reduce a pain and that I took a deep breath. While sharing we have candle in center of our circle form. As I share to them my problem, I went very emotional and I never had the chance to stop my tears, I don't know but I am like this, i cry easily ans so emotional.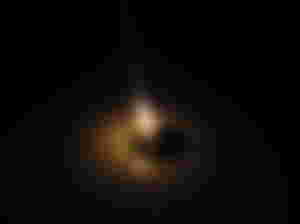 Looking at this very satisfying candle, it made me more emotional, realizing that our lives are like candles. After this candle out of source, then the light from it will end soon. So I guess you understand what I mean. Gladly the Taize Prayer went so well and everyone is good. I found myself blessed since I never did a wrong choice which is to ber here. Haha since I am busy and tired from the photoshoot I didn't took a bath anymore, I didn't even change clothes haha. No worries I don't smell bad this time. Haha lol! So here's a photo of mine after the activity.
So anyways these are the youth's who attended the said activity. Yeah a big family..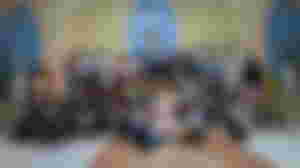 Haha the Lee is still there fellas 🤣 haha. So after the activity we are given snacks and we could have our home sweet home. It was around 11 pm when our Activity ended. Some of my co-youth members sleep at the church but since I live near the church I should go home and grandma is waiting for me also. So here we have biscuits and coffee.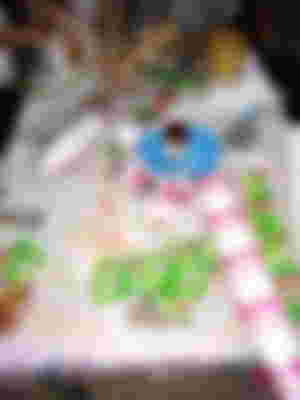 That will be all guys. I am very tired today, and as of now, 2:00 am I am still writing. So I guess after publishing this article I will take my sleep guys my bach hurts a lot. Thank you so much guys for reading. I hope tou guys love my busy day HAHA.
Anyways if ever you are interested with those pants? Easy, you can find me at my Facebook account. @Lovely Jadormio that's my account or you can simply Message the Facebook page I provided.
That will be all guys, no more extension I am very tired na. My eyes are both about to shut haha so this will be the last part of my blog.
To all pf !y sponsors thank you so much for the trust. I am very happy and grateful with all of your support. Thanks to my 101 subscribers yeyyyyy! A good celebration to me. I reached a hundred pf subscribers and it's a great achievement I have. To my commentators, upvoters, sponsors new, old and for the renewal thanks a lot! I am everyday motivated to work hard her because of all of you.
I hope you guys have a great day!
SALAMAT ❤️