This is the last day of August. The moment I opened my eyes this morning what I heard was christmas song that our neighbor played this early. Well, it gives good vibes to me hearing those christmas songs. Four months left before the year 2021 leave us. Let's make these remaining months productive and fruitful. Bet some of you sets now their September goals. As for me I am getting ready for the opening of our class this September 20 (tentative date) and I have already schedule. Online class is waving again to me.
Yesterday, my partner saw what I was written and able to read the title of it. He asked who was it and when I answered him who was his talking about he just changed the topic and say nothing. I knew that time that he was jealous hehez, I can see that through his action since he didn't talk to me for about an hour. So, I asked him what his problem and confirmed that he's jealous, he said why I wrote that topic. I explained to him that I have read the article of some of the users here regarding their exes and from that I got the idea.
What happened yesterday gives me idea of writing about my partner, although I've been thinking this topic for a long time. I guess this is the right time to write about it.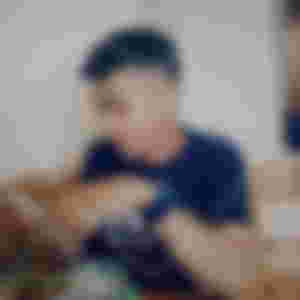 This photo was taken by me while we're eating in fast food restaurant. He just arrived from their one month stay in work last year and asked me out.
We lived in the same barangay. During my teenage year, I already noticed him and had a crush slightly to him but one day he just disappeared like a bubble. Year 2019, when our path crossed again. We have a common friend and that friend of ours invited me and my step sister to their house since it was a fiesta in our barangay. We've met there to my surprise, our friend introduced us to him and the rest is history (Char XD).
In the past, I see him as cool guy which is a trouble maker. Yes, he is one of those what they called gangsters in the street. I always saw him drinking and smoking cigarette with his friend which annoys me very much.
Back to my story, when we met at our friend's house. We didn't talk to each other, he was focused to his phone that time. Weeks passed when we get to know each other since we always went to our friend's house and he was always there.
I will not state one by one in detailed how we end up loving each other instead I will share how he changed for me.
He was a trouble maker, him together with his friends are always had an enemy from other barangay.
He always drink and hang out with his friends until dawn also he is a smoker.
He don't have a work and spend his time hanging out with his friend.
That's the reason why his parent decided to bring him to their province but he went back here after 1 year doing again the same thing.
But that was before when he haven't found me yet. Now, I can proudly say that he is a new person and those things I've mentioned above, he quit all of it. Although, I know that quitting what he used to be is not an easy feat since he lived that way for years and in just a snap he will no longer do these all. I help him through this process, I supported him because that's what he need and as her girlfriend all I want is nothing but the best for him.
When he asked me if I want to be his girlfriend, I did answer him a yes. That's the time he changed himself willingly for me, I didn't force him to do so but his action tells me that he wants to be the best for me, he changed because of his love to me. He wants to be deserving for me.
My partner is now a man where:
He is no longer one of those gangsters that you found in the street, he stays home now with me.
He quit smoking. He tried his best not to try it again and he just drink whenever my father visits us here and when there are occasions. Well, he ask me first if he is allowed to drink or not.
He is now have a work and he is very responsible to it. I know that his work is not easy but whenever he went home, he won't allow me to see that he is tired.
He is very caring. He always make sure that I am okay and that I am not doing heavy things so that I will not get tired. He treat me like a baby hehe. Whenever I am sick, he take good care of me.
Here in house, we called him our chef because he is the one who usually cook food for us. I cook also but he knows lot of dishes than I specially foods that hard to cook or have many procedures. So I let him be.
Arguments are present in every relationship. Whenever we had a fight, he is the first one who say sorry although I think that I am the wrong one.
His sweet little gestures like kissing me in the forehead always makes me love him deeper. And his sudden iloveyou's to me. He is not that vocal in showing his love to me but his actions are saying loudly how he loves me so much.
Some of his not so good attitude are:
His very a "seloso" (jealous) person. He just said that he is being like this because he love me so much that he don't want to lose me. I understand him somehow so I let him be and didn't do things that will make him jealous.
Yes, he is like a girl. He is way more moody than me. He is happy then in just a snap he became serious and quiet. So I always ask him what's the problem but he always answered none.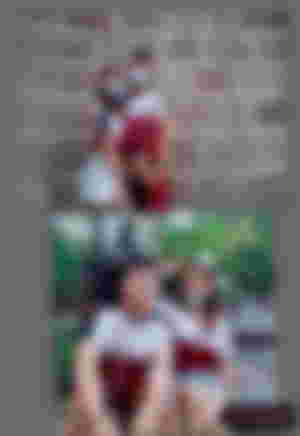 People here are saying that our relationship won't last long since they know him as a gangster and I as a good student but we proved them wrong. Some are amazed with the changes that happened to my man's life, they said the my man now is way more better than the boy they know before. They even asked me what did I do to make him a better person, I just shrugged my head and said "it's his choice to be better for me". My man is also happy to his changes, he always said thank you to me that God gave me to him. "If I didn't met you, I don't know what I am today, maybe I'm dead already" that's his line everytime we talked about how we started. I am also grateful to him. He is the one I want to grow old with.
I will let him read this one later hehez. I am excited to see his reaction :D
-Loveleng18