"Experience is the best teacher" the most common quote in life. But what experience of your life that you learned the most?
Today's article is to share another real life story from my very own father, might be a bit sensitive, but at end it will get moral from the story.
But first let me Flex to you my sponsors, one of those persons who guide and support me throughout my journey here. You guys can check them too:)
________________________
At the very young age, my father used to do a lot of works in order to help her mother at home. Since my father is very thin and easily to get sick, her parents only task him to take care of their mini sari-sari store.
One night, my grandfather bring two visitors. The purpose of these visitors is to sell their motor in order to have money for their house. It was common in the province, to welcome visitors by offering hard drink or "tuba", so while waiting for the buyer, they enjoy talking and drinking in the front of their store. After an hour, there is a drunk man, who is also a friend of my grandfather, came into their table asking "who's the owner of this motor?". My grandfather, answered that it was owned by his visitor. The man asked them that he will borrow the motor to practice, but my grandfather and his friend refuses because they already know what kind of a person he is. But still this old man get the motor and use it even he is not expert in driving. When this drunk man came back, the visitor was so sad seeing his motor already damage. He said, "how cam I sell this Sir when you already damage it?, " but the drunk man get angry and said "you are brave now!". They start to argue until they fight, punching to each others. My grandfather's visitor win and this old man go home angrily.
My grandmother who is busy in cooking that time asked my father to get some seasonings. My father immediately go to their store and cut the seasoning, until they heard a loud gun shot. He then heard a scream outside, and when he look at the window, the visitor was already lying on the ground, and this drunk man was carrying long gun.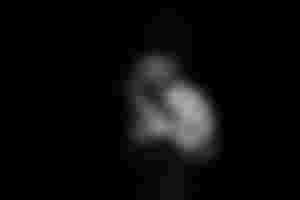 After this incident, my father always hear noises at night. Their house was elevated that he can feel that the noises came under the house. At first, it was only sound like a disco(that until now he can remember the beat and few lyrics), then a crying lady, until a voice of a man asking for help, but the worst is hearing steps with chain. He don't have someone to tell it since he was not close to his parents, and all his siblings was also little that time.
On the other night, he heard the voice of a bird. He used to cover all his body with a sack of flour (the usual blanket during their time) just to hide himself from being scared. He bravely, open his blanket and look around until,... he look up and saw a very bright circle, with a dark curve spot at the center; like the eyes of a wild animals. He immediately cover himself again, thinking what he saw.
On the other side of the story, this visitor of my grandfather died. In order to give the justice, he file a case against this drunk man. At first, the family of this man asked my grandfather to stop it because they are like relatives already, but my grandfather stand his decision and still continue the case. This drunk man was a police, not by education, but by money and power. When my grandfather go to municipality, instead of listening to his concern the mayor get angry, and told him to stop complaining against the Police. My grandfather still do his best for the case, that at the end, they prison my grandfather with the reason of fighting against the authority. After days, they let my grandfather free, since they don't have a strong bases to prison him. When my grandfather came back home, he ask his neighbors to serve as the witness, although they saw what happened that night, they are scared to witness as they think that the authority will prison them. My grandfather spend all the money just to keep the case going until this drunk man surrender; felt guilty on what he did. He even talked to my grandfather, asking him to tell his family that he already surrender.
The mayor set him free again, but my grandfather think this as injustice, so he went to other places to find a better Police station.
Fast forward...
My grandfather win the case, and prison this drunk man for 12 years. They also transfered to other place, and leave that hunted house.
In my time..
The granddaughter of this drunk man became my classmate, and one of my closest friend until now(what a small world).
Last month, we met up, only 3 of us, we keep on talking funny things until she look at me and said "Friend, the bestfriend of your father already died last August."
The "bestfriend of your father", is that drunk man that she was referring to. Yes, after his imprisonment, he change and chose to have a good life. By God's grace, he met my father, and as an exchange to the goodness of my grandfather, and guilt that he felt, he treat my father with kindness, lead them as "Bestfriend"
________________________
Hello lovely reader! How was your day?
I hope you understand my story, as I just made it quick. I have a date with my girl bestfriend and trying my best to at least publish this day.
Stay safe everyone, see your articles at night(maybe)
GOD Bless! Hugs.
Ps. Thank you @Gaftekloriginal for the renewal of your sponsorship. More bch to you friend:)
-Ling