When Two Become One
I remembered it all clearly, he was staring at me while saying his vows, in front of the Lord, that he will be with me through the lows and the highs and will stay till we're grey and old. I'm so happy that finally were already tied as one, and promised that only death can break us apart. I love him so much and it's a dream come true to be his wife...
.
.
.
I mean it's literally a dream because I woke up after we kissed. Tsk! Too bad! It didn't proceed to the exciting part. Char! I get up smiling and messaged @Ej right away. He laughed so hard because for the first time he has done well in my dreams. I often dream he has another woman and didn't really love me that's why sometimes I fight with him and force him to tell the truth. He will just laugh at me for being paranoid and told me dreams are just the opposite of real life. Well, if you let me spell the word "obsessed" it's "K E L Z Y" obsessed! Haha! For he is worthy of my obsession because he made me feel the love I never feel had before. He saves my lonely soul and till now cures my traumas. He assured me it will never happen again, that I can give my whole trust in him. So I did.
But sometimes I'm afraid and can't help to think what if he changed suddenly after we get married? What if he will hurt me just like what my father did to my mom? I knew they were so in love at first that they promised to be together forever but didn't go the way they plan and end up cursing each other.
Tsk! Erased! Erased! Erased! Their story is different Zy so don't compare your relationship to others!
But let's be real here, there is also a risk in getting married. You can't easily live in your own life back again when your relationship gets totally broken, because you two are already one. Both will commit sin in the eyes of the law most especially in the eyes of the Lord. The vows they swore are sacred. But I believed there is an exception. If the couple will no longer understand and only hurt each other, the law of the state and the law of God will not allow it to continue to happen. The marriage should grow with love, not with hatred.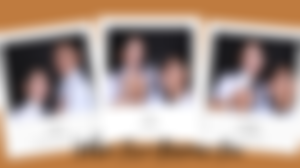 Lead Image edited in Canva
I hope when I and @Ej come to this point, we are both ready to become one and will stick to our vows, that we will be together for better or worse, in richer and poorer, in sickness and health, to love and cherish, and to death do us part. Hehe. I still believe that forever exists even though lots of married couples nowadays get separated.
Their story is different, and so do ours!
---
I came up with this marriage topic today because of the article I read from Ate @Eybyoung. I don't know but I often think of Ate Eyb lately since I got to know that she will get married soon. I as her internet friend who followed her story every day was very happy to know the news. It was everyone's dream, to be with the love of their life with a seal and I'm sure Ate will be so happy bride that day.
Advance congrats Ate! Best wishes 😘
---