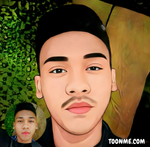 Every single day and moment when the rain pours here in our place I look up to the sky and wander my eyes across the vast sky searching for the seven colored arc compiled as one. Where many of the elders said that at the end of it, there's a pot of gold or treasure and when you point it using your fingers, your fingers will be gone. Those are some of the tales I heard from the elders regarding this colorful arc that gives off a different vibes as I watched it in the sky. We called it rainbow and it represents many beliefs in our life.
Rainbow for me means that in a long day of suffering through many obstacles in our life there's always a great thing that will happen at the end. I know you have one too when you see a raibow after a rain so don't forget to share it below friends. Witnessing such beauty while alive is a great experience that everybody wishes to see and experience. Those beautiful colors gives off a different and strong vibes to us and I know everyone wants to see it badly especially those persons who are not blessed with the ability to see the colorful world, the color blinded ones.
While scrolling this morning in facebook to check some updates in our covid situation here in our town, I encountered this page named The Epoch times wherein I saw a video that's all about individuals who are color blind causing the to not see those various beauty of colors. The featured families filmed their love ones when they gave their gift to them. That gift is an eyeglass that enables them to see those colors in a normal way.
While watching it's just great to see the big smiles and tears of happiness coming from those people. Actually some tears fell from my eyes also because in my part I'm very happy for them for the opportunity given to them to witness and experience the beauty and positive vibes coming from those colorful things around them. Also the individuals can't hold their tears while trying their gifts. They can't believe that they're witnessing such grand moment of their life.
What I realized from this one is that in our life we need to be grateful for what we have even the slightest things because there's so many people around the world who are not bless as you are. For example not all of us are blessed with hands, eyes , ears and other body parts, yet those who have a complete body parts are doing bad things or just waiting for the apple to fall in their mouths while those who are not blessed with complete body parts are doing their best to do good things and working hard in order to survive.
That's a big difference right and I hope that you will use your gifts in a right way just like those people who are not given complete body parts and I hope that you appreciate what you can do with the help of your body parts. That's the relialization I got from watching their videos.
Absent for 2 days why?
I'm not able to publish an article for almost 2 days and it's because we're in the field removing some weeds to maintain the rice field clean and in order for them to grow healthy especially when we apply fertilizers. We don't want those weeds to get the nutrients that are meant for the rice, another reason we remove those weeds.
It's been cloudy through out the day because of the typhoon within our country now. Keep safe everyone and I pray that this typhoon will not bring any heavy cassualties.
When we finish I took the opportunity to take a picture, mirror shot of the mountain within the view.
After we got home, I went to the river to wash my feets then when I'm about to return here in our house, a little creature caught my attention and my curiousity. I don't know it's name so I tried to search in google and found out it's name, it's called Jewel beetle because of it's color.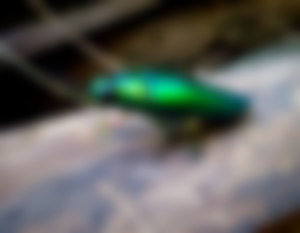 It really caught my attention because it's my first time to see something like this. I want to take it home but I don't want it to be away from it's natural habitat so I let it stay in it's current location. I remember my childhood days when I played a beetle (abal-abal in ilokano) which I asked my lola to put a thread in it so that when it fly , it will not fly away just like a kite haha. Did you experience it also in your childhood days?
After that encounter with the nice looking creature, thr rain poured really hard that's why I feel asleep until 5 pm. What a nice long nap partnered with the cold weather. The rain stopped so I went to the second floor of our house. You may wonder why we have second floor t's because our house is like the houses before that it has 2 storey but it's made out of bamboo. You know what I found out in our rooftop. This one catched my attention again and made me to take a picture of it.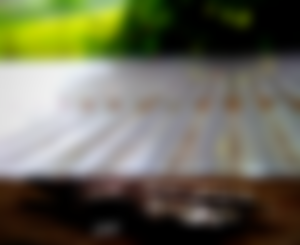 Raindrops in a guava leaf. I don't know the exact reason why it's like this but in my knowledge the leaf is covered with webs that's why the water formed like that. The raindrops partnered with brown leaf perfectly right. An art.
And that's how my day end today. Those encounters today really lighten my chest beacause I'm not feeling well due to the tiredness working in the field but I know it's all worth it at the end. The rice is growing well and the expected harvest season will be on December. Hoping to have a gold harvest. This article become so long na that's why I'll cut this one and I want to thank you for reading this far. I hope your day really went well. See yah in my next articles.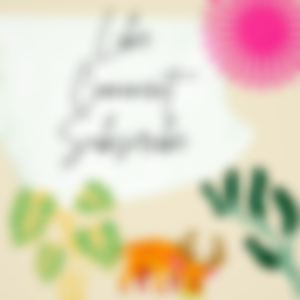 Lead Image: I made it in canva and smae with the image above.
Plagiarism test: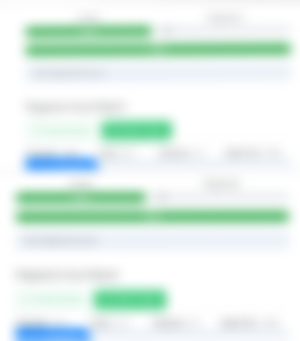 Also I want to thanks my generous sponsors and ofcourse my generpus readers who's supporting mg articles. I appreciate it. If you have times buddies you may visit their articles also. Arigatou.💚