Enjoyed and then sad
Date: July 12, 2022
It's been raining for almost a week now. The weather is favorable in the morning but it will rain usually in the afternoon.
Yesterday morning, we went to the city to pay for our electric bill and we spend almost three hours before we were able to pay our electric bill. The queue is so long that my number is 769 and then they are calling for 200+. While waiting for our number, my son requested me to buy some bread because he is hungry. We walk and look for a nearest bakeshop but unfortunately the nearest bakeshop is close. So, we walk and find another one until we reached the market. We took our merienda, just bread and buko (coconut) juice. We then went to the market and since we were there I bought some vegetables. We go back to pay our electric bill and gladly we arrived on time as they just call my number.
We went home at lunch time, took our lunch and let my son have his afternoon nap while me reading articles here in read.cash.
My husband called me that his workmate is inviting us to go to a resort because the daughter of his workmate is having her birthday. I asked him how much the entrance fee and he told me 50.00 ($1). I told him if we will go there, we don't have enough time to enjoy the place because we will reach there at around 4pm and needs to go home at around 5pm because we have another things to do at six in the evening. He will drive for our young people for the voice of youth program.
So, we decided not to go to a resort. when he arrived at home he instead planned to buy for a brake replacement. He is about to go when I shout "we will go with you." My son just woke up and told him that we will go with his father to the city. In this way we could have a short family time. After he bought what he need, we went straight to the plaza. My son enjoyed running here and there, stepping to the stairs up and down while me found a schoolmate and we had a talk for a while.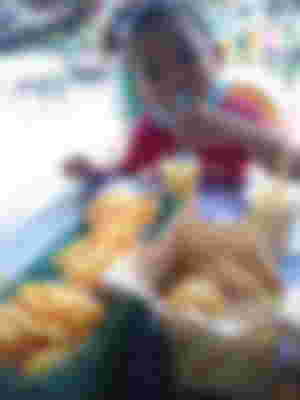 We went to a food corner and bought some food to enjoy. We just bought French fries, hotcake and mango shake. We had a short time talking together while enjoying some simple food. My son don't know about mango shake and it is his first time to have it. As he sip for the first time, he said "yummy". I and my husband look at each other smiling because we don't know where he got the word yummy since we are talking to him in our own language which is bisaya. We are amazed that he have learned some english word and applied it correctly. When the food is almost finished, my husband bought sweet corn with cheese as additional.
The surroundings started to get dark and the rain is coming. We decided to go home and while we are walking going to our tricycle, we heard a noise coming a far and seems the noise is nearing to us until we found out that the rain is running toward us. So, we run to the grandstand to find some shelter. We just sit there until the rain is not heavy enough so we could travel going home. Most of the people run and have rest into that place.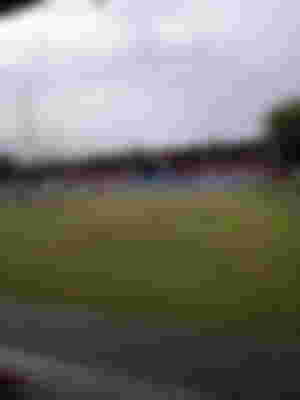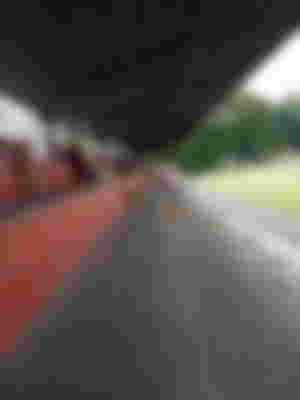 When the rain almost stop, we decided to go home. When we are in the middle of our travel, we wonder because the road is dry it means there is no rain in there but when we almost reach our home the rain is so heavy again and the road seems like a river where the flood is so strong.
When we reached our house it is so sad to see that the water entered in our house. We forgot to let the "trapal" down before we go to the city. We use it as a cover in front of our small house so the rain will not come in. We enjoyed and then sad now because we need to remove the water from our floor. The water sets in under the floor mat making the floor mat waiving as we step on it.
Instead of murmuring, we directly move to remove the water and clean it. We enjoyed but we went home and became sad for what happened. It is a lesson learned that we need to let down the "trapal" everytime we leave home.
That's for now and thank you so much for your time.
I also thanks sis @Chelle18 for giving me an idea to write something about what happened in a day. I read one of her article that tells about another day in her life . Truly, we can find idea what to write by reading others article.
See you again in my next article.
Thank you so much for the for
reading, for the like, subscribe,
comment, upvote and sponsorship.

More bch to come to all of us.