An afternoon full of fun
Date: July 19, 2022
If you already read my previous article about a night out you already knew that we went to a beach last Sunday. It was a team bonding of my husband together with his workmates. I and my son just go with them.
Since it was holiday yesterday (Monday), they choose to have a night swimming on Sunday so they have time to relax and sleep on Monday. The assemble time is 1:30pm and we depart at 2:00pm. Good thing all of us came to the assemble area on time and we departed early. The travel took more than two hours so we arrived at the beach at around 4:00pm. The team decided to have a merienda first before they will start their activity. We enjoy the merienda being prepared. After eating, some prepared for dinner and the rest have their team bonding through games.
Since I am not an employee and I don't belong to any groups they asked me to be their judge, to be a guard in different games and a photographer and videographer too. Though I enjoy it too because it seems that I am playing too. My stomach aches for laughing too much and my voice seems changed because of shouting and cheering for them. Indeed it is an afternoon full of fun.
While they are preparing the balloons to be used in the game I and my son have our moment in the beach.
My son is really happy to be there. How he wished to go to the beach and swim in the sea for a long time. At last! he was there. Since he cannot go to the sea without me or his father we didn't allow him to swim directly. So he choose to have fun in the beach first.
He draws a lot as he loves drawing. He draws house and car based on his explanation about his drawing when once I asked him. He also played along with the sand. He even requested me to cover his body with sand and as if he was sleeping.
I also saw him throwing sand. At first I stopped him from doing it because some sand particles might go into his eyes because the wind is strong. But I got an idea to capture him doing it and I position him which is not against the wind so he will be safe. We tried again and again until I am satisfied with the picture. I also let him jump and took him a picture. We enjoyed it.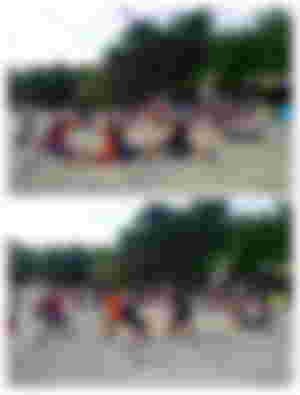 When everything is ready, they started the game. The first game is the one in the picture above. They will find their partner, sit in the sand, hands up and they need to stand up without holding each other and without holding the ground. Some did it easily but others couldn't stand and seems they cannot handle their weight.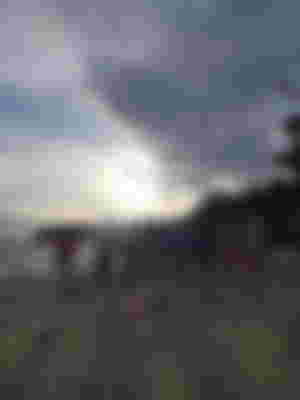 Second game is a group game. They were devided into two groups and each member put a balloon in their feet. They have to step the balloon of the other group and make it explode. The group who have more number of balloons remained is the winner.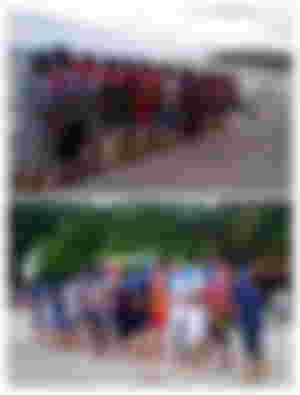 This is the other game where they will go forward and turn from the one in front of them and go back without breaking their lines with the balloons on their neck. No one should hold their balloon and they have to put their hands on their waist. I laugh a lot in here because they usually break the line and the balloons will fly. A team with the blue balloons won this game.
They also play message relay. It is fun to hear different sentences from the last person. The person says it correctly, the second and sometimes in the middle the sentences is different. This proves that being "maritess" or gossiper can bring different messages to others.
They have other games aside from what I have mentioned that made the afternoon so fun. Overall it was a great time to be with them. I also enjoyed the moment even I don't know most of them.
If you have some beach outing, you may play those games to have some fun too.
Thank you so much for reading.