#Blog 205
Happy Monday to all! How's my fellow writers here? Is it stress or just chilling lol😁. Just enjoy your life to the fullest. Don't let the stress will ruined your day. Speaking of enjoy. Yesterday we've decided to have a family getaway.
Spending with our love ones is the most happiest moment in our life. We must cheerish everything coz we live once only in this wonderful world. It remains in our mind and heart. That we experience how to be happy and contented.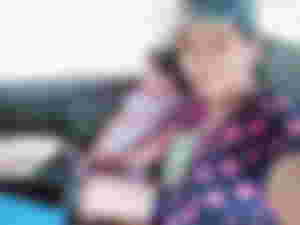 At exactly 10am we hop in a van that we've been rented for 3,500php($67). We will go to Enchanted River at Hinatuan Surigao del Sur. It takes 2 hours travelling. Baby kulot wake up so late so his been wearing his terno pajama lol🤗.
Welcome to Enchanted river...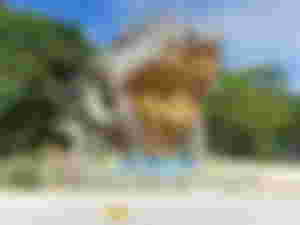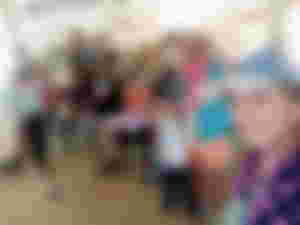 After a long travel, char! At last were at Enchanted already around 11:40am. Lot of changes in that area that even the statue is new for me. Haiztt it's been so long since my last visit at Enchanted. They have a shuttle service also. Wow we cannot bring our own service at the river. We must stay and wait at the waiting area. Our senior citizens been annoyed of their new rules. Then it's too hot. We will wait until the shuttle service will come back.
The most shocking moment for me is the entrance fee. Adult is 100php($1.91) per head and the kids is 30php($0.58). It's a wow! The first word I've utter. Before it's just a donation only and the cottage is free.
Going to the river...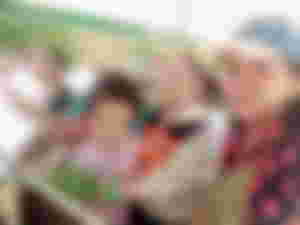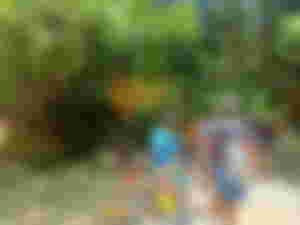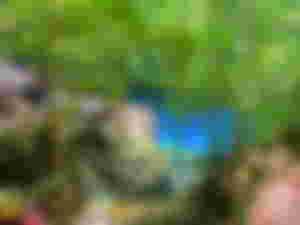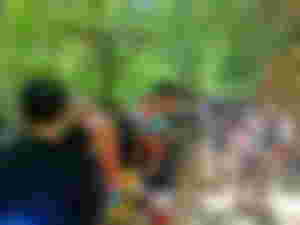 After few minutes of waiting of the shuttle service it's our turn now. We want to witness the feeding time for the fishes around 12:00 noon time. Lots of people taking a videos. According to the locals the river was called enchanted river because of the engkantos that dwell there.
It's quite scary right? Their legends also say that the river is haunted by supernatural beings which act as it's protectors. The Enchanted river also called sacred river, It's a deep spring water. While feeding the fishes they have a music also.
Lunch time...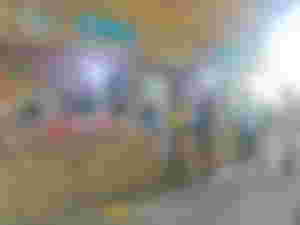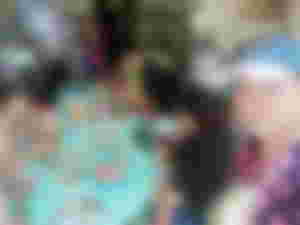 After watching the feeding time we ride again the shuttle service to the dining area. Angal na naman mga seniors hahaha. We're glad that the table is free coz we bring our own foods such as lechon paksiw, dinuguan, paklay, shrimp and crabs. Even the drinks we bring some orange juice and softdrinks.
Swimming time...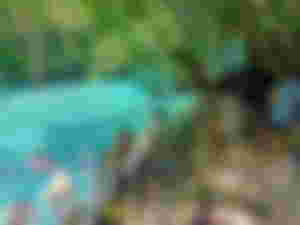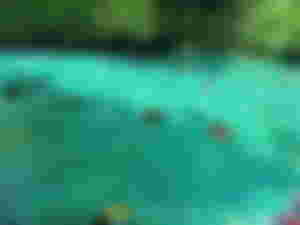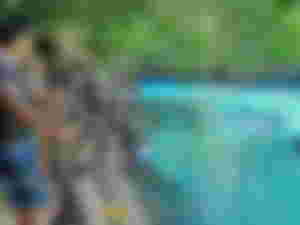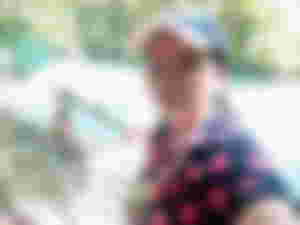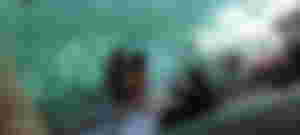 Pardon me for the unlimited photos hehehe, I just want to share the beauty of enchanted river. Very alluring right? The ambiance is very calm that you can enjoy to swim. Before I forgot the area don't have a signal, so no social medias. Then the people can really enjoy the moment they had at the water. It's very cold that the kids really feel freezing.
They have a island hopping also. Don't know how much, but before it cost 1,500php($29). The river have a big improvement that makes me proud. They must take good care this pure nature that they have. Lots of tourists been visited this area. I've seen also a lots of foreigners. Some also are wearing a swimsuit, char!
That's all for today and I'm very very tired until now. I feel sick, got a body pain. I need to drink some medicines to ease the pain that I felt. Having a toddler in this kind of event is really a buwis buhay hahahaha. But it's okay as long may family are really enjoyed this unforgettable moment in their life.
Thanks also to my elder brother who pay our service. He want us to go to Enchanted then he want also my auntie's can visit that place. It's their first time also. They really thank us for bringing them in a magical river ika nga nila.
Thanks to all my sponsors!
Thanks for reading!
April 25, 2022
8:48 pm
Monday
Philippines
The fighter mom,