I felt light-headed when I got up from my bed and leaned against the wall to save myself from falling. My morning weak muscles only jeopardized my body from walking to the lavatory. As I opened the toilet door, the scent of my shea butter bar soap ran through my nostrils, and I bent over, gagged, and vomited on the sink. I know there was something wrong with me, it's not just simple morning sickness. I even thought it was the side effects of the COVID vaccine I had taken.
A few moments later, I was lying on the floor with a splitting headache. My tummy wasn't feeling well and the sweet scent was stomach-churning. I grabbed my phone and call my friend Ann.
"Hello Ann, I'm not feeling well, what should I do?"
"Why, what's wrong with you?"
"I kept on vomiting this morning because the sweet scent of my bar soap is stomach-churning."
"Sh*t wait..did you had your monthly period yet?"
"What do you mean?" Then I thought of my monthly period and found out that I'm a month delayed.
"I'm one month delayed, maybe a change in cycle, why?"
"Sh*t. Then you have a bun in the oven!" Her shout was so deafening and I retracted my phone away for a while. I looked at the oven literally because I was reheating my bread, but I know what she meant.
"What the h*ll Ann, how is it possible? I don't even have a boyfriend. What? A virgin Mary?"
"Don't you really remember what happens a month ago?"
Then memories started to bring back during the night I was with Rey. The memories that I wanted to burry forever but I can't.
---
One month ago...
"Are you sure you don't want to renew your contract?"
My friend Ann looks sad that I don't want to renew my contract. I was depressed and I asked her if we can meet in Central HK, and good thing she came.
"No. I'm always stressed with them. I wanna go back home."
"You really looked stress. You wanna go with me?
"Where?"
"My friend is inviting me to go to the bar nearby to meet her foreign boyfriend."
"You know I don't like bar hopping right? I don't like the crowd and cigarette scent inside. Besides, I don't drink alcohol"
"You're so KJ. Common' just unwind for a while and forget about your stressors."
"I need to go back home before 8 in the evening."
"You're so loyal to your boss, tomorrow is our holiday as well. I guess you can go home late. Don't be KJ, let's go!"
She dragged my wrist and my feet just followed her. I never went to any bar in Hong Kong before, as I just imagine how it looks inside. They're always been the dens of many foreigners, drinking while smoking, and I hated that.
From the distance, I saw foreigners sitting outside the bar sipping their favorite cocktails while others are like smoke belchers. I hate the cigarette scent as I always feel nauseous, so I took out my hanky and covered my nose before stepping inside the ear-piercing room.
Rock music started to be deafening as we drew closer and Ann looked around to search for her friend. We saw Abby waving and as we approached their spot, some foreigners and other Filipinas were there too. "Are they partners?" I thought.
I was like out of place because they all have partners except me and my friend Ann. The couple sitting in front of me even kissed each other. "Get yourselves a room, please. Disgusting!" I screwed them in my mind. Abby introduced us to her boyfriend and friends. I knew her for two years but she's a B.I. to Ann so I kind've hated her.
"Hey ladies, get some drinks, it's my treat." Abby's boyfriend told us while showing a bottle of vodka.
"No thanks, I don't drink," I said.
"She is just kidding, she actually drinks." Says Ann. But I made a face and gave her a ferocious look.
"Just for today." She added jokingly.
"Awesome! Cheers ladies!" A deep masculine voice of a man appeared from nowhere and sat next to me which startled me out.
"Rey by the way." And reached out his hand for a handshake.
"Just call me Jane," I said with a faint smile.
"And Ann," Ann said with a flirty smile while reaching her hand. I looked at her and she got what I mean. I never wanted Ann to go out with Abby because she's really a bad influence on her.
Rey is friendly though and smiling the whole time. His blue eyes, white teeth, masculine body, and oh!.. well-polished shoes, a devilishly handsome guy that girls out there would love to date. I wasn't aware that my eyes were already scrutinizing his body from head to toe. Ann noticed that and poked the left side of my torso that brought me back to my senses.
"I thought you don't want me to flirt?" She whispered sarcastically in a humorous manner but Rey on my right side heard it and just smirked.
I didn't answer her and just drink the bottle of alcohol in front of me. I was embarrassed by my action and cursing Ann in my mind for bringing me to that place didn't help.
"Chill Jane, you might go tipsy earlier than me," Rey said teasingly.
"I'm fine! I can handle myself!" Sarcastically shouted at him.
"Woohh...what now Rey?" Followed by the laughter of his friends. They gave him a derisive laugh and I was just listening to them while sipping the bottle of liquid in my hand. I didn't mind them and all I just wanted was to finish my drink and step out.
"Jane, he's single by the way." Said Abby that made the crowd go more deafening.
I had a second drink and let my belly dilute the alcohol before standing up.
"Are you done?" Ann asked.
"Yes! Let's go." I was a bit tipsy but I managed to stand straight as I don't want to be embarrassed again.
I thought we will head out but Ann just pulled me to the center of the crowd where people were dancing wildly and were shouting from a mountain top. Some were Filipinos, some were foreigners and Chinese.
"Why are you torturing me, Ann!!" I cried at her.
"Just today ma-friend!" She replied while laughing derisively.
A moment later, the music was like a drug that brings me higher until my mind buzzes with pure joy. I didn't say I don't like dancing, because I love it back then. The music moves me like I was a puppet on strings as if my soul will shine so bright, my brain was shut down, and my body was moving like an uncoiled rope with eyes on fire. The beat of the music made my synapses jumped like beans in a tin. My limbs have so much energy that I could dance like millennials all night long. It was 9 years ago when I last stepped inside a bar during our company's anniversary, and it feels so good to release the sweat and toxins through dancing.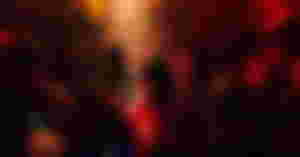 There was so much sweat on my skin but not all were mine. My thin shirt was drenched with sweat and I could see my upper figure underneath it. I didn't care at all, as the music was like a shot of adrenaline to my heart, and I was moving inch to inch with Ann and other people on the dance floor.
Suddenly, a warm hand held my waist that sent goosebumps to my body, and it dragged me closer to his frame.
"Why you didn't tell me that you're good at dancing?"
It was Rey and his whisper tickled my ear. The peppermint scent of his mouth and his blue eyes were like hypnotizing that I can't take my eyes off him.
To be continued..
Sorry sa pagbitin 🤣🤣 this should be one article only but I've noticed that it's kind've long and good for two articles already. So I cut the other half and I might post it tomorrow 😁

If you are following me on noisecash, I was referring to this one when I said I want to write something different. 😁
Lead image from https://www.shepherdsfriendly.co.uk/resources/baby-brain-can-combat/