Xavi's Barcelona needs to wake up
Football is a team sport with no individual input lesser than others. The success of a team is dependent on the performance of each of the 11 players on the field
If the Defenders don't do their job well, no matter how good the strikers and midfielders are, the team will suffer and vice versa. Every aspect of a team has its role but that doesn't mean they can't play each other's role once in a while. Defenders now score from set pieces and score long-distance goals. We've seen strikers make a last-ditch tackle to save the day. It happens and it's appreciated.
However, the primary function of every player on the field differs and they are expected to Prioritize it above any other thing. Because Arnold is known to be an attack-minded defender, doesn't mean he should shoot the ball at every given opportunity even when a better option is available. For the betterment of a team, everyone has to be selfless and put the team's interest above every other team.
Barcelona has never been a team with a "great defence" but what they lack in defence they make up for in attack. With the new addition, Barcelona looked set to conquer Europe by storm.
They had a decent preseason or a better than decent preseason, so yesterday's match was expected to be a game where they will send the message to the rest of Europe -" We are back"
Manchester United's woeful outing yesterday was enough to cover Barcelona's blushes some hours later. The stats might suggest that Barcelona was the better team- Sure they were but what the stats will fail to show is that the shots and Possession were sometimes needless.
With Dembele and Raphinha on either side of the attack, Lewandoski up front and Gavi, Pedri and Busquets in the middle of the pack one would expect the team to work together and bring out the best in each other but such was not the case yesterday.
Lewandoski was left struggling, running into a pocket of space waiting for the ball but instead of crossing or passing Dembele and Raphinha chose to hit the ball into a crowd of bodies or straight at the keeper. This is something he doesn't lack at Bayern. Thomas Muller and co are selfless and willing to pass the ball when he is available. I must commend Rayo Vallecano's goalkeeper who was great yesterday, making some great saves to deny Barcelona a victory.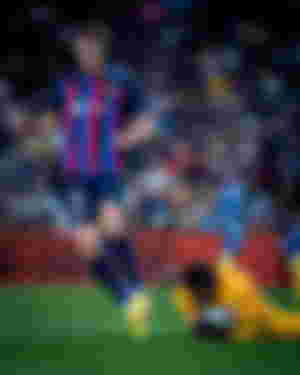 It's not until a striker scores a screamer or an overhead kick that he is great, what makes a striker a striker is the ability to smell opportunity, being in the right place at the right time, popping up at the right time to give the ball a single touch and redirect it into the goal. Though many will say it's "tap-ins" these are goals that win matches, but what can a striker do when he avails himself but his teammates chose to go for another option?
Arsene Wenger once talked about how great players need to be selfish. To be a world-class player, you need to be selfish sometimes, take risks, and shoot the ball when people don't expect you to. These little risks are what differentiate great players from the average ones. However, to be a great player, you have to combine selfishness with selflessness.
Lionel Messi is widely regarded as one of the Greatest of all time if not the greatest of all time. What endears me about him is his selfless attitude. When Messi sees a player in a better position to score than him, he passes the ball. This is the lesson Barcelona players need to learn.
Yes, Lewandoski can't be the one scoring all the goals, but when you see him in a good position pass the ball to him. He is a world-class striker who knows only one thing- "score goals", so give him the ball!
I see City desperately looking to pass the ball to Haaland and when he isn't available, they take the decision to shoot. I watched how Liverpool desperately craved for Darwin's first goal during the preseason, and how they celebrated with him when he finally got the goals. They do this because they know when these players perform well, it will favour the team in general.
If Xavi, want to succeed or wants whatever football style/plan to work he needs to tell the players to cut a leaf from Messi and learn how to be selfless and Selfish depending on the situation. If the players can work together, they will score goals and not just unnecessary stats after each match.
It's too early to start Criticizing Xavi, Since Rayo has proven to be a tough team for Barcelona of recent and the performance wasn't all that bad, except for the Red card Busquets received. But the sooner he gets things right, the better. He needs to act now and stop his team from behaving like a Dish with too much Sauce and spice.
Thanks for Reading!⚽️💚⚽️