Please note that there is a bot attached to this article that would not notify the author if you laughed at his experience while reading this article.
This was supposed to be a weekend article but the idea never came up until around midnight on Monday, it started raining before I went to bed and I had to turn off my fan because I was feeling cold. My mind was as the farm as I slept so I left my window open to know if there would be a need to go to the farm if the rain continues heavily like that.
The lightning and thunder woke me up around midnight and I was surprised it was still raining, I tried returning to sleep but it didn't work out. I took my phone to watch a movie or play a football game when the thoughts about the article came to my head.

People who don't know me in person usually think I am smart but when they get closer to me, they discover the real side of me.
There is indeed always a first time for everything in life and whenever the results come out bad, it motivates us to try again until we become good at it. Some memories of my first-time experience make me laugh a lot and I will share my first experience in some things I did when I was younger.

This is one experience I thought I would get an accolade but it turned the other way around for me.
On this faithful day, my mom came back very late from work and I always felt for her because I knew she was going through a lot of stress. That day I was restless, I didn't want her to come home and start going through the stress of cooking so I thought about making dinner for the family.
I eventually made up my mind to make beans because she mentioned that she would prepare it when she returns.
I picked the beans and put it on fire, I immediately added oil, onions, seasoning, pepper, salt and covered it. About thirty minutes later, I checked the beans, and it looked like it wasn't cooked at all. It was still very strong so I added more water and covered it again. I exhausted the kerosene in the stove so I refilled it because mom usually buy excess to avoid buying bit by bit on the street.
To cut the story short, the beans was cooked for over two hours and there was very little change in the hardness of the beans. I became worried and mom came, I told her that the beans I was cooking is possessed by evil because I have cooked it for over two hours but they refused to get cooked.
She was surprised I was cooking because I was barely 8 years old, she went to the kitchen and I heard her laughing. She came back to the room and said that was not the right way to prepare beans, she explained that I need to cook the beans and made sure it is soft before putting in the other ingredients.
My ego was killed immediately, she said that would be you and your brother's meal for as long as you can finish it. We had the beans for two days, it made us purge and mom wasn't bothered, she even gave me more fuel to continue with my failed experiment.
I knew my brother was cursing me in his mind because I made him ate that terrible food but when mom passes her judgment, it doesn't change without God intervention.

If I knew I would mess up that day, I wouldn't have tried asking a girl out. I had lots of female friends growing up, we weren't having any strings attached despite the closeness.
I am so used to them that we do things together a lot and some of them no longer hide their private life from me, you know how it feels when you think you have seen it all or you know everything about girls.
Aside from that I usually help my friend out when they have issues with girls and that made me very confident that I wouldn't have any issues when I eventually want to have mine.
---
I met this girl where I was working as a home tutor for some kids, it was few months before my eighteenth birthday. She is dark, tall, and huge, she was endowed. We greeted each other whenever I pass through her house and I summoned the courage to take her number, we started chatting using Facebook messenger, 2go, and others.
We became very fond of each other and I knew we were really into each other, I decided to take my shot so I invited her to my place on my birthday.
I was so restless when she agreed to come over, her parents were rich and we were the opposite. Everything we had at home was old fashion and I felt she might turn me down but I still went on, I made sure the house was good.
I got some drinks and put them in a cooler but my younger brother and one of my friends did justice to drink when I went to pick her up.
She looked so beautiful from afar and I was lost, I felt shaky. I doubted if I could do it, I became scared and several thoughts crossed my mind.
What if she said no? It would be a huge blow, how do I tell my female friends that their crush was turned down by another girl.
---
We got home and I made her feel very comfortable, she rejected everything I offered and that was good because I didn't even know that the drinks were gone.
Finally, the time came and I was speechless. I didn't know the words to use and my heart was beating very fast that she noticed it, my hands failed me. Every part of me was shaking, it wasn't my first time helping my friend seal deals, why was mine so difficult?
While I was still beating about the bush sweating, she got a call from her mom, and I knew I messed up. She knew my intentions but she wanted me to say it and I couldn't do it till she left. The disappointment was on her face but she gave me a tight hug and we were there in each other arms for up to a minute, I had every time and perfect moment but I fumbled big time.
She left and I felt bad, I got a text that she was home and the "I love you" that ended the text turned things around. I bombarded her with so many messages and eventually confessed my feelings that night.
I wish I have just said it when she was there, it would have just been a perfect one.

I have a lot of experience to share and it would only make this a novel instead of an article, I became an expert at those things I failed at doing it for the first time.
Don't mind my stories, I just couldn't hold back every bit of what happened. The challenge is on and anyone who has something to share can be part of it, thanks for your time.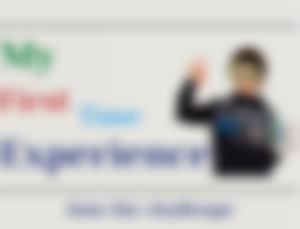 Feel free to use the image at the end of your post, I am looking forward to seeing your stories too.