Good evening everyone, I forgot to thank all my supporters earlier because as I said to my previous article we are going to have a family bonding.
Let's start!
Lately early in the morning I'm busy in my notification section, I clicked it 1 by 1 and read so that I can leave a good comment. So while scrolling down I got surprise because I receive a notification and guess what? I already reached 1001 views, I did not really expect I will reach 1001 views and I've come this far with you guys.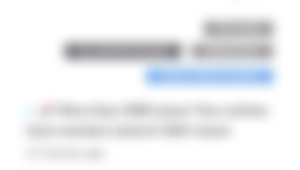 For the others maybe this is just a small achievement, but for me it is really really big achievement because without you guys and my friends I cannot reach this far. This is because of you guys, without you guys I will never reached this achievement that's why I'm so thankful because I have you, and I'm very sorry if I forgot to thank all of you earlier. I'm so excited to travel for our family bonding. Hope you will accept my apology.
A simple thank you message for you guys.
All I can say is thank you guys for your support and for engaging to my articles every single day, for leaving such encouraging comments that lift me up and to become more productive. Hope you will support me till last. I love you all guys.
That's all.
I want to thank also @Jewel for sharing his gratitude.
Sponsors of FelmarAlmighty