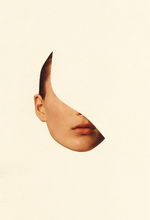 Hello my dear friends and family, I hope you are well and in good health. Keep a smile on your face, and let your eyes shine with the light of hope.
Let me first thank my dear supporters, subscribers, visitors and voters for their constant support. Thank you for always being by my side and supporting me. Being with you is a great blessing for me, and I thank God for your existence.
I want to thank my dear @Jeansapphire39 for renewing her sponsorship. Thank you my friend for always being by my side. Your kindness and support are endless. From the first days of my presence at read.cash, I had your kind presence by my side, and I thank God for that. I have learned a lot from you during this time my friend. You are a wonderful, kind, caring, exemplary and very beautiful daughter and mother. It is a great honor to be by your side.
This weekend, my husband and I went to my mom's garden out of town for the last time. Because I wanted to spend the last weekend with my mother and father, and seize every moment of being with them. First of all, I will miss them in this one or two month absence. But my husband and I made a promise from mom that my husband will get a ticket for her at the end of our stay there, and she will join us there. I hope so, and she will have a trip under this excuse, because it will be good for her mood.
Yesterday, I wandered a little in mom's beautiful and green garden, and I took pictures of the beautiful flowers and plants in her garden, so that whenever I feel missed, I can look at the pictures and imagine myself in mom's peaceful garden. Today I want to share with you the beautiful pictures of flowers and plants in her garden, to share their good feeling with you.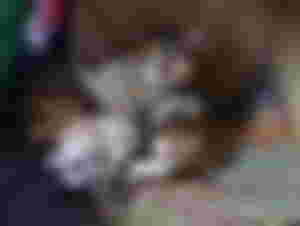 First of all, let me show you the picture of the cute cat in mom's garden. Last time, when her kittens were born, after two weeks all her kittens died, everyone said that because it was her first pregnancy, it is normal for kittens to die during the mother's first pregnancy. Because she had no idea how to take care of her children. But this time, unlike last time, she takes good care of her children, and her children are growing up very well and strong, I hope nothing bad will happen to them this time. And when I come back I can play with these cute kittens... 🐈🐈🐈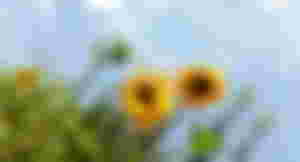 I fell in love with this photo I took of sunflowers. It's like the beautiful photos I always see on the internet, but this time I was able to capture it in my mom's garden with my camera. A bee is also flying at the bottom of the photo. 🌻🐝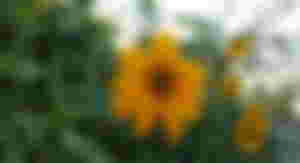 And I took this photo after the beautiful rain that fell yesterday evening, and made the weather very nice and pleasant. I love the freshness of flowers and leaves after rain. Although this rain messed up the sunflower petals a little.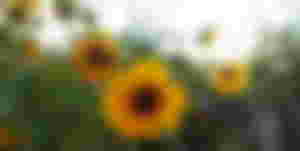 I love the shimmer of sunlight at sunset, dancing on the leaves and flowers. Watching all these beauties gives meaning to life. I love to watch all the moments of these beautiful scenes carefully with my eyes, and try to record them in my mind.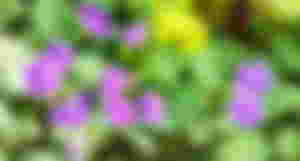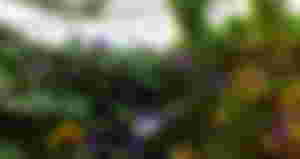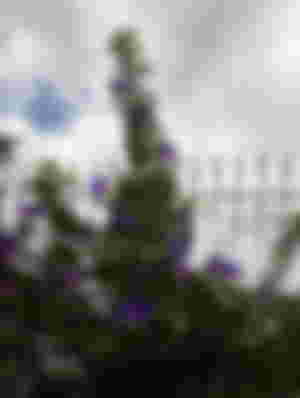 When I woke up in the morning, the weather was cloudy. Dad told me, Ellen, go and see how beautiful the lotus flowers in the garden are opening. I also quickly went to the garden, and I was faced with the beautiful sight of purple lotus flowers.
They weren't there yesterday, but today suddenly it was as if they were splashed with purple color everywhere, it was so beautiful. I asked my father how suddenly all these beautiful purple lotus flowers opened together. Dad said that when the weather is cloudy, lotus flowers open, and when it is sunny, they close. And because the weather is cloudy today, they have all opened so beautifully.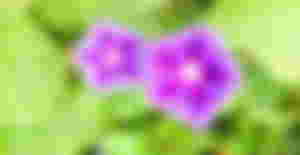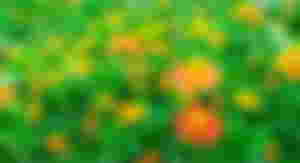 And these beautiful parsley flowers that remind me of all my childhood memories. After the rain, their fragrance filled the air, and it took me back to all the beautiful and sweet memories of my childhood.
I saved all these beautiful pictures of mom's garden here, so that whenever I miss there, I can come and look at them, and feel myself there. I hope you have a good time watching these beautiful flowers. May your life be as beautiful and fresh as these flowers, but not as short as them.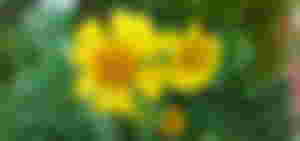 And I express my special love and respect with these beautiful flowers to my dear Rusty, I hope he will not forget me, because I will never forget him.
I love all of you, my dear ones, know that life always has its beauty, we just have to look at it a little more carefully.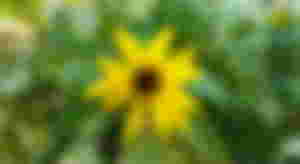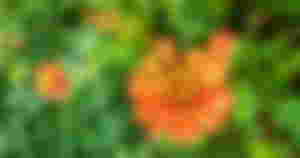 Lead image source: Captured by my phone.