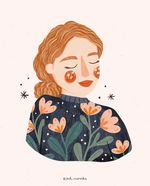 How are you lovely people? Have a wonderful day. Yesterday we harvested our bananas so let me share to you my story.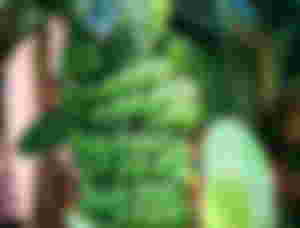 Twice a month we harvest our bananas. My family's source of income is farming and bananas are our main product. Our farm is in the mountains so it is really difficult to bring our product down to the plains.
Yesterday, Mang Pablo is not around my father's assistant in harvesting especially in hauling bananas down the mountain. It's difficult for us to find another helper.
At 6:30 in the morning, we go to the farm after we feed our pigs and cows. Our farm is far away so it's nice to climb early because the sun isn't hot yet. Last night it rained so the road was slippery so we climbed the mountain barefoot because we might just slip when we wear slippers. We endured the painful sharp rocks and I was trampled by thorny weeds. The worst thing is there is a "hantik"(black ant species) that suddenly bites your foot. So I was very annoyed because their bite was painful.
My mother cut the banana we didn't want our mom to do heavy works the three of us my sister, father and I. We went back and forth hauling down our product. As I watched my father struggling to lift a large sack full of bananas. It broke my heart, a few times that my father slipped because his knees hurt due to arthritis father said
"My knees have no strength." But he still insists on working.
How I wish I have the superpower to carry many sacks of bananas at the same time. How I wish I'm a strong woman to carry heavy things. But I'm a woman that I can only carry is 15 to 20 kls. If I could only do it alone, I would do it so that they wouldn't have to suffer anymore. But the only thing I could lift was 20 kilos of bananas.
"That was so heavy I can't carry it" So my mother reduced the banana in the sack.
As I carry the bananas on my shoulder. A few times I slipped and the painful bite of the hantik. I wake up to the reality of how hard our lives are, the life of the farmer. So I needed to graduate so that my parents would not have to struggle to work on the farm. They are already old and someday I'll be the one to work for them I can sustain the needs and wants of my family.
When we finished hauling the bananas in the plain area where the carabao could pass through. We loaded the bananas on the "Balsa" or carabao driven cart.
It's almost 4:00 pm when we get home. I immediately called the buyer that we had bananas for sale and were already here at home.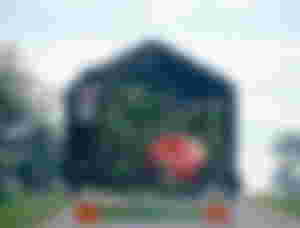 Immediately the buyer came, the price of our banana which the buyer bought for only 10 pesos per kilo (0.20). A cheap price but when sold in the market, bananas are expensive.
We are grateful for the blessing that we received we harvested many bananas yesterday. I hope the price of the banana will higher so the farmers will be happy.
Mga nakaraang buwan ang kuha ng saging namin ay 7 pesos ang kilo grabi ang mura. Pagka september 10.50 pesos na tapos ngayon bumaba na naman naging 10 pesos na lang.
I wrote this article last night but I was not able to finish this since my body is tired from the labor. That's why we sleep early after dinner.