Good Evening Everyone! I hope everyone is happy because Christmas is fastly Approaching. Let us Celebrate this Christmas with joy, love and peace. To those affected by the Typhoon Oddette let us still be grateful because we still alive and safe, Celebrate this Christmas bountifully, even though we have so many problems and circumstances.
Let us go to our main topic for today, I know you're spoiled with my Lead Image. Let me take this opportunity to share to all of you on what happened my life for today.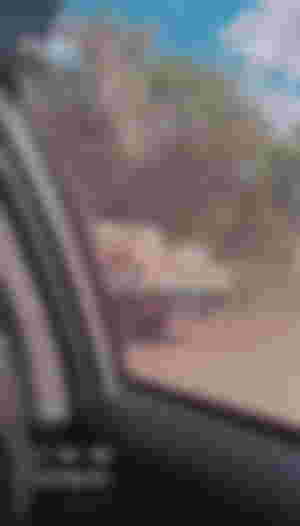 Almost 11 A.M noon time, we are on our way to celebrate the birthday of my litte brother (youngest brother). Today is his birthday and our Eldest Brother decided to treat us in Jollibee which is the best Fast food for Childrens. Together with our fellow little cousins are with us. They are so happy and excited because some of them didn't go to mall for almost a years because of the pandemic, thanks God they are allowed inside the mall.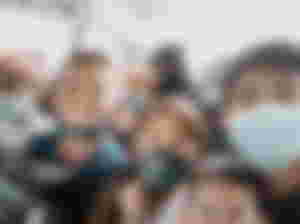 Here is the happy faces that draw to them. As you can they are so excited. We brought 5 Children, we want to bring more of my cousins but we didn't fit in the car of my eldest brother. By the way we are going to Gmall Toril Davao City, one of the biggest mall in Toril.
We arrived 11:30 A.M in Gmall Toril and because the que is so long, I tell them to take a picture together with Jollibee. We wait for more than 20 minutes because they don't have vacant table for us, we are all 9 persons amd it is quiet many.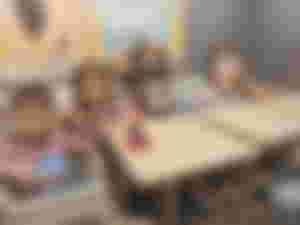 After a minutes of waiting, finally we have our own table. They are quite bored because we wait a couple of minutes before we take the seat. Jiro wear a black shirt, and I tell him that He will be the one watch over to his cousins because me and kuya will order food. By the way, my father is with us also.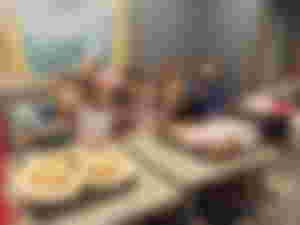 After 30 minutes of waiting, the food arrived. We ordered Family Bucket Meal, that includes 4 drinks, 4 Spaghetti, 4 rice and 8 pcs. Of Chicken, a cost of 799 pesos almost $16 dollars. We added a coke with a price of $1 or 50 pesos. We also added 2 Super Meal, consisting of 1pc. Of Chicken, litte Spaghetti, Burger steak and a rice, I don't know how much it cost.
I am so disappointed with the service of the Jollibee because we are waiting for almost 30 minutes for the Bucket Meal. Maybe they forgot to serve it, if didn't tell to one of the crew maybe we wait until 1 hour. Gosh, my eldest brother, talked to the branch manager of the Jollibee because my cousins were so hungry. I think 5 minutes after my brother talked to the branch manager they served the bucket meal together with plates and utensils. I didn't take the picture together with the whole food because we are so hungry, waiting almost hours. I understand that there are so many people in the fast food but they must check there costumer if they served all the food.
So much with that, I already moved on. After eating we decided to ride in the Carousel.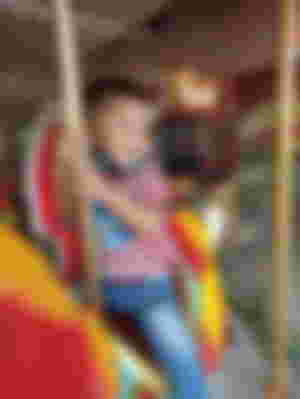 We wait for almost 45 minutes to ride in this Carousel. The wait is worth because my 3 years old cousin really enjoy the ride, it looks like it his birthday hahaha. That was the first to ride in the Carousel.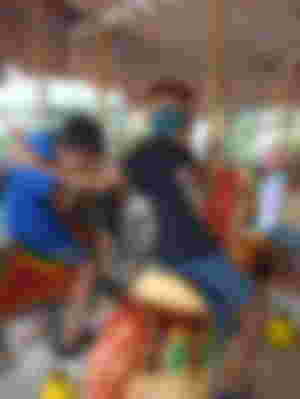 Here's the picture of the Birthday Celebrant together with his cousin. They are really enjoy the ride. The ride cost 40 pesos per person and it is 2 minutes to ride in that Horse. There are so many children also waiting for there turn to ride. I am happy to see them happy also, for more than years theu stayed in their houses because of pandemic, they finally go back to the Malls.
After riding the Carousel, we decided to buy groceries. My mother gave me a list on what are needed to buy. So the children wait in the waiting area together with my father. Me and my eldest brother bought all the groceries.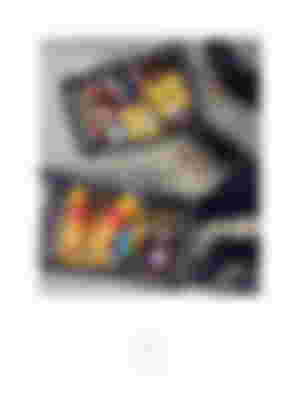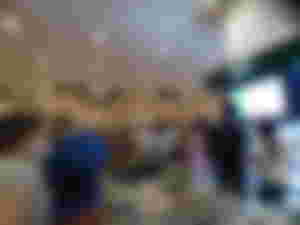 That was all the groceries we bought and I am waiting again in long que. Gosh, it's almost 30 minutes waiting for my turn, but I need to fall in line. There are so many people buying groceries in the mall, and as it expected it will more tomorrow and in Christmas Day. After we bought all the groceries needed, we are heading into our home. We arrived in the house exactly 4 O'clock in the afternoon.
---
We are all happy and tired but thanks to God for the blessings we received. My Eldest Brother called us "Santa" because every year my little cousins bring them in mall and treat them. All the expenses is paid with my eldest brother, I hope and pray that God will pay him back because if his goodness and generosity. I seend also to the faces of my little cousins the joy and excitement.
To my little brother, wish you all the best in life and I hope that you will be kind. I wish also that you will not be lazy, if I have a command in you. Please be moderate in using cellphone because I don't want you to be like me, my eyes is blurry and damaged because of using Cellphone. That's all Once Again happy birthday and Godbless You.
By the way Jiro or Jayro is our adopted we adopt him to the sister of my mother. Jiro is considered as my cousin and I can't fully tell that I treat him as my brother because he is not staying with us, he stayed at his biological mother and he already knew that he is adopted. My family paid all the expenses to him, for his studies, clothes and other things. But the problem is he don't want to stay in our house together with us.
Thank You so Much My dear Sponsors
Lead Image taken from Me
All Pictures Posted taken from Me