Hola! How was your day? It took me almost two hours to publish this article of mine and thats because my mind was filled with too much stress thinking of unnecessary things for no reasons.
Before anything else please let me extend my heartfelt gratitude to my generous and amazing sponsors as well as to my valued readers who fueled me to seek more ways to improve my writing skills.
@Bloghound @Sequoia @gwapojohn @ARTicLEE @Jaytee
Enough with the introduction and let's have a lil bit adventure of the past.
Have you ever wondered what it's like to be an athlete?
Frantically speaking, traveling various places, meeting some incredible and talented people and getting paid to do it was not their ultimate goal because behind every professional or non-professional athlete was an untold story of sacrifice. they went through a variety of hardships, failures, and struggles before they we're able to reach the top. In every game losing and winning is an essential part of an athlete's life accompanied by thorough discipline, diet, intense physical trainings, time management, being immune to painful feedbacks from their coaches, and the pressure of being designated as a representative bearing the name of their hometown.
@Sequoia and @JustMaryel are former athletes too. Sequoia was the leader of the football team girls category while Maryel was also the leader of the softball team, SANA ALL🤗😂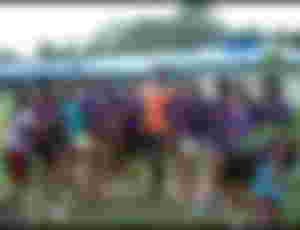 I have been playing Volleyball since elementary, I was considered to be the most useless and weakest member of the team. Every single mistakes that I made was a frustration to the team. They thrown all the blames straight to me everytime we failed to win. My coach once said "You have the height, but no skills at all". Those lines was still vivid in my memory, but you know what, I didn't take that as a discouragement, but instead it boosts my will to pursue my passion even more.
Fast forward, when I was in high school I began to exert all of my best, showing the better version of me. I attended after school trainings, I changed my diet, I've become time conscious and goal-oriented at the same time. Finally, from being a substitute player and a Libero I am now included in the first six and have become one of the Spikers of our volleyball team, what a surprising transition isn't it? From that moment, I discovered that I can do better than I expected. It does not only awakens my true capability, but it also changes my character and principles in life. After a month of training, the moment has finally arrived wherein our coach (HE IS A GAY ACTUALLY AND HE IS VERY STRICT), will make a decision of who among of us will be the CAPTAIN BALL or the leader of the Team (Players perceived it as the Strongest or the most capable one). I already expected that a player like me doesn't suits to that kind of responsibility, and I never dreamed to become one. Two of my co-teammates has the probability to be chosen and we just made a bet on that time.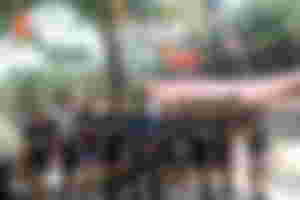 I was carrying our snacks back then all by myself, and my mind was out of nowhere due to the reason that I don't have enough sleep filling up and arranging their documents and data (Athletes Data) because our coach was too busy in his errands and my colleagues ask my help to do so. I'm so damn exhausted to the extent that I can't even listen to what my coach says. Suddenly, one of my teammates slap me at the back and congratulate me, and thanks to that now I was fully awakened of that blow Lol. Guess what, the weakest one was chosen to be the Leader of the team and that is no other than "ME". I was too confused and keep on questioning my coach on why did he come up with that decision, but he just responded, "You'll realized it on your own, never doubt yourself, you are capable enough to handle that and you have proven that so many times". I was still on shocked because being the Leader is a pain in the ass, and what if the rest of the members of the team will opposed on me and that would definitely lead to misunderstandings and chaos. What's even worst, one of my teammates told me, "You better not to think full of yourself just because you are chosen". I just ignore her, in fact it is not my intention. I dont have any choice but to focus on the positive side and embrace the responsibility that was entrusted to me with all of my heart.
To conclude, I learned three life-changing lessons on that particular situation;
"Believe in yourself even if others cannot because you dont need anyone's approval to shine and succeed."

"Skills can be easily learned and develop but changing the attitude needs a lot of work."

"Practice the act of humility, for God favors the humble ones. "
There you go guys, thank you for spending your time reading this. Just bare in mind that we are all capable in every way.
Love,
Athaliah
All photos are mine