My Special Day "It's my Birthday Today"
Yeah, It's my Birthday today and I'm so grateful about it. I'm so grateful even we don't have much money, we can still celebrate my 14th birthday this year.
It's just like a Simple Day, but Special in my Heart ❤️
It's only a simple day! I'm answering my modules, doing household chores and no people who go in our house. We don't have a party and we are happy about a delicious food that we have in the table. A little celebration with a just few food, but I'm so contented about it.
Only my parents greet me a happy birthday. I don't have many friends in my real world that why I think no one remembered my birthday. I don't have many friends in our school before or maybe there are few but we are not so closed to each other. We just rarely chat and we just talk if it's about school or something, but talking about many things? Nah! I'm a shy type of person and I'm not so noisy in our school before.
But for me, it's still special. It's still a special day for me because it's the day and the month when I'm born in this world. My parents love me and also my siblings even we can't express it. It's still a special day because at least, even it's only a simple celebration we can celebrate it today and we can still eat a food for today. We still alive, healthy and safe💚
---
This morning, I woke up late because I usually woke up around 6 am but this time I woke up around 8° clock in the morning. When I woke up, I look at my watch and it's already 8 am in the morning. I immediately go down stairs because I want to help my parents in preparing the food. I wanna separate eat the wrapper 😂.
My mother went to the city that time to buy a meat and the things we forgot to buy before. I'm so sad because I also want to go with my mother because I already miss the city but in the supermarket, children are not allowed to enter in the store so even I will go there, I will just stand and wait in the front of the store and wait from my mother to finished.
When my mother already got home, I immediately get the water of the coconut and drink it😂. I already eat that time and I want to drink it because it's so sweet and refreshing 😍. That's why I want to make fruit salat too 😉😋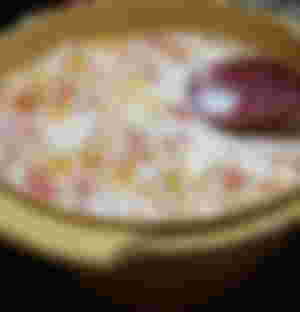 We prepare our buko salad this morning because my mother just went in the city because she forgot to bought Nestlé Cream. Since she will go in the city today, she also buy a cream there to also same some money if we buy near here.
I captured that after we finished preparing the fruit salad then we already put it in the refrigerator to make it cool. This afternoon, we already eat some fruit salad for our snacks this afternoon then lumpia and Spaghetti too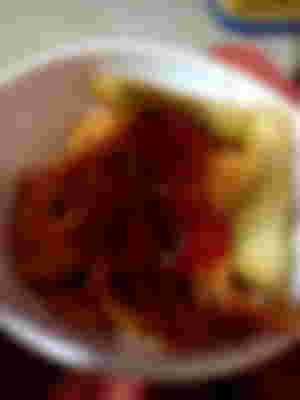 I take this shot before I write this article for today. I only take the food that I ate because I don't want to take a picture our food because I'm so shy 😂. They will say what you taking a picture 🤣.
My parents also cook other food but I didn't take a picture since it's not that many and I'm too shy to take it a picture when my parents see it. I know they will not get mad but I think they will ask me why I will take a picture or if I will post it on Facebook but I will not post it on Facebook ehh😂.
---
That's how my birthday end up. Just simple celebration, Right? It's also like a regular days but I'm so happy that my birthday finally come and I'm 14 years old already 🥳.
Thank you for reading my article ❤️. I will end this again like this. I have something to do so I will end this already. Sorry if tou see some typo in my article since I don't have a time to re check it again because we have something to do. Have a great day everyone!! Thank you for reading and visiting my article ❤️
Date published: March 02, 2022 Article # 117
Find me in my other account: