If I Was A Girl Part 1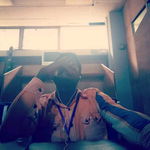 I have been away for a while now, just over two weeks, if I am not mistaken. Although, I have been popping here on and off just checking to be sure that the platform is still functional hehe and also interacting with some posts, I was on some sort of break from the screen, so I can finally have the time to focus on writing my report for my Field Practical Training that ended in March. Well, I am ashamed to say that procrastination has gotten the best of me. I must confess that I missed you lot, and I am happy to be back here again. Though, I have been feeling unwell for some days now, but I am not exactly sure how serious it is until I go a checkup.
I have often caught myself thinking about what would have been different if I had been a girl. Well, of course, one's gender plays an important role in the kind of personality one has. As much as there may be contrasting opinions on the matter, I believe I am merely sharing my opinion on the matter. I was have often hear girls ask what guys find exciting about football, since it is just a sport where they chase a ball around all sweaty like their life depends on it. In the same sense, I think some things most girls I know find interesting is not worth the fuss.
Even though there are guys who don't like football, as there are girls who are not fond of heels and whatnot. Our gender has: conditioned us a certain way; our parents raising us a certain way; and society having certain expectations of us. Well, we don't have much of a choice when it comes to choosing our gender, on second thoughts, it is better to say we don't choose our biological gender, for the fluidity's sake. LoL. But that doesn't stop me fro asking myself questions like: what kind of person would I be if I was a girl? Would I love football as much as I do now? Would I be any different than I am now in terms of my personality? Well, I can't answer that for sure as it can only be hypothetical. But, I do know that:
unfortunately for us, society or should I say nature (not sure which) has paved two roads for us as humans, the path we take of these two roads largely depends on our gender. That is not to say that there are not those who create their own path. In the society, there are certain expectations of women. Well, I cannot categorically speak for any society I am not a part of or have not been a part of. So, what I write about is based on MY SOCIETY and not the world at large.
To start with, I will make an example using an event as a case study, if there was an event, which both males and females will be in attendant, most of the female attending will have a makeover, but you would agree with me that most of the male won't. If there was a female in attendance who is not wearing a make up, she will be like the odd one out in the bunch. This is the example I can use to paint a picture with two views. 1. That wearing make up is a female thing and not a male thing. 2. If a woman was to go against wearing a make up to an event, she has gone against societal norm.
Other things are marriage, and a woman's role in it too. I think I have written a lot about marriage in my time here, so I will only just mention it and not exactly elaborate it. But, I guess my point is that society has a certain expectations of the female gender and if I was a female, I wouldn't live my life how society wants me to live it.
TO BE CONTINUED...
Thank You For Reading 🖤🖤
I want to use this opportunity to thank everyone who renewed their sponsorship even in my absence @Mictorrani @Ellawrites @Theblackdoll @Tomi-Ajax I really appreciate your unending support. Thanks so much.