Whats on my cart?
October 6, 2022
Online shopping is one of the answer after the pandemic hits us badly, tho we are now in a moderate situation when it comes to covid virus but some shoppers still prepare to do online shopping rather than going to physical store to shop.
One of the famous online shops is SHOPEE, but recently alot of issues are gone viral after the new ambassador was set to public, I dont know if others have some personal issues about the new ambassador or because of being the presidents ally and there are some online shoppers that are promoting of boycotting the SHOPEE shops, but of course we are free to do our own will with regards to this matter.
As for me, since I am not really into current events lately and I dont have deep reason why I need to follow those who want to boycott the Shopee shops, so my online shopping from this shop will continue.
I actually prefer to used Shopee because its so easy to navigate and the coins can be redeem easily, unlike in LAZADA that even you keep on checking In everyday the coins you collect can't be used easily from the items you purchased, they only alot items where you can used your coins(this is my observation) correct me if I'm wrong and I am willing to listen.
However 10.10 super sale is fast approaching and I know others are starting to prepare thier order for the upcoming sale, and so do I.
Now I wanna share with you whats on my cart and waiting for it to be checkout on 10.10 sale.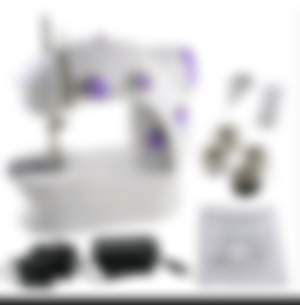 Portable Sewing Machine
I've been meaning to have this very long time, since I am a full time mom and my partners work is only in constructions and his salary is almost enough with our daily expenses, so buying new clothes is out of the line.
However using the same clothes and washing it make it worn out, so instead of buying a new one, I do the sewing manually, but of course it wont last long since we wear it from time to time.
Now that I have my own money that I earn from noisecash and readcash, I decided to buy this for myself, so I can repair more, coz most if the time in 1day I can only finish 2 clothes if I do it manually, but maybe with the help of thie portable sewing machine I will ve able to do more.and maybe re create more with unused clothes.
I choose to order on shopee because my neighbor already ordered this wayback and up to now still it is working, so I ask her the name of the shop where she ordered and reading the customers feedback makes me more eager to have it.
The price of this is ₱299 and the shipping fee is about ₱60-90, so I am just waiting for some promo/discounts this coming 10.10 sale before I checkout it, hoping I might get it in lower price or maybe a little discount from the shipping fee, but if not its ok, I will still check this out.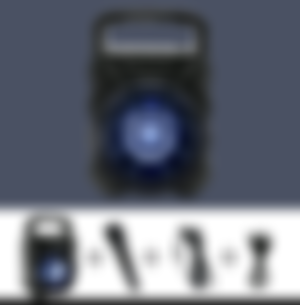 Portable Speaker
I am a music lover tho music doesn't love me back.
I love to sing and dance even I am not really a good one, and I can see my lil girl having the same hobby, she keep on singing with her own lyrics, and tunes nd whenever she heard a music her body or head sways with it even she is not a good dancer too.
So I think having this mini speaker at home will help us to have a more bonding together when it comes to singing and dancing, and besides I want to hear music everyday in the morning basically, its a differeng feeling when you have a music at home while doing your chores right.
Actually we have a radio here but ghe volume and signal of it is not functioning well and the last time I used it, short circuit happened and I was afraid that it might happened again.
I order a small one coz I am not after the effects of it when you play and beside my neighbors have also so just a normal sound inside the house is what I wanted.
I already read the feedbacks of some users and they keept telling its a good and functiong well, so I want to try it also. Not much expensive too but still waiting for some discounts for the sale.
Only this 2 item was on my cart, since I really need to tighten my budget on spending, and this items are not wants and this will play a big role in my life as a home maker, so I think I deserve this, besides its my own money as I dont want to used my partners money with my needs coz he earned that for our daily needs and I priotize our needs firsts.
---
How about you, are your cart ready for the upcoming online sales? Be sure to be a wise spender and prioritize your needs over wants.