How was your first day?
May 1, 2022 15:36pm
Good afternoon readtizen! Its a new month to all of us, but I dont think its good start for our beloved BCH as its singing ocean deep and deep huhu, but lets not loose our hope and trust with its movement, I know and trust BCH that it will pump going in upward trend soon.
Anyways, I know most of us here are starting to write thier earnings for the month of April and also sharing some of thier goals for the month, and I was so happy reading each in everyones achievement coz everyone is happywith thier achievements and very optimistic with thier goals for the new month, and lets claim that right?
About my earnings for the month of April, well I am happy of course that even I have inactiveness for a week still I had a good earning for both platforms, but I can't write it today as I was busy a little, maybe I'm gonna share it tomorrow if my minds cooperate.
I just want to share how I welcome the new month.
As I post in my noisecash this morning that there's a small celebration in my neighbors house, and I do my initiative to help in preparing and washing the dishes coz cooking is not my forte, kain lang ako magaling hihi(bawal green minded), then when the other visitors came, I leave the house and stay in our house, as the heat was so scorching and besides there's dishes that needs to be washed.
Then my partners niece came so I entertain here coz she is a shy type when it comes to my neighbors house and she will choose to stay with us and play or bully Adrielle and after I get the food for her, we choose to stay in bed and rest for about an hour, then we decided to have a walk and buy ice cream, then headed home and stay outside to enjoy the cold wind and gloomy weather.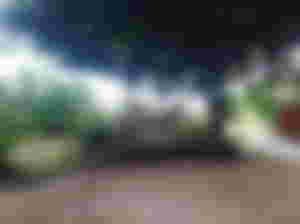 This how my new month starts, a red market but with a blessings and happiness from the my neighbor.
---
How about you, aside from your goals, did you have a good start of the new month or a productive day?